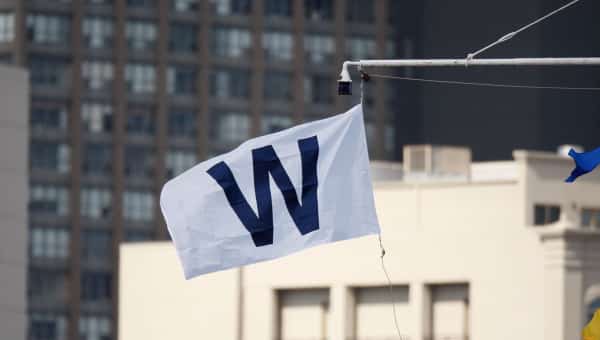 A Tip of the Recap – July 30th
The Cubs' bats were silenced by Jimmy Nelson today for 7 innings, but they erupted for 5 runs over the last 2 innings to come from behind for the 5-2 win over the Brewers.
The Good
Anthony Rizzo is looking like he is ready to put his July slump behind him. He had a huge game today, finishing 3 for 4 with a single, double (26) and a huge 2-out, 3-run HR in the 8th inning to put the Cubs ahead for good. It was his 18th HR and he now has 56 RBI to go with his .284 AVG.
The Cubs were also able to tack on 2 more big insurance runs in the top of the 9th to gain a much more comfortable lead of 5-2. Kris Bryant (who entered the game as a PH in the 7th) had a sac fly (60th RBI), while Kyle Schwarber added an RBI single (12th RBI).
Dexter Fowler is looking like a man on a mission in the 2nd half. He was on base 3 more times today, with 2 singles and a walk while scoring a run (on Rizzo's HR). He has his AVG all the way up to .247 after starting post-break around .230. His OBP is up to .339 and he is now sitting on an 11.9% walk rate.
Jake Arrieta was not exactly his normal self, and I'm not just talking about the stirrup socks either. He was still plenty good though and went 6 innings, giving up 2 runs (both earned) on 5 hits and 3 walks with 6 K's. He got a no decision because the offense woke up too late, but his ERA is still a sparkling 2.62 for the year.
Soriano, Strop and Rondon only surrendered 1 hit (from Soriano) the rest of the way without any walks and 2 Ks. Soriano got his 2nd win as a Cub and Rondon was awesome in the 9th to get his 14th save to go along with his 1.76 ERA. I wouldn't mind an addition to the pen, but the more I see Rondon pitch the less I want to see a high-priced closer brought into the picture. Even at his worst, Rondon was not that bad and when he is good he is really good. We will see what the front office pulls off over the next 15 hours or so.
The Bad
The story of this game was almost the lack of production with men in scoring position, but luckily the bats woke up in time and the Cubs took the opener of this 4-game series from a Brewers team that may be missing a few pieces for tomorrow's game (TRADEZ).
Other than that though, there is nothing I will harp on. A win is a win and this makes 2 in a row. Here is to hoping the Cubs will get on a prolonged streak with the Pirates go cold as ice.
On Deck 
Game 2 will be tomorrow at 7:10 PM (CST) on WGN and will feature Jason Hammel (5-5, 3.20) for the Cubs against Taylor Jungmann (5-2, 2.14) for the Brew Crew. The Cubs have never faced Jungmann before, but hopefully that won't matter and they will keep this streak going.