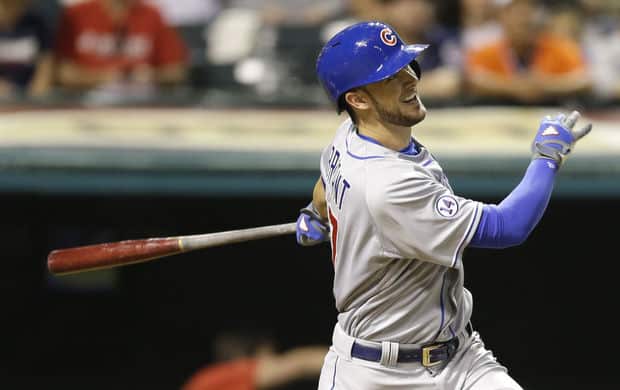 Kris Bryant an Unlikely Leader in Obscure Hitting Category
When you think of Kris Bryant as a hitter, you think power. Well, maybe strikeouts too. But mostly power. So it's perhaps a bit odd that he leads all of baseball in a statistic that seems completely unrelated to that. Through Wednesday, Bryant's 17.6% infield hit percentage (13 of 84 hits) was higher than anyone else in the game.
Yes, more than Billy Hamilton, Dee Gordon, Starling Marte…everyone. Bryant's a pretty good athlete and those long strides can carry him down the line pretty quickly, but his relative preponderance of infield hits stands in stark contrast with some of his other stats, namely his soft hit and fly ball percentage.
Among the top 30 leaders in IFH%, only 3 (Mike Trout – 12%, Brett Gardner – 13.7%, J.D. Martinez – 14%) fall below Bryant's 14.7% soft contact on batted balls; Fangraphs sets 15% as "Excellent." 16 of the 30 are over the "Average" mark of 20% and 7 of them over the "Poor" threshold of 22%. I think the moral of the story here is you'd best not mess with the Double Deuce unless you have Dalton with you.
Road House aside, there's another category in which Bryant stands out even more: fly ball percentage. It goes without saying that you're not often going to end up with a hit on an infield pop-up, and you're not going to get too many on liners either. No, an infield hit is typically a grounder in the right spot that you end up beating out. And that's what makes Bryant particularly unique.
At 49.1%, Bryant hits more fly balls than anyone in the majors not named Chris Carter. Add in 17% line drives and you're left with only 33.9% for grounders. You have to go all the way to 15th on the IFH% list to find a guy with a lower ratio (Brian Dozier – 28.5%), and there are only 6 more players out of the top 100 who have lower GB percentages than the Cubs third baseman. Interestingly enough, one of those is Carter.
If you're still reading and holding your breath in anticipation of some grand denouement, I suppose I should let you know that there's really no deeper meaning in all this. I just thought it was an interesting factoid, particularly given Bryant's hitting tendencies and the juxtaposition they create with our image of a guy who would lead the league in infield hits.
Then again, inexplicable things just tend to happen for you when you're a magical unicorn.