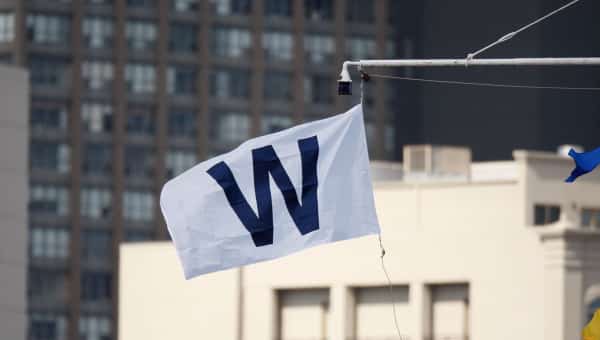 A Tip of the Recap – August 1st
The Cubs belted 2 HR's and Kyle Hendricks pitched a great game to help lead the Cubs to a 4-2 victory over the Brewers to extend their winning streak to 4 games.
The Good
Anthony Rizzo decided to flip the switch to his power stroke that had been mostly missing as of late. He hit his 4th HR in as many days, this one a huge 3-run bomb to right. He finished 2 for 4 with his 20th HR and he now has 60 RBI to go along with a .290 AVG.
Kyle Schwarber had a solo HR (his 4th) later in the game. He also had a single and a walk to reach base 3 times today. I really like him in that 2 spot in the lineup and if he and Fowler continue getting on the way they have, they will have many chances to score some runs.
Jorge Soler went 1 for 3 with a single and walk, but also made an amazing leaping catch in the 9th to rob Khris Davis of a 2-run HR off of Motte. He did kind of catch his foot/ankle on the fence, but luckily it didn't appear that he was injured from the play. I have been a little critical of his defensive routes recently, but I will back off a little bit after this catch.
Kyle Hendricks had his good stuff working today and went 7 strong innings, giving up just 1 run (it was earned) on 4 hits (all singles) and 2 walks with 6 Ks. He also picked off Khris Davis at 1st base on his way to evening his record to 5-5 on the year with a 3.67 ERA.
Tommy Hunter made his Cubs debut after coming in to relieve Jason Motte, who gave up a leadoff double and the fly ball that Soler robbed of being a HR. Maddon made the smart call and pulled Motte for Hunter. Hunter allowed the inherited runner to score from 3rd on a groundout, then retired the final batter for a save in his debut.
The Bad
I can't complain much about this one, but it is getting a little troubling to see the way Jason Motte is getting banged around. He is giving up solid contact almost all of the time and, luckily, Maddon had a short leash on him. The hitters have really seemed to time him pretty well recently and they have been making loud contact consistently.
On Deck
The Cubs will try to make it 5 in a row and a 4-game sweep of the Brewers tomorrow afternoon at 1:10 PM (CST) on ABC7. Clayton Richard (1-0, 5.40) will get the spot start against Kyle Lohse (5-12, 6.24) for the Brewers.