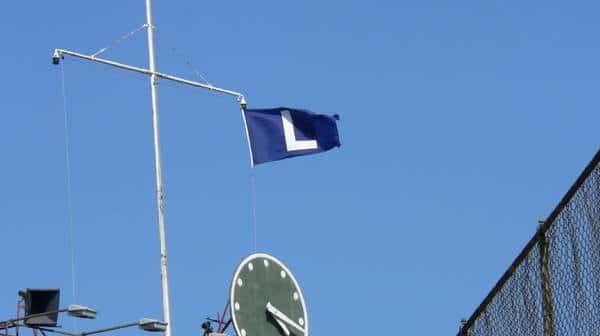 A Tip of the Recap – August 5th
The Cubs battled back from a 4-1 deficit to actually tie the game at 4 with 3 runs in the top of the 6th. But the comeback was short-lived as the pen gave up 2 in the bottom of the 6th. The Pirates added on in the bottom of the 8th off of Motte and ended up beating the Cubs by a score of 7-5.
The Good
Kyle Schwarber and Anthony Rizzo provided some power as they both homered off lefty starter Locke in the 6th to bring the Cubs to a 4-4 tie. Schwarber followed a walk by Fowler with a towering shot to CF that just snuck out for his 5th HR of the year. After Kris Bryant was retired, Anthony Rizzo followed with a majestic shot to the RF bleachers for his 21st HR.
Schwarber finished the day 2 for 4 with a double, 2 runs scored and 2 RBI (15 on the year). He is now hitting .342 on the year and it will be very interesting to see how Maddon gets his bat in the lineup with Montero due back this week.
Anthony Rizzo had a 1 for 3 day with his HR and also added a sac fly in the 4th to give him 2 RBI (63 on the year). He has hit 5 HRs in his last 7 games and looks locked in at the dish.
Dexter Fowler drew a walk to extend his on-base streak to 19 games and, as I said before, he scored on the Schwarber bomb. Fowler has been so good since the break and good things should happen when he gets on base in front of  Schwarber and Rizzo and eventually Kris Bryant and Jorge Soler.
The Bad
Dan Haren wasn't that bad tonight and actually deserved better than he got from the Cubs' defense. Bryant made an error that led to an unearned run in the 1st and then Bryant and Castro had a communication breakdown on a routine grounder that got through the infield for another run (scored a hit, but questionable in my opinion).
In all, Haren finished with 5 innings pitched and gave up 4 runs (3 earned) on 7 hits (2 HRs) and 2 walks with 3 Ks. He wasn't bad, but he wasn't as good as he could have been either. I would expect a better outing next time against the Brewers.
Travis Wood wasn't very sharp tonight and he gave up 2 runs (both earned) on 3 hits in just 1/3 of an inning. Both runs were actually allowed by Strop, but it was Wood who put the guys on base and Strop had to pitch around a tough situation. Wood has been really good as of late, but he just left everything up tonight and the Pirates didn't miss it.
On Deck
The Cubs will return home tomorrow to welcome the SF Giants for a huge 4 game series. Game 1 will start at 7:05 PM (CST) and can be seen on CSN. Jason Hammel (6-5, 3.13) will get the call for game 1 against Chris Heston (11-5, 3.24), the rookie pitcher for the Giants who threw a no-hitter earlier this year.