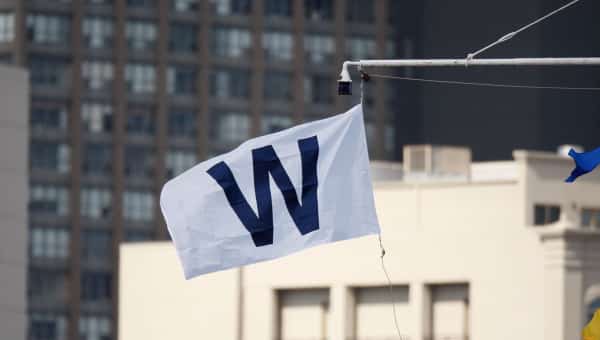 A Tip of the Recap – August 6th
Jason Hammel and the Cubs were staked to an early 5-0 lead and held on for a 5-4 win over the Giants in the first game of a very important 4 game series.
The Good
The Cubs really made Giants starter Chris Heston work in the early part of the game. In the first 2 innings, he threw over 50 pitches while surrendering 2 in the first inning and 3 in the second inning.
Jorge Soler came through big in the 1st inning, ripping a  clutch 2-out, 2-run single to left to score Kyle Schwarber and Anthony Rizzo. Soler also added another single to left and raised his AVG to .265 to go along with 32 RBI. There have been whispers in the media that he may lose some playing time when Miguel Montero comes back, but he now has a modest 6 game hitting streak with 4 driven in over that time frame.
Schwarber did big things again tonight, this time crushing a 3-run HR (his 6th) out to right center on a day that the wind was blowing in from right. The ball left his bat at 111 MPH and had just an amazing sound to it. He also walked and is now hitting .342 with 18 RBI on the year.
Rizzo stayed hot, reaching base all 4 times tonight, with 2 singles, a walk. and his league-leading 22nd HBP (next closest is Brandon Guyer from TB with 15). His AVG is back up to .297 and his OBP is sitting at .405.
Justin Grimm came into relieve Hammel after the starter walked the first 2 hitters in the 5th inning. Grimm retired the next 3 batters to keep the Giants at bay in what may have been a turning point in the ball game. Grimm has been one of the more reliable arms out of the pen this year with a sparkling 1.53 ERA (xFIP 2.21).
Jason Motte and Pedro Strop pitched nearly perfect innings of relief (1 walk from Strop). They set the stage for Hector Rondon to pitch a perfect 9th inning for his 17th save of the year to go with a 1.84 ERA.
The Bad
Jason Hammel struggled with his command tonight and could only make it through 4+ innings. He was replaced by Maddon after walking the first 2 guys in the 5th, but gave up a 2-run HR and some loud outs in the inning before, so it was a smart pull by Joe. Hammel was less than pleased with getting pulled and felt like he deserved a chance to get out of trouble, but I think I can speak for all Cubs fans when I say that it was the right time to get him out of there.
Tommy Hunter wasn't bad, but he did give up a 2-run HR in 6th that pulled the Giants within just a single run. He retired 2 of the first 3 hitters he faced rather quickly, but then gave up a 2-run HR to Brandon Crawford. Hunter has given up just .76 HRs/9 this season, so the long ball was a bit of a surprise and it was just a mistake. His addition does make the pen much better though; just think, if this was earlier in the season it could have been Schlitter in that spot instead.
On Deck
Game 2 will start tomorrow afternoon at 3:05 PM (CST) and can be seen on WGN and MLB Network. Jon Lester (6-8, 3.26) will get the start as he faces off against spot starter Ryan Vogelsong (7-7, 4.16), who is filling in for recently acquired, but now injured Mike Leake (hamstring strain).