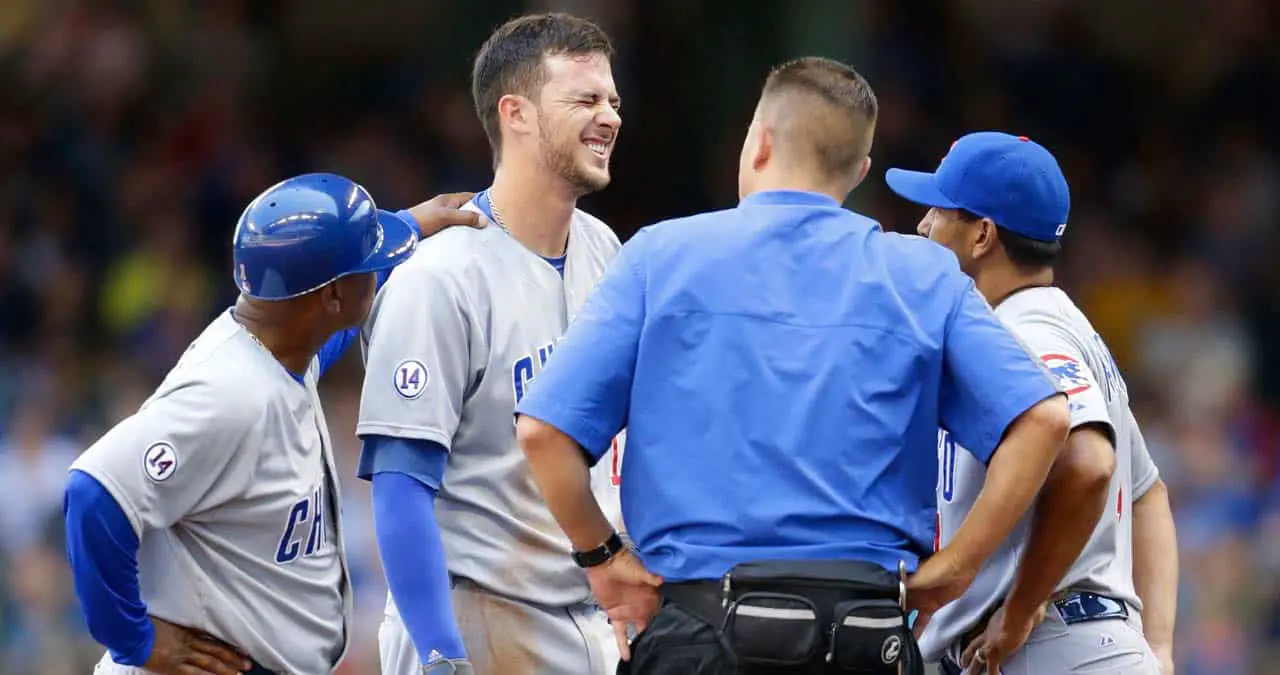 Kris Bryant Has Hit a Wall, but Joe Maddon and Meaningful Baseball Can Help Him Climb Over It
I suppose it's a bit premature and maybe even gauche to start questioning Kris Bryant's mental and physical stamina, but what am I if not an uncouth troglodyte, if perhaps a relatively well-heeled one. And I suppose Patrick Mooney asking the question means it's not just one falling from the open pieholes of mouth-breathers like me.
When looking at a few players' splits from before and after the All-Star break, Bryant was one who fell into the downward-trending group. I hadn't even thought about it at the time, but when asked the other day about his recent performance I couldn't help but reference his participation in the festivities in Cincinnati as a contributing factor. I want to clarify that I'm not saying the Home Run Derby messed up his swing though. Rather, I think the lack of a mental break is wearing on Bryant.
Take a look at the graph below, which tracks Bryant's wOBA over the course of the season. I could have chosen batting average or OBP here too, but the general appearance would have been essentially the same.
We all need a mental break from time to time, a little reprieve from thinking and doing and meeting expectations. Maybe some of you out there feel like you can burn the candle at both ends in perpetuity and still have some wax left, but I need to recharge the batteries now and again. Kris Bryant is no different; contrary to what some might feel, being a highly paid athlete doesn't mean you possess an infinite store of focus or that your mental acuity never dulls.
What worries me further is the fact that psychological fatigue can and does manifest itself physically too. I'm not just talking about swinging out of your shoes because you're pressing, but of losing focus and getting injured, maybe from an awkward slide or taking a pitch off the arm a little funny. Some of those things are unavoidable, but if your'e not all there the window for bad things to happen is thrown open a bit wider.
Here's a snippet from that Mooney piece I mentioned earlier that shows the Cubs are well aware of what's happening with their phenom:
But Bryant is trending in the wrong direction now, heading into Thursday's huge game against the San Francisco Giants at Wrigley Field with two homers since the Fourth of July, watching his batting average drop to .246 while his OPS plunged 86 points down to .786. His 130 strikeouts led the National League.

"It's probably a combination of first time in the big leagues and really good pitching and making adjustments," general manager Jed Hoyer said. "And also probably some fatigue, both mental and physical. He'll snap out of it.

"We've seen Anthony (Rizzo) have a swoon and come back out of it. We've seen Addison (Russell) start to come back out of his struggles. I have no doubt Kris will as well. Guys go through it, and he's really kind of going through it for the first time."
To his credit, Bryant isn't shying from his decreased performance either, saying: "I don't want to come out here and be Babe Ruth in my first season. I want to embrace the struggles and learn from it. I think I'm setting a benchmark so that I can improve on a lot of areas."
Maddon had a bit more to say on on the topic as well, and I was glad to see much of the same sentiment I had expressed Thursday afternoon.
"I do believe you hit a wall, but I also believe you do catch a second wind," manager Joe Maddon said. "He's so talented. He's going to be good for so many years. But when your confidence takes a hit, how do you get it back?

"And then furthermore, playing more games, under more scrutiny, going to the All-Star Game, being part of the Home Run Derby, family in town, text (messages), phone calls. It's crazy. So get back into your routine, take a deep breath and understand what's going on here.

"Part of catching a second wind is being in things — like having a legitimate shot to win."
Bryant is too good a player and Maddon too good a manager to not get this figured out in due time.
Joe Maddon managing playoff baseball
Speaking of how Maddon is handling difficult situations, his decisions with the pitching staff yesterday were pretty exciting. This wasn't just another game in August, which in recent seasons would have meant leaving a guy in to either sink or swim. No, this was as close to playoff baseball as the Cubs have been in a long time and that significance was not lost on their skipper.
Despite having only thrown 76 pitches 4 innings and change, Maddon opted to remove Jason Hammel after the starter had continued to struggle with location and had been giving up a lot of hard contact. Hammel wasn't happy about, nor should he have been, but Uncle Joe was selling out for a win over a team with which the Cubs are fighting for a playoff spot.
I have enjoyed a lot of games this season, but Thursday's contest was the first that really felt as though it meant something. That's not to say none of the others were important, just that this one bore more urgency than any other to this point. And I think Maddon set a precedent that will not soon be forgotten. In an age in which each managerial decision is immediately dissected online, Joe giving Hammel the early hook seemed to draw nothing but approval.
No manager should be circumspect in handling his team just because he's worried about what the fans might think, but I believe some of Maddon's predecessors had been doing little other than trying not to lose. Even faced with awful teams that had little chance to succeed, they seemed unwilling to toss the book aside or to push a few buttons here or there.
Joe Maddon, on the other hand, has no qualms with the "I wonder what this button does" approach. While it doesn't always work out, and while I'm not really a fan of the Chris-Coghlan-as-Ben-Zobrist experiment we're likely to see as Miguel Montero comes back and displaces some of Kyle Schwarber's catching duties, it sure is fun to watch. Fun in the Sharknado sense, anyway.
I am the best
Okay, this is actually less about me than it is the Cubs Twitter account, which has quickly become one of the best things about following the games online. I was once apprehensive of Twitter and now I don't know what I'd do without it. The running commentary and interaction between fans, writers, and the team itself adds a whole 'nother dimension to the viewing experience. And it doesn't hurt that the team has been better.
Every team has a Twitter account, but most peddle updates and game info, pretty mundane stuff for to a large degree. But the Cubs' timeline is filled with GIFs, videos, updates, and replies to fans and trolls alike. I love seeing some of the conversations that have taken place between the Cubs and some of the innumerable folks who choose to tweet at them about the World Series drought that they apparently don't realize is a widely-known fact.
They have a lot of fun with fans as well, even ones like me. I think I'm going to use this as a daily affirmation from here on out.
@DEvanAltman @Bird_is_the_wrd Right, we were about to get to that point. You are the best. pic.twitter.com/Kz7vBzX4j3

— Chicago Cubs (@Cubs) August 7, 2015