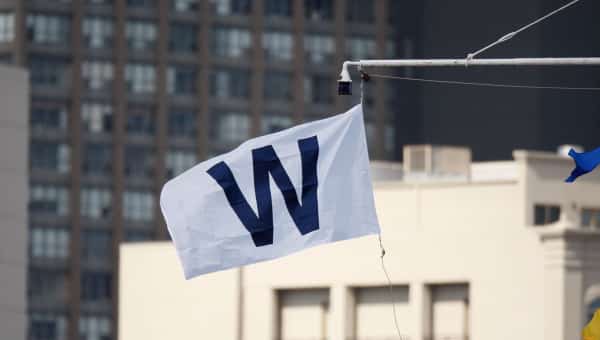 A Tip of the Recap – August 8th
The Cubs took their 3rd straight game from the Giants and have now won 9 out of 10 after the 8-6 win Saturday.
The Good
The bats were working against Matt Cain; the Cubs put up 8 runs on 11 hits and 6 walks. Every starter had at least 1 hit, while Kyle Schwarber (2 hits) and Addison Russell (3 hits) each had multi-hit days.
Dexter Fowler had a normal post-break game, going 1 for 3 with a triple (his 5th), a run scored, an RBI, and a walk. He is locked in and, with no real answer at CF in the system (Albert Almora is not ready), I hope the Cubs bring him back next year.
Kyle Schwarber finished 2 for 4 with a couple singles and his 21st RBI on the year. He is still hitting a robust .352 with a .436 OBP in just over 100 plate appearances.
Kris Bryant is starting to warm up and hit an absolute bomb to left-center today for his 15th HR. He also added an RBI fielder's choice in the bottom of the 1st. He is still hitting just .248, but has driven in 64 while maintaining an OBP of .352. Here is hoping Bryant will start going on a tear to join pretty much everyone else in the lineup.
Miguel Montero had a nice first game back from his thumb injury today. He went 1 for 2 with 2 walks, a run scored and an RBI (his 33rd). Adding his bat to this already potent lineup is a huge boost and it looks like this could be a semi-regular lineup from Joe Maddon (if that even exists).
Addison Russell had himself a day; he went 3 for 4 with 2 doubles (20 on the year), a run scored and his 29th RBI. He is only hitting .241 on the year and still has an OPS below .700 (.675), but both have been trending upwards and when you add in that amazing defense he looks set up to have a great last couple of months.
Travis Wood was back to his normal self out of the pen and went 1.2 innings of scoreless work while only walking 1 and striking out 2. He had a rough time last time out, so it was good to see him have some success again.
Pedro Strop appears to have fixed some of his issues as he came with his nasty stuff today and pitched a perfect inning of relief with 2 Ks. This is his 10th straight appearance without surrendering a run and has only allowed 2 hits and 4 walks during that time frame.
The Bad
Kyle Hendricks was decidedly meh, as he kept surrendering 1-run leads. He ended up going 5.1 innings and gave up 3 runs (all earned) on 5 hits (1 HR), 2 walks and 5 Ks. He did get the win, so that is a positive, but still he didn't go overly deep and his start was not quality (by definition and in my opinion). His record is now above .500 at 6-5 and his ERA is still a respectable 3.73.
The Cubs had to use 3 relievers to get the top of the 9th after coming into the inning with a lead of 8-3. James Russell and Jason Motte combined to give up 3 runs (all earned) on 4 hits (each gave up 2 hits).  Motte allowed one of Russell's runners to score then two of his own to score after that. It got so bad that Maddon had to go out and bring in Justin Grimm to get the final out for his 3rd save of the year.
On Deck
The Cubs will go for a huge 4-game sweep tomorrow afternoon at 1:20 PM (CST) on CSN and TBS. The Cubs will throw Jake Arrieta (12-6, 2.50) out there against Jake Peavy (2-4, 3.77) for the Giants. The Cubs now lead the 2nd Wild Card spot by 2.5 games over the Giants and 4 games over the Nationals.