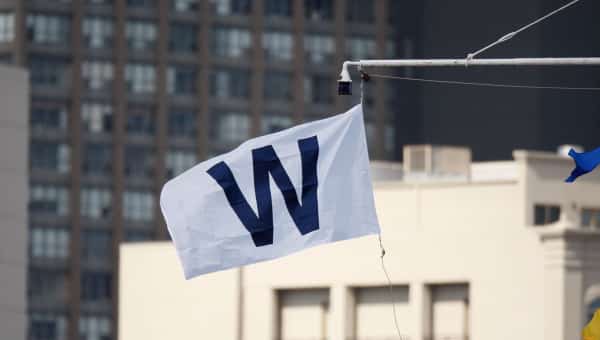 A Tip of the Recap – August 9th
The Cubs swept the Giants in their huge 4-game series and are now 3.5 games ahead of the Giants for the 2nd Wild Card spot after Jake Arrieta carried the Cubs to a 2-0 win.
The Good
The bats were kind of quiet all game, but they did enough to get the win. Kris Bryant had a clutch 2-out RBI bloop single to RF to get the Cubs on the board in the 1st inning. It was his 65th RBI and he also drew a walk while extending his modest hit streak to 7 games.
Jake Arrieta was brilliant today and just dominated a very solid offensive team in the Giants. He went 7.2 shutout innings and gave up just 4 hits and 2 walks with 5 Ks. He improved to 13-6 on the year and lowered his ERA to 2.38. Over his last 10 starts he has a 1.73 ERA over 73.1 innings pitched with a 0.80 WHIP and .160 opponents' AVG. He has become the ace of the staff and is locked in like never before.
Arrieta also did it with the bat, clobbering a triple off the RF wall and coming in on a sac fly by Addison Russell (Russell's 30th RBI) to make the lead 2-0.
Jorge Soler had a sharp single to LF to extend his hitting streak to 9 games and raise his AVG to .271 on the year. The offense obviously looks so much better with Soler and Bryant contributing recently. Here is hoping these two get real hot and stay hot.
The Bad
Hector Rondon escaped what looked like an absolute disaster of a save chance. He gave up a single followed by a hard hit double down the first base line to put men on 2nd and 3rd. He then hit the next guy in the foot to load the bases with no outs, but things finished like you would expect, with 3 straight strikeouts to seal his 19th save. The result wasn't bad, but it sure looked like it was going to be his 4th blown save of the year.
On Deck
The Cubs are off tomorrow, but will welcome the Brewers to Wrigley for a 3 game series, starting on Tuesday. Game 1 will start at 7:05 PM (CST) on CSN. Dan Haren (7-7, 3.49) will make his 2nd start as a Cub as he faces off against Taylor Jungmann (6-3, 2.26) from the Brewers.