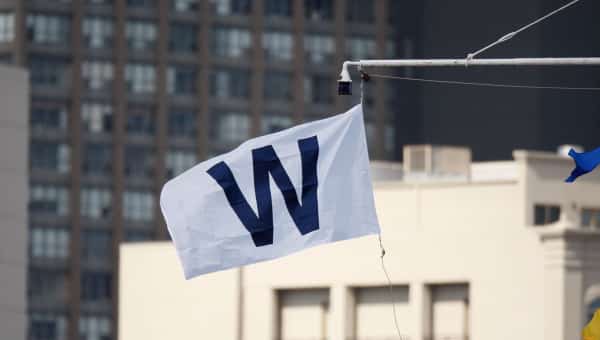 A Tip of the Recap – August 11th
The Cubs' offense clicked early and it held up for a 6-3 win over the Brewers to give the Cubs a 5-game winning streak.
The Good
The offense did all its damage in innings 2, 3 and 4, scoring 6 runs and getting into the Brewers' pen in the 3rd inning. The Cubs made the Brewers' pitching staff throw over 170 pitches (81 from starter Jungmann in just 2.2 innings). They drew 7 walks and an HBP by Anthony Rizzo to go along with their 7 hits.
Every Cub starter reached base by the 4th inning tonight and there were several key performers with the bats tonight. Dexter Fowler's streak of consecutive games reaching base ended recently, but he got right back on base tonight with 2 walks. He also contributed with a run scored and a sac fly RBI (his 30th).
Rizzo and Jorge Soler each drove in a pair tonight. Rizzo had an RBI double (29th double) and a 4-pitch walk with the bases loaded to give him 65 RBI on the year and tie him for the team lead with Kris Bryant. Rizzo finished the day 2 for 3 and reached a total of 4 times (walk, HBP); his AVG is back up to .298. Soler had an RBI single, but also drove in a run on an HBP with the bases loaded to bring him to 36 RBI.
Dan Haren was decent tonight, picking up his 150th career win and improving to 8-7 on the year with a 3.55 ERA. He went 5.1 innings and gave up 3 runs (all earned) on 5 hits (1 HR) and 1 walk with 6 Ks. He struck out the side in the 5th inning before only being able to retire one batter in the 6th, but, all things considered, it was a decent outing from the 5th starter.
Pedro Strop is so locked in right now that it isn't really fair to opposing hitters. He pitched a perfect inning of relief, striking out 2 and lowering his ERA to 2.66 for his 20th hold. He has now gone 11 straight appearances without surrendering a run.
James Russell came in and got the save with Rondon being unavailable tonight. Russell allowed a single to CF, but that was it for the night and he earned his 1st save of the year (4th career).
Starlin Castro came into the game as a defensive replacement for Chris Coghlan and got an AB (he popped out). He did make an outstanding play in foul territory in the 9th inning for the 2nd out. It was good to see him get back into a game and even better to see him contribute with the glove. Maddon said earlier today that he would get some pre-game work at 3rd and 2nd, so he must have looked good enough to go at 2nd base.
The Bad
Nothing bad about a game like this one, as the Cubs had their bats working early and often and really grinded out ABs (especially in the early part of the game).
On Deck 
Game 2 of the series will be tomorrow night at 7:05 PM (CST) on WGN. Jason Hammel (6-5, 3.17) gets the start for the Cubs against Matt Garza (6-12, 4.95) for the Brewers. Ryan Braun should be back in the starting lineup for the Brewers after not starting game 1, though he did make an appearance as a pinch hitter.