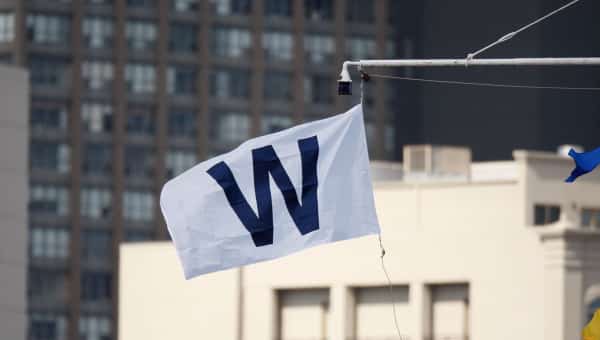 A Tip of the Recap, August 15th
The Cubs have now won 9 games in a row and are 19 games over .500 after their 6-3 win tonight over the White Sox.
The Good
The bats were on point again tonight, with 5 different Cubs having a 2-hit day and 4 different Cubs driving in at least 1 run. It was a team effort that made the Sox pitchers throw 190 pitches.
Dexter Fowler went 2 for 4 with an RBI double (his 20th double and 33rd RBI). He has a .432 OBP in the 2nd half, driven by his 20.8% walk rate. He is also slugging .505 with a wRC+ of 162, so it is safe to say that he is pretty hot right now.
Kyle Schwarber had an RBI single and a run scored in 5 ABs tonight. He his hitting .315 with 27 RBI on the year and his addition to the lineup on a pretty much everyday basis has been a real boost.
Kris Bryant had a 2-hit day, going 2 for 4 with 2 singles and a run scored. He now has hit safely in 12 straight games and has back-to-back 2-hit games. Bryant has raised his AVG all the way up to .257 and him busting out of his first prolonged slump on any level is good.
Anthony Rizzo also went 2 for 4 with a walk, a gift double that was lost in the lights to CF (his 30th), and an RBI single through the shift to give him 68 on the year to go with his .298 AVG.
Jorge Soler was shifted from RF to DH in the starting lineup due to some calf soreness and responded by going 2 for 5 with 2 RBI singles to give him 39 RBI and a .270 AVG. Maddon did say if the game was in an NL ballpark he would have been able to play the field, so we will see what happens tomorrow as far as whether he is back out in RF or not.
Addison Russell went 2 for 3 with 2 doubles (22 on the year), 2 runs scored, and a sac bunt. He is up to .240 on the year after hitting a modest (but better) .264 in the 2nd half so far.
Jake Arrieta had a strong start, though he has spoiled Cubs fans to the point that giving up 3 runs (2 earned) in 6.2 innings is considered not normal. He gave up 5 hits with 2 walks and 5 Ks in what turned out to be his 11th straight quality start. He improved to 14-6 on the year with a 2.39 ERA and will get the Braves at home next time out on the mound.
Hector Rondon earned his 21st save with a nearly perfect inning of relief (he surrendered 1 walk) with 1 K. His ERA is at a very tiny 1.69 and I, for one, am glad that the Cubs didn't go out and add Papelbon at the deadline. Rondon has been pretty solid for the past 2 seasons and deserves to be in the closer's role.
The Bad
I don't know that I could find one thing that I consider bad about this one, besides only getting the Sox broadcast on TV. Though I must say Hawk and Stoney are much more tolerable when the Sox are losing.
On Deck
The Cubs will go for the sweep and a 10 game winning streak tomorrow afternoon at 1:10 PM (CST) on CSN (Cubs) and WGN (Sox). Dan Haren (8-7, 3.55) will get the ball against a tall order (literally and figuratively) in Chris Sale (10-7, 3.47) for the Sox.