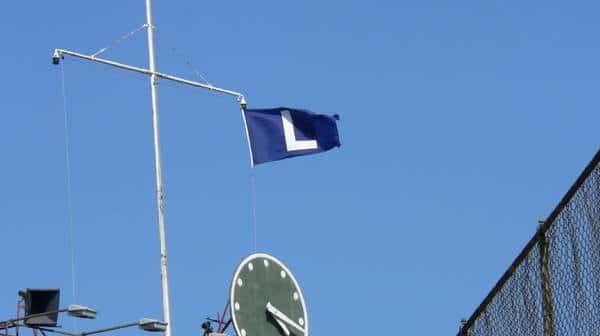 A Tip of the Recap – August 19th
The Cubs were out-slugged by the Tigers and lost in a blowout tonight by a score of 15-8.
The Good
The top of the order made this game at least watchable with Dexter Fowler, Kyle Schwarber and Kris Bryant doing big things at the plate tonight and accounting for 5 of the 8 runs driven in for the Cubs.
Fowler went 3 for 5 with a solo HR (his 13th), a single and an RBI double (22nd double). He is now hitting .252 for the year with an OBP right around .350. He has been scorching hot since the 2nd half began and with no prospect ready to man CF next year, I hope the Cubs try to re-sign him.
Kyle Schwarber continues to look anything but overmatched at the plate. He had a 1 for 3 day with a solo HR (his 10th) in the 7th inning and drew 2 walks. He now sits at .311 with 10 HRs and 31 RBI in just 36 games.
Kris Bryant had the best day of all the hitters tonight; he was a perfect 4 for 4 and finished a double shy of the cycle. The 4 hits were a career high and included a towering 2-run HR (his 17th) and his 5th triple. After a bit of a prolonged slump he now sits on a .259 AVG, 17 HRs, and 68 RBI with an OPS of .828; not too shabby at all.
Chris Coghlan was a late entrant into the ballgame, but went 1 for 2 with an RBI triple to right-center. It was an awkward slide into 3rd for his 2nd triple of the season, but it scored Castro from 2nd for his 32d RBI of the year to go with his .251 AVG.
Clayton Richard is the only guy out of the pen that deserves mention in the good section. He came in to relieve Lester in the 3rd inning and proceeded to throw 3.1 innings and gave up just 1 run on 5 hits (1 HR) with 0 walks and 4 Ks. His ERA is 3.58 and the last few times out in the mop-up role for Richard have gone very well.
Chris Denorfia got into the game to pitch the final out of the 9th and got a very economical 2-pitch groundout to get out of the inning. Obviously the game had gotten out of control at that point and you may as well put a position player in there when the pen can't do anything productive.
The Bad
The pitching in this 2-game series was about as bad as it has been all year. Every Cubs pitcher (except Denorfia) gave up at least 1 run tonight and Jon Lester had a terrible start, lasting only 2.2 innings and giving up 7 runs (all earned) on 7 hits (3 HRs) and  3 walks with 4 Ks. He didn't have his command tonight and the Tigers didn't miss any mistakes. Lester falls to 8-9 on the year and his ERA rose to 3.58.
Jason Motte and James Russell were both hit hard in their innings of work. Motte gave up 2 runs (both earned) on 3 hits with no walks and 1 K. It seemed like his fastball was moving right over the heart of the plate every time he threw it. He saw his ERA rise to 4.08 and it would appear that he is no longer a trusted guy out of the pen.
James Russell was even worse; in his 1.2 innings of work he gave up 5 runs (all earned) on 6 hits (1 HR) with 2 Ks. His ERA now sits at 4.60 and couldn't even get lefties out, giving up 2 run-scoring base hits to left-handed hitters.
On Deck
The Cubs will gladly say goodbye to the Tigers as they welcome the Atlanta Braves to town for 4 games starting on Thursday at 7:05 PM (CST) on CSN. Jake Arrieta will look to stop the 3 game losing streak in its tracks as he faces off against the Braves' Mike Foltynewicz.