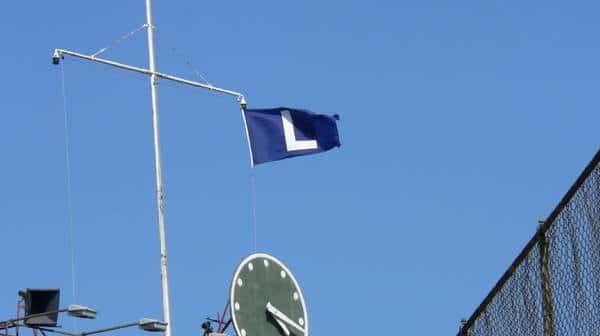 A Tip of the Recap – August 19th
The Cubs battled through a rain delay and some deficits, but ultimately came up short in their 10-8 loss to the Tigers.
The Good
The Cubs' offense pounded out 11 hits (2 HRs, 2 doubles and a triple), while turning a 6-2 game into a 6-6 game going into the 8th; but more on that in a second.
Dexter Fowler had a 2nd-half Dexter Fowler game, going 2 for 3 with a double (his 21st), 2 walks, and 2 runs scored. He is all the way up to .248 on the year with an OBP of .346.
Kyle Schwarber went 1 for 4, but made that 1 count with a 2-out, 3-run HR in the 5th inning. He also walked and scored 3 runs on the day. He is hitting .310 with 9 HRs and 30 RBI in just 35 games while slugging a robust .595.
Coming into play on Tuesday, the Cubs had been 12-0 when Chris Coghlan hit 3rd in the lineup, and he did his part to keep that streak alive. He went 2 for 4 with a 2-run HR in the bottom of the 1st to answer the Tigers' 3 spot in top of the 1st. He also drew a walk and scored 2 runs on the night. He is hitting .249 with 14 HRs and 31 RBI on the year and will continue to get his bat in the lineup when there is a righty on the mound.
Anthony Rizzo drove in a couple with an RBI single and an RBI groundout. He finished 1 for 5 and is now at .295 with 70 RBI on the year.
Miguel Montero and Addison Russell each had 2-hit days. Russell had his 1st triple and also scored a run, while Montero hit his 6th double.
The Bad
Jason Hammel was hit early and often, giving up 3 runs in the 1st then 2 more in the 2nd before getting out of the 3rd unscathed. He was then knocked out completely by the rain delay. In all, he went 3 innings with the 5 runs given up (all earned) on 9 hits (3 HRs) and a walk with 6 Ks. He got the no decision but saw his ERA raise to 3.38.
Pedro Strop had his first rough outing in quite some time; giving up 3 runs (all earned) on 3 hits and 2 walks with 3 Ks. He earned the loss and fell to 1-6 on the year with a 3.02 ERA.
On Deck
The final game of this quick 2-game series will be tonight at 7:05 PM (CST) on ESPN. Jon Lester (8-8, 3.21) will get the call against lefty Daniel Norris (2-2, 4.24), one of the players acquired by the Tigers in the David Price trade.