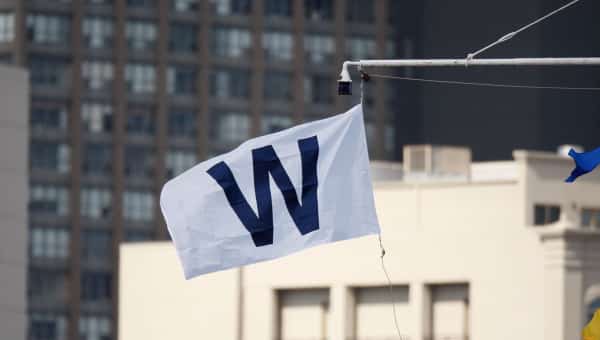 A Tip of the Recap – August 21st
The Cubs fell behind early but chipped away and ultimately won by a score of 5-3 over the Braves.
The Good
Chris Coghlan continues to add on to his already career-high HR total. Today he hit a solo shot to left in the bottom of the 1st to tie things up at 1-1. It was his 15th HR of the year and his 35th RBI to go with a .254 AVG.
After a run-scoring error by the Braves in the 5th made the score 3-2, Kris Bryant and Miguel Montero hit back-to-back RBI doubles in the 6th to take the lead for the first time. Bryant's RBI double (20th double and 69th RBI) was a laser down the LF line and came after a full-count walk by Anthony Rizzo. Montero smashed his double (8th double and 36th RBI) to right-center to score Bryant.
Anthony Rizzo came up huge with the ever important insurance run in the bottom of the 7th. It was a 2-out RBI single through the shift to score Addison Russell (who hit his 23rd double to lead off the inning). It was Rizzo's only hit of the day and was his 74th RBI of the year.
The pen was great in relief of Kyle Hendricks; Jason Motte, Justin Grimm, Pedro Strop and Hector Rondon finished with a scoreless inning each. Motte earned his 8th win (8-1 on the year) and Hector Rondon worked around a double and a walk to earn his 22nd save of the year.
It was cool to see Harry on the jumbotron singing the stretch today. I know it was done earlier this season, but it was especially cool today with his grandson Chip Caray there broadcasting for the Braves (not saying I was a fan of the Chip Caray days in the Cubs' broadcast booth, still nostalgically very cool).
The Bad
Kyle Hendricks wasn't bad, but he just wasn't good enough either. He had some bad luck on a couple dribblers, but the big blow was a 2-out, 2-run double by Nick Markakis in the 4th inning. Hendricks finished with 5 innings pitched and gave up 3 runs (all earned) on 7 hits, 1 walk and 7 Ks. It was definitely better than his last time out, so at least a step in the right direction.
On Deck
Game 3 of the 4-game tilt with the Braves will be tomorrow afternoon at 3:05 PM (CST) on ABC7. Dan Haren (8-8, 3.63) will be on the mound for the Cubs against Williams Perez (4-4, 4.34) for the Braves.