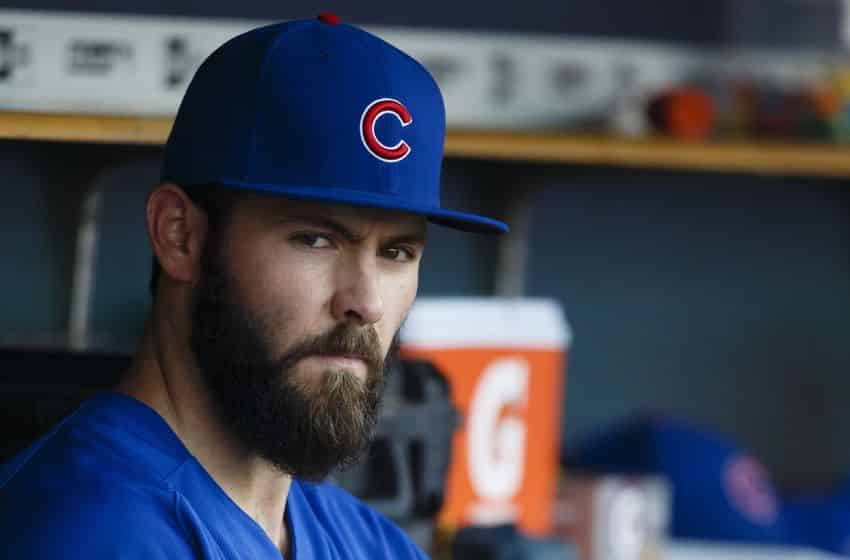 Jake Arrieta is the Clear Choice to Pitch a Sudden-Death Game, But Maybe Not For the Reasons You're Thinking
Just look at that face. Gone is the glabrous and grinning visage, replaced by a hirsute headshot just as surely as an immature pitching repertoire gave way to a collection of pitches that make opponents and viewers alike weak in the knees. Jake Arrieta stopped cutting his beard and started cutting his pitches, and the results have been obvious when he takes the mound.
With more than a full month remaining in the 2015 season, Arrieta has already eclipsed a his career high win (10 in 2011 and '14) and innings-pitched (156.2 in 2014) totals and is on track to best the 2.53 ERA he posted last season as well. I'd say that's pretty good for a guy earning only $3.6 million this season, a total that makes him one of the best values in baseball. You'd think the Sun-Times would talk about that once in a while, but they're a bit too busy with another pitcher's contract.
Speaking of, there's been a bit of an ongoing debate over which of the Cubs' top two starters should take the bump if and when the team makes it to a do-or-die Wild Card playoff game. On one hand, you've got Jon Lester, the highly-paid lefty whose hand is weighed down by World Series rings when it's not tossing baseballs. On the other, you have Arrieta, whose rapid ascendance over the last couple seasons has placed him firmly in the Cy Young conversation.
Do you go with experience or skill, lefty or righty? Do you sell out for the win or hedge your bets and try to set your rotation up for the possibility of future playoff games? All valid questions, none of which need to be answered anytime soon. But since they're out there, I wanted to share my thoughts on the matter.
Baseball is a weird game, one in which a single fluke play could determine the outcome. As such, the use of a one-game playoff for anything outside of a tiebreaker strikes me as a bit frivolous. It's like a kid putting two different insects in a jar to see which kills the other, an artificial circumstance created for no reason beyond the hedonistic pleasure of the viewer. Likewise, the new Wild Card format is simply a TV gimmick meant to draw the casual fan whose attention can't be held for three whole games.
But enough of my lamentations, on with the point. The fact of the matter is that the prize for making the postseason without a division crown is that you have to face another team for one game. And since that one game sets up as a total crapshoot, I believe it's necessary to take every possible precaution to shift the odds in your favor to as great a degree as possible. As with any Vegas table game, knowing the stats and rules helps.
It would be very easy to simply look at the stat lines and point to Arrieta as the clear choice to lead the Cubs in a must-win game, but there's a little more to it than that. Outside of the pitcher, you also want to put forth your best possible lineup. A Jon Lester start means putting David Ross behind the plate; that is easily mitigated over the course of a season, but it's not as desirable in a tiny sample. Still, that's not the main reason I'm advocating for Arrieta.
Many will point to Lester's propensity to allow stolen bases as a reason to keep him out of such an important game, and I think there's merit in that. Again, you've got to keep as broad a margin for error as possible, so starting a guy who's allowed 36 steals through mid-August might not be a great idea. Then again, Arrieta isn't the greatest at holding runners either, as he sits 4th in baseball in terms of stolen bases allowed.
So when I'm looking at making a call on who should start the biggest game of the season, I'm going with consistency. I want to remove as many variables as possible in order to give my team not only the best chance to win, but the lowest chance to lose. When Jon Lester is on, he's great. But he's prone to those little hiccups here and there that just leave you scratching your head a bit. While Lester has allowed 2 or fewer earned runs in 14 starts, he's allowed 4 or more in 6 others.
Arrieta, on the other hand, has only allowed 4 earned runs in 4 stars, none since May 29th against the Royals, and has allowed 2 or fewer in 16 other starts. What's far more striking, however, is the consistency of his home/away splits, which are near mirror images of one another. Arrieta allows a triple-slash of .203/.264/.314 when pitching at Wrigley and a line of .204/.260/.311 when the Cubs are on the road.
There's perhaps a little more variance when you dig into the peripheral numbers, but nothing that jumps out at you. To me, these are signs of a guy who's able to block out the noise going on around him and just play his game. And when Jake Arrieta is playing his game, it's a thing of beauty. His best is better than Lester's and his worst isn't as bad, and it's that reliability that leads me to my choice.
I suppose that might seem like the sure decision to many of you, but I have no doubt there are some who will lean on Lester's postseason experience and success as reasons for him to get the start instead. They'd be wrong, but that doesn't mean the opinion isn't a valid one in terms of a spirited debate. I kid a little, but this is a team that has been built largely on the concept that it's better to invest in future success rather than past production.
The Cubs put a lot of money into Jon Lester to be a solidifying force in the rotation and he's done that. But when it comes to who takes the bump in October, I'm putting my money on the future success of Jake Arrieta.