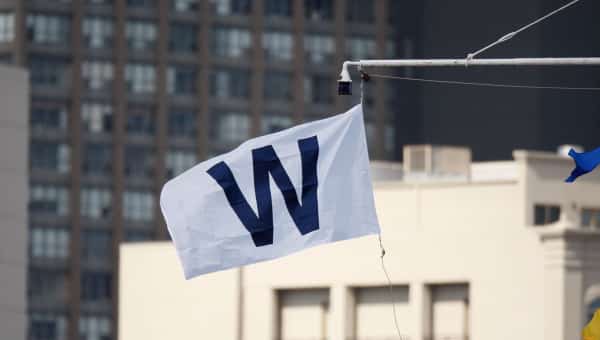 A Tip of the Recap – August 25th
The Cubs brought their boomsticks with them and clobbered 3 HRs behind great pitching from Jake Arrieta to win 8-5 over the Giants.
The Good
Jake Arrieta was great on the way to earning his MLB-leading 16th win. He pitched 6 innings and gave up just 1 run (it was unearned) on 4 hits and 1 walk with 8 Ks, lowering his ERA to 2.22. He needed 102 pitches to get through the 6 innings, so it would have been nice to have him go a little deeper (especially with how bad the pen was). Either way though, it was a strong start to an important road trip.
Kyle Schwarber really got the party started with a huge 2-out, 3-run HR to RF that had a tremendous sound to it off the bat. It was his only hit of the night, but he also drew a walk. On the year he is hitting .275 with 12 HRs and 35 RBI and actually hits better on the road (.342 AVG, 1.038 OPS) than he does at home (.197 AVG, .839 OPS).
Miguel Montero also got in on the action with a no-doubt-about-it bomb to RF in the 4th inning. It was a 2-run shot and gives him 14 HR and 43 RBI on the year with a .239 AVG. He is hitting .286 with 4 HRs so far in August and has homered in his last 3 games.
Starlin Castro got another start with Addison Russell out for the birth of his son and played very well, going 3 for 4 and coming up just a triple shy of the cycle. He went opposite field for his single and double then crushed a high fastball about 400 feet to LF for a solo HR. It was great to see him use all of the field like he used to do at the plate before he got so pull-happy. It would be great to get contributions from Castro going forward and it will be interesting to see if he gets another start tonight with Russell back or if Tommy La Stella will go against the righty (Peavy).
Tommy La Stella looks well suited for the 9 spot in the lineup and contributed by going 1 for 3 with an RBI bloop single to CF and a walk. I really like the idea of La Stella, who is patient and makes contact, I just don't know if he can stay healthy and actually use his contact skills to get hits. Time will tell, as I think he has this week to show what he has before the Cubs call up Javier Baez.
Hector Rondon probably didn't expect to have to pitch tonight with the Cubs taking an 8-0 lead into the 6th, but that wasn't the case. He came in for his 24th save and converted it, giving up just 1 hit with 2 Ks.
The Bad
This looked like a game in which Joe Maddon could use some of the arms that he would like to use in lower leverage types of games and he tried, they just couldn't get the job done. Tommy Hunter and Clayton Richard let the Giants back into the game a little bit.
Hunter almost got out of the inning unscathed after allowing 2 hits and getting 2 outs, but he walked Marlon Byrd on a full count, which led Maddon to bring in Richard. Richard proceeded to give up an RBI single and a 3-run double to put 2 runs on Hunter's line and give up 2 runs of his own before being replaced by Pedro Strop, who go the final out of the inning.
The Jason Motte injury was almost more painful than the Jorge Soler injury because Motte was a competent arm out of the pen that had been doing much better as of late and probably would have started the 8th instead of Hunter. So hopefully Hunter can step up and be a guy capable of finishing his own inning instead of leaving it up to chance.
On Deck
Game 2 will be tonight at 9:15 PM (CST) and can be seen on ESPN and CSN. Kyle Hendricks (6-5, 4.03) will get the call against Jake Peavy (3-6, 4.35) for the Giants in what will be a big game for both teams with Madison Bumgarner starting tomorrow's game.