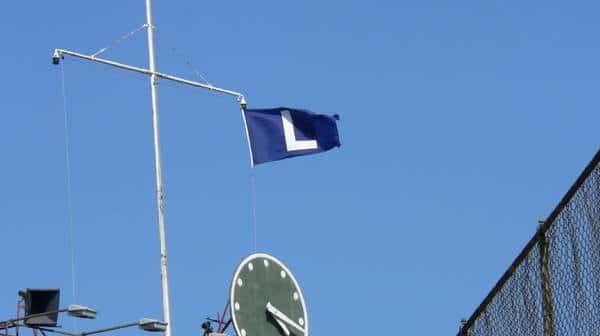 A Tip of the Recap – August 26th
The Cubs scored 2 early to take an early lead, but Kyle Hendricks couldn't make it hold up and the Cubs didn't score again on their way to a 4-2 loss to the Giants, snapping their 6 game winning streak.
The Good
Kris Bryant stayed hot, going 2 for 4 with a 2-out, 2-run single in the first inning to give the Cubs the early lead. It was a hard-hit lined shot up the middle that almost took Jake Peavy's head with it, scoring Kyle Schwarber and Chris Coghlan. Bryant added his 22nd double later in the game and now hitting .265 with 20 HRs and 77 RBI.
Kyle Schwarber got the start in LF (like usual), but also was Joe Maddon's leadoff man with Dexter Fowler nursing a bruised hand and shin. Schwarber got things started in the top of the 1st with an infield double (you didn't read that wrong). He hit a pop-up in the infield and no one wanted it, so, thanks to hustle from Schwarber, he was able to make it all the way to 2nd base. He added another single later in the game and even stole 3rd base (his 3rd SB on the year).
Other than those two, the bats were mostly silent for the night even though the Cubs had a couple rallies going they never could cash in with the timely hit. Coghlan reached a couple times with 2 walks and Chris Denorfia also reached twice with a hit and a walk, but that was about all the offense could get done.
Travis Wood and Tommy Hunter pitched the final 2 innings with Wood going 1.1 and Hunter going .2. Neither one gave up any runs with the lone hit being surrendered by Hunter. The also struck out 3 Giants between them and didn't walk anyone.
The Bad
Kyle Hendricks was staked to an early lead and couldn't make it last even 1 inning, giving up 2 runs to the Giants in the bottom of the first. He was actually pretty solid over the 2nd, 3rd, 4th and 5th innings before giving up a couple run-scoring doubles in the 6th. Overall, Hendricks finished with 6 innings pitched, giving up 4 runs (all earned) on 5 hits and 3 walks with 6 Ks. He falls to 6-6 on the year with his ERA rising to 4.11.
On Deck
The Cubs will finish their series with the Giants this afternoon with a 2:45 PM (CST) start time on CSN. The matchup doesn't look great on paper for the Cubs as Dan Haren (8-8, 3.76) will get tasked with going head to head with Madison Bumgarner (15-6, 3.02) for the Giants.