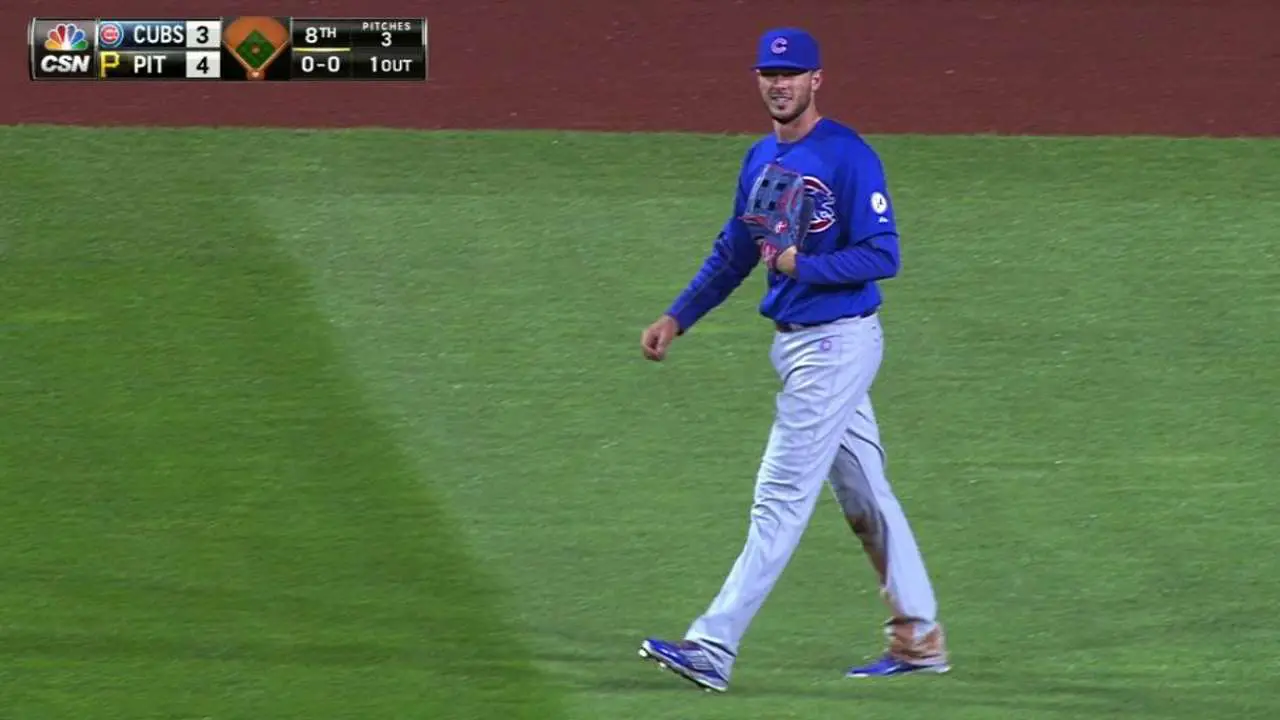 Is Kris Bryant Shifting to OF While Javy Baez Plays 3B a Sign of Things to Come?
Who wants to play a game of "Using anecdotal evidence to speculate on the future positions of Cubs players?" Huh, I thought there'd be more interest. Oh well, this is more of a one-man game anyway. In any case, the defensive alignments last night had me thinking about what the Cubs might look like coming down the stretch.
The Cubs have reiterated a desire to allow Javy Baez as much time as possible to build up both his routine and his confidence at AAA before giving him another crack at the majors, and that also appears to include an opportunity to broaden his defensive horizons. While Baez has played primarily shortstop (39 games) this season, he's also gotten time at second (17), and third (8). The latter was the case last night, as Baez was the starting 3B vs. the Fresno Grizzlies in Des Moines.
It should also be noted that of those 8 games he's played at the hot corner, 3 have come in Iowa's last 4 contests. Could this just be a coincidence, or is there something to be concluded from a higher concentration of time at a new position just as we're nearing the 9/1 roster expansions? It's certainly food for though, particularly with what went on late Wednesday night 1,800 miles away from Principal Park.
In the 7th inning of the Cubs' loss to the Giants, Kris Bryant moved out to CF after Tommy La Stella came into the game as a pinch hitter and took over at third. This isn't the first time we've seen Bryant in center, either. He moved out there late in the game on Aprill 22nd, when the Cubs lost to the Pirates. I remember that very distinctly because I was actually sitting next to Tommy La Stella — how's that for coincidence, huh? — when it happened.
Yeah, it's a weird story. I wrote about it at the time, but chose to focus on my interaction with Mike Olt.
But moving on, Bryant actually got a start in CF the very next day and then got another in LF on June 2nd. In total, he's played 21 innings in the outfield this season and has acquitted himself pretty well. So could this mean the Cubs are going to look to move Bryant to the OF on a more permanent basis once Baez is (presumably) called up on Tuesday? Maybe.
Or maybe the late-game move was simply a matter of Joe Maddon cobbling together what he could given the situation. Dexter Fowler's been a little nicked up and didn't get the start, so options were somewhat limited in the first place. And when you get down to it, this mix-and-match lineup is really what Maddon has been pining for all season.
Kyle Schwarber hadn't played a single inning in the outfield before being shifted out there to carry 3 catchers. Chris Coghlan's been playing 2B and Starlin Castro has been coming in as a defensive replacement, as well as taking grounders at third. Tommy La Stella can play all over the diamond, as can Jon Herrera. So rather than look at the Bryant and Baez moves as indicators of anything solid, I see them more as manifestations of the Cubs' overall M.O.
This team has a lot of talent as is, and playing time is hard to come by. That's not going to get any easier with the roster expansion, so flexibility is a key. You can be sure Maddon is going to do everything possible to put together the best lineup day-in, day-out, and that may mean starting Bryant in CF, Schwarber in LF, and Baez at 3B. It could be Baez at 2B, Bryant at 3B, and Schwarber catching and hitting leadoff. Who knows?
If we've learned anything about this new age of Cubs baseball, it's that nothing is ever static. Even the mundane seems exciting when you've got Maddon science at play. Things should get even more exciting within the week too, because no matter where he plays, having Javy Baez in the mix is going to be a sight to behold.
***UPDATE***
Kris Bryant is starting in RF on Thursday afternoon vs. the Giants