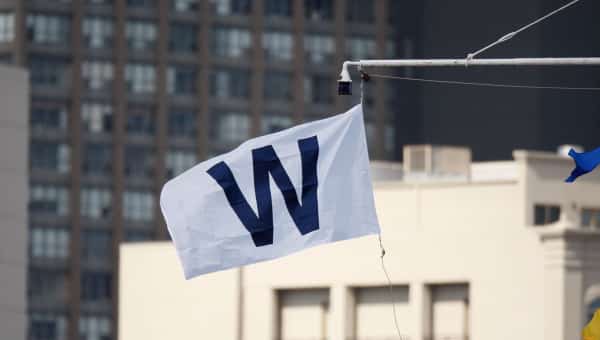 A Tip of the Recap – August 30th
Jake Arrieta threw the 14th no-hitter ever by a Cubs pitcher on the way to a big 2-0 victory over the Dodgers tonight.
The Good
Tonight's game was all about Jake Arrieta and he came up huge in a huge moment for the Cubs. He was dominant on the mound with the no-hitter, which featured 1 walk and 12 Ks (including striking out the side in the bottom of the 9th). He got ahead of almost every hitter tonight and was able to put them away.
Arrieta improved to 17-6 on the year with a 2.11 ERA and finishes August with a 6-0 record and a 0.43 ERA; yeah, he probably should win pitcher of the month. He has been huge for the Cubs and adding him to the team has to be one of the defining moments for this front office.
There actually was a ton more offense than the score would indicate from the Cubs tonight as they pounded out 13 hits. Dexter Fowler went 3 for 5 with his 24th double and Starlin Castro was 3 for 5 with his 15th double.
The biggest hit came from Kris Bryant, who put the Cubs out in front early with a 2-run HR to LF (his 21st HR and 79th RBI). He did strike out 3 times in his other 4 ABs tonight and left 5 men on base, but got the big hit when it mattered and Arrieta made it hold up all night.
The Bad
The only thing bad about this was when the Cubs had to hit with men in scoring position. As a team they were 0 for 9 with men in scoring position and really had chances to get Alex Wood out of the game early in this one. He ended up making it through 6 innings even though is pitch count was up in the 70s early in the 4th inning.
Other than that though, it was a huge win because the Pirates and the Giants both lost tonight so the Cubs were able to gain a game on both teams and will head home for the Reds and D-Backs this week.
On Deck
The Cubs will host the Reds for 3 this week with game 1 being tomorrow night at 7:05 PM (CST) on CSN. Kyle Hendricks (6-6, 4.11) will get the start for the Cubs against Michael Lorenzen (3-8, 5.46) for the Reds.