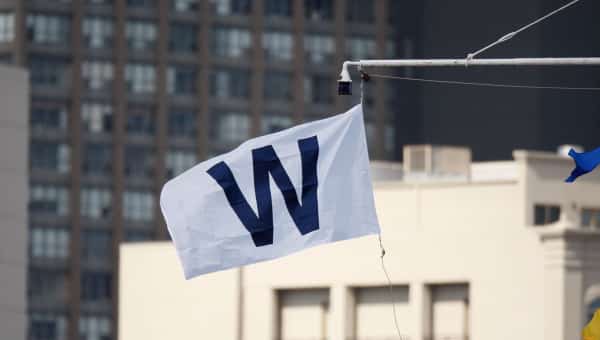 A Tip of the Recap – September 1st
The Cubs battled from behind to take the 2nd game of the series with the Reds by a score of 5-4 behind the heroics of Kyle Schwarber.
The Good
All 5 of the Cubs' runs came with 2 outs tonight, with Kris Bryant hitting 2 clutch RBI singles and Miguel Montero also coming up big with his own RBI single. But the most clutch hit was by Kyle Schwarber, who went deep into the left center bleachers for a go ahead 2-run HR in the 7th.
Kris Bryant has really been hot for the past month and continued that streak with a big 3 for 4, 2 RBI night. The one out he made was a warning track fly ball to LF with 2 men on that was oh so close to being a 3-run shot. Bryant is now up to a .269 AVG and leads the team with 82 RBI.
Miguel Montero went 2 for 4 with his 2-out RBI single and a ringing double (10th) that one-hopped the wall in right center. He is hitting .237 and is at 44 RBI on the year.
Like I said above, the big hero of the night though was Kyle Schwarber, who crushed a HR to left center on a 3-2 pitch to give the Cubs the 5-4 lead. It left his bat at 106 MPH and travelled over 430 feet. He has been slumping quite a bit recently, but drew a walk earlier in the night (his 2nd in a week) and then added a single before crushing the HR. He is hitting .270 with 13 HRs and 38 RBI and it is good to see him come out of the slump he was in with a big hit.
Dan Haren did well enough for a 5th starter and kept the team in the game through his 5 innings of work. He ended up giving up 2 runs on 4 hits (1 Votto HR) and 1 walk with 4 Ks. His will take his 8-9 record and 3.89 ERA into St. Louis next week where it all began for him.
Justin Grimm was back to his normal self tonight with a perfect inning and 2 Ks to get out of a jam that Clayton Richard had pitched him into.
Pedro Strop and Hector Rondon shut the door in the final 2 innings with each giving a perfect inning of relief. Strop struck out Brandon Phillips to end the inning and showed some serious energy as he walked off the mound (that was actually well received by Phillips). Rondon struck out the final 2 hitters of the inning after getting a good play by Javier Baez at short for the first out of the inning. Rondon earned his 25th save and lowered his ERA to 1.53 on the year.
The Bad
Clayton Richard started the 6th inning with 2 lefties due up and didn't retire either one. Instead he gave up back to back doubles to Jay Bruce and Joey Votto before being replaced by Grimm, who was helped by a heads-up play from Anthony Rizzo that saw him take a grounder right to him and throw the ball to Bryant at 3rd to retire the advancing Votto for the first out of the inning.
The Cubs designated James Russell for assignment today to make room for their roster additions, so the hope was that Richard could help fill that role, especially due to the fact that LH hitters are only hitting .184 with a .428 OPS against him. Tonight was just not very good.
Other than that though, it was a big win for the Cubs and puts a little pressure on the Giants to hold serve against the Dodgers.
On Deck
The final game of the series will be tomorrow afternoon at 1:20 PM (CST) on CSN. Jason Hammel (7-6, 3.42) will take the mound for the Cubs as he squares off against Raisel Iglesias (3-6, 3.92) for the Reds.