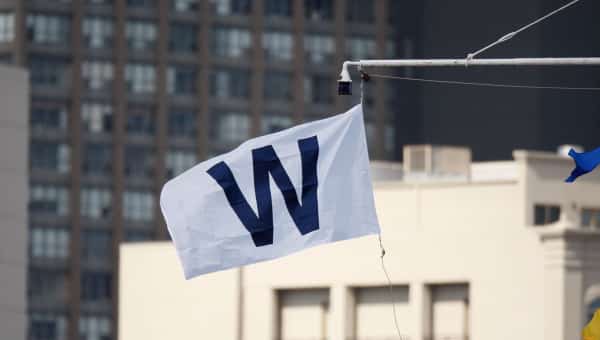 A Tip of the Recap – September 4th
The Cubs walked (8) and homered (4) their way to a blowout win over the D-Backs with a final score of 14-5 today in the first game of their 3-game series.
The Good
Every Cub starter except Austin Jackson and David Ross drew a walk today, with Kris Bryant and Javier Baez each earning an RBI with bases-loaded walks in the first inning. Addison Russell hit 2 HRs, Javier Baez hit one and Anthony Rizzo hit a grand slam in the 8-run 5th inning to put this one out of reach.
Addison Russell finished the day going 2 for 3 with the 2 HRs (1st multi-HR game of his career, 12 HRs on the year now) with 3 runs and 3 RBI (41 total). He is hitting .244 and I have to remind myself that he is just 21 years old and already is an awesome defender and has 12 HRs with about a month to go; pretty impressive.
Javier Baez got the start at 2nd today (later moved to 3rd) and did not disappoint at the plate or in the field. He went 3 for 4 with a much more controlled swing that didn't feature a high leg kick and sprayed the ball all over the field with a single up the middle, a bloop single to right and the massive HR to LF. He didn't strike out at all today and made some great plays in the field, especially on a smash right at him at 3rd that he easily picked and calmly threw over to first for the out.
Anthony Rizzo looks like his ready to put his slump in the rearview mirror with a 2 for 3 day that included a walk, a hard-hit single and an absolute smash for a grand slam. The one out he made was a warning track fly ball that would probably have gone out on a normal day. He is back up to a .285 AVG with 28 HRs and 83 RBI on the year. He has a decent shot to get to 30 HRs and 100 RBI with even a mediocre month and will get some love in the MVP vote as well.
Chris Coghlan started in LF but finished at 1st to give Rizzo a breather and had a nice day at the dish, going 1 for 3 with a single, 2 walks and 2 runs scored. He even made one hell of a stretch on a throw from Jonathan Herrera, who stopped a ground ball up the middle and made a strong throw to retire the hitter.
Jon Lester would tell you that he didn't have his best stuff and probably would have only gone 6 innings max, but ended up coming out after the 5th with the Cubs having a huge lead. He gave up 2 runs (both earned) in his 5 innings on 5 hits and 2 walks with 3 Ks. He improves to 9-10 on the year with a 3.59 ERA and will have the Cardinals the next time out in St. Louis.
With the huge lead the Cubs had, they were able to rest pretty much the entire starting lineup after the 6th inning with Baez, Coghlan and David Ross the only ones to play the entire game today. It truly was a September game with almost everyone getting a shot to play in this one.
The Bad
I don't know what one could point for a bad thing about this game. If I had to pick something I would say the pen wasn't terribly sharp. The good thing is that they didn't need to be with the lead they were given. And aside from Justin Grimm, who pitched a scoreless 6th, the other guys (Tommy Hunter, Tsuyoshi Wada and Travis Wood) aren't going to be relied on to do much of the important work from the pen in big games anyway.
On Deck
Game 2 will be tomorrow  with another start time of 1:20 PM (CST) on CSN. Jake Arrieta (17-6, 2.11) will make his 1st start since his no hitter on Sunday against lefty Robbie Ray (3-10, 3.72) for the D-Backs.