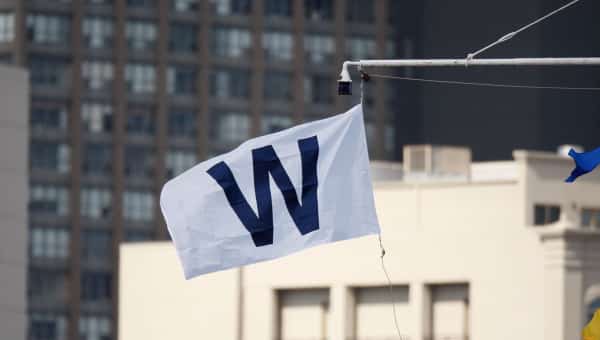 A Tip of the Recap – September 5th
The Cubs made a pair of runs stand up behind great pitching from Jake Arrieta for a 2-0 victory over the D-Backs today.
The Good
Arrieta was outstanding (as usual) today and went 8 shutout innings, giving up just 4 hits with 0 walks and 7 Ks; at one point he retired 16 straight D-Backs. He improved to 18-6 on the year and lowered his ERA to 2.03 and hasn't allowed an earned run in 29 straight innings.
The bats didn't provide much today, but obviously 2 runs felt like a ton with Arrieta on the bump. The Cubs only managed 4 hits as a team, but drew 4 walks and got starter Robbie Ray out after 5 innings.
The Cubs had a big threat going in the 4th with the bases loaded and no outs, but only managed 1 run on an RBI groundout from David Ross (scoring Rizzo, who had singled earlier). Dexter Folwer hit his 16th HR in the 5th to make it a 2-0 lead, one that held up for the remainder of the game.
Starlin Castro got his first start since going on an error binge (4 in 2 games) earlier this week and responded with a 2 for 3 day at the plate to raise his AVG to .248 on the year. I really liked the lineup against the left-handed Ray with Castro, Javier Baez and Addison Russell all getting the start in the infield and Kris Bryant starting in LF.
Hector Rondon wasn't lights out and truly needed a great defensive play from Kris Bryant from being in real trouble, but still shut the door for his 26th save of the year.
The Bad
Nothing bad about this one, as the Cubs are now back to 20 games over .500 for the year and woke up today with a 7.5 game lead over the Nationals and an 8 game lead over the Giants for the 2nd wild card spot. Hopefully they can complete the sweep tomorrow with a big series in St. Louis starting on Monday.
On Deck
The Cubs will conclude their series with the D-Backs tomorrow afternoon at 1:20 PM (CST) on WGN. Kyle Hendricks  (6-6, 4.15) will get the start and he really could use a good one as he faces off against young righty Rubby De La Rosa (12-6, 4.46) of the D-backs.