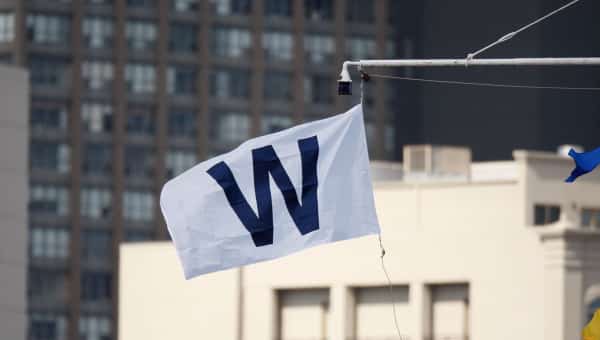 A Tip of the Recap – September 6th
The Cubs bashed 3 HRs (2 solo and a grand slam) to defeat the D-Backs by a score of 6-4 to sweep the weekend.
The Good
Every starter except for Dexter Fowler and Anthony Rizzo (though he did draw a walk)had at least one hit. Austin Jackson and Chris Denorfia both had doubles (Denorfia's 10th and Jackson's 20th) while Chris Coghlan, Javier Baez and Addison Russell added singles.
Kris Bryant hit the longest HR of the season by anyone with his 495 foot solo shot that hit more than halfway up the jumbotron to tie the game 1-1. He also drew a walk and is now sitting on a .267 AVG, 23 HRs and 86 RBI.
Miguel Montero obviously had the biggest hit of the day with his grand slam in the 6th inning against his former team. He finished 2 for 3 with a single and walk and is now hitting .239, but with 15 HRs and 48 RBI on the year.
Jonathan Herrera added a pinch-hit solo HR in the 6th after Montero hit his grand slam to make it 6-1, which it stayed for most of the game. It was his 2nd HR and 14th RBI to go along with his .232 AVG.
Kyle Hendricks was decent today and went 5 innings, giving up just 1 run (earned) on 3 hits and 2 walks with 4 Ks. He got a no decision because the Cubs scored 5 in the 6th, but he pitched well enough to win. He lowered his ERA to 4.08 and will get the Phillies in Philadelphia next time out.
Justin Grimm and Fernando Rodney both pitched scoreless innings of relief in the 6th and 7th, respectively. Grimm walked one guy, but that was it as his ERA was lowered to 1.94. Rodney gave up a hit and a walk but struck out 2 and has been pretty solid since the Cubs picked him up off of waivers in August.
The Bad
Dexter Fowler had an 0 for 4 day with 4 Ks, so that wasn't great. But days like this have been the exception with as hot as he has been after the break. I would expect a big bounce-back game from him tomorrow against the Cardinals.
Trevor Cahill almost closed out the 6-1 victory in the 9th, but gave up a HR and a walk before he had to be replaced by Pedro Strop (who gave up a HR of his own, before striking out the final batter of the inning). It would have been nice if Cahill could have gotten out of it without having to use Strop, but he did only have to throw 5 pitches, so it wasn't a big deal.
On Deck
The Cubs now hit the road for 11 straight away games over the next week and a half. Tomorrow they start a big series with the Cardinals in St. Louis, with game 1 set for a 1:15 PM (CST) start on WGN. Dan Haren (8-9, 3.89) will get the ball in game 1 against Lance Lynn (11-8, 2.80) for the Cardinals.