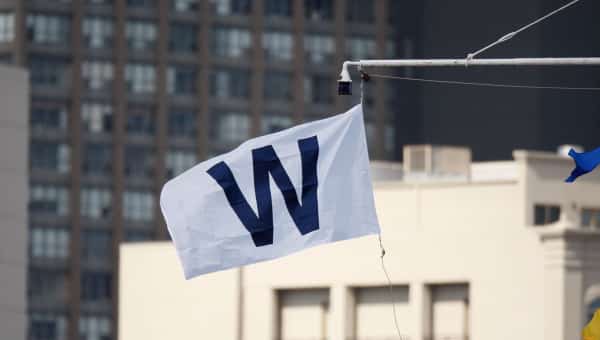 A Tip of the Recap – September 8th
The Cubs jumped out to an early lead behind a strong start from Jason Hammel and held on to win by a score of 8-5 over the Cardinals tonight to extend their winning streak to 5 games and improve to 80-57 (a new season high on games above .500).
The Good
Starlin Castro and Anthony Rizzo provided 7 of the 8 RBI and each hit a HR to pace the Cubs offense early. Anthony Rizzo got the offense going in the first inning with a 2-out, 2-run HR (29th of the year and 100th of his career). He later added an RBI single that was perfectly placed up the middle on the shift to score Castro from 2nd. He is hitting .285 and now has the team lead in RBI with 87.
Castro finished 2 for 4 with a 2-out, 3-run HR (his 7th) and an RBI double (17th double) to give him 4 RBI on the day. Castro is now hitting .252 on the year with 52 RBI. He really handled his demotion from everyday player with class and never hung his head, which has made him very easy to root for.
Javier Baez 2.0 is really something to see; he went 2 for 4 today with a double down the LF line and then one down the RF line. He got the start at 3rd and made some outstanding plays on defense, including a bare-handed throw to first on a bunt attempt and a diving stop on a smash from Jason Heyward. He has always had the glove and instincts, but now it seems his approach and swing have improved to the point that he can be a real contributor to the team in the stretch run.
Austin Jackson has looked like a solid pickup for the Cubs and his presence on the roster has helped deal with the losses of Jorge Soler and Kyle Schwarber (who did return as a pinch hitter tonight). Jackson went 2 for 5 with a single, his 21st double, and 2 runs scored out of the leadoff spot. He is a more than solid glove in the OF and very competent with the bat; truly a really good baseball player the Cubs got for next to nothing.
Jason Hammel was really solid for the first 6 innings of his start today, but seemed to tire out in the 7th inning and had to be removed after giving up a walk, a 2-run HR, then another walk. In all, he went 6 innings and was charged with 3 runs (all earned) on 4 hits and 4 walks with 6 Ks. He got the win and improved to 8-6 on the year with a 3.59 ERA. He also added a big RBI single in the 2nd inning up the middle to score Baez.
Fernando Rodney probably threw his biggest inning as a Cub tonight as he came in for the 8th against a team that just put up a 5-spot in the 7th to get back in the game. Rodney was lights out and struck out 2 in a perfect inning of relief.
Hector Rondon came in for the final 3 outs and got the job done with 2 Ks to earn his 27th save and lower his ERA to just 1.45.
The Bad
The 7th inning was a complete disaster and caused quite a bit of angst for Cubs fans. Hammel began the inning and, like I said above, had some struggles. Maddon went with Justin Grimm to relieve Hammel, though Grimm only got 1 out before he was replaced by Clayton Richard (who got his job done).
Pedro Strop came in after Richard retired his one batter and was pretty awful really. He gave up 2 hits and a walk while allowing all 3 of the inherited runners to score (1 charged to Hammel and 2 to Grimm). Strop did get the final out on a strikeout with the go-ahead man at the plate, but the game got too tense. It is never good when the manager has to make 3 pitching changes in 1 inning of a game that was 8-0 to start that frame.
On Deck
The Cubs will go for the sweep tomorrow afternoon at 12:45 PM (CST) on CSN. Jon Lester (9-10, 3.59) gets the start for the Cubs against Carlos Martinez (13-7, 3.04) for the Cardinals.