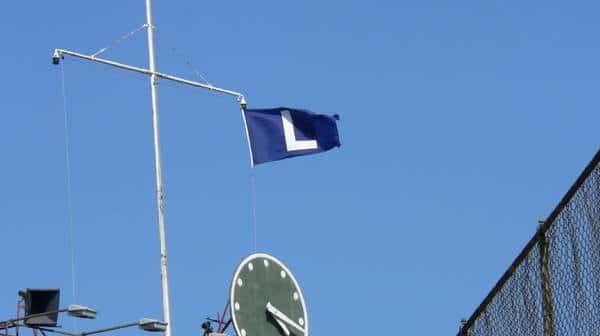 A Tip of the Recap – September 12th
The Cubs lost a roller coaster of a game tonight with the Phillies hitting a walk-off HR to win by a score 0f 7-5.
The Good
The Cubs took the lead in the 3rd inning, thanks to a solo HR from Kyle Schwarber into the RF bleachers. It was his 16th HR and 42nd RBI on the year; he also added a walk and another run scored to his line for the night.
The Cubs pen and defense gave up a 5-spot to the Phillies in the 7th, but the Cubs were quick to respond with a 4-run 8th inning to tie things up at 5. Chris Coghlan hit a 2-run double (his 23rd) to score score Dexter Fowler and Kyle Schwarber (RBI 38 and 39).
Kris Bryant followed an Anthony Rizzo HBP with his own run-scoring double (24th double, 91st RBI) to put men on 2nd and 3rd with no outs. A sac fly from Miguel Montero (50th RBI) tied things up at 5-5 and the comeback was complete (sadly, it didn't stay that way).
Joe Maddon decided to make today the bullpen day instead of waiting for Sunday as he had originally planned, so Travis Wood got the start. He went 3 strong innings and gave up 0 runs on just 3 hits, 0 walks and 5 Ks. Trevor Cahill came in next and also pitched 3 innings, but his were perfect with 3 Ks. Truly a great start to the game; no one would have guessed that the pen would start with 6 shutout innings.
The Bad
Justin Grimm should have gotten out of his inning safe and sound, but an uncharacteristic error from Anthony Rizzo opened the floodgates that allowed for 5 unearned runs. Grimm wasn't great all night though and really struggled with his command (walking 3 in his inning of work).
The Cubs had the go-ahead run at 3rd base with 1 out in the 8th, but couldn't get him home safely with Javier Baez hitting a grounder at the 2nd baseman who then threw the ball to home to easily get Kris Bryant out (though it did appear that he didn't have a clear path to the plate).
Hector Rondon retired the first 2 batters he faced quickly before walking the 3rd guy he faced on a 3-1 count. He then proceeded to give up the walk-off HR to Cody Asche to end the game. It was just his 15th walk and 4th HR given up in 63.2 innings this year, so it was kind of flukey but still a rough way to lose a game that saw them come all the way back to tie things.
On Deck
The final game will be tomorrow afternoon at 12:35 PM (CST) on WGN. Dan Haren (9-9, 3.73) will get the start in this one after getting bumped due to the weather for Saturday's game. He will be opposed by Aaron Harang (5-15, 5.02) for the Phillies.