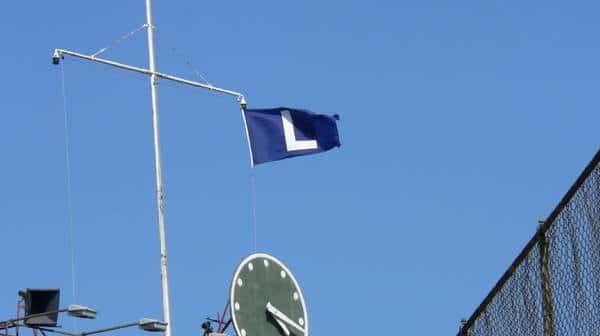 A Tip of the Recap – September 13th
The Cubs dropped their 2nd game in a row and earned a split with the lowly Phillies today after losing by a score of 7-4.
The Good
Chris Coghlan had a monster day at the plate, going 4 for 5 with 2 triples (4th and 5th), a solo HR (16th), and a single. So he finished just a double shy of the cycle and accounted for 11 total bases as he saw his AVG rise to .257 on the year.
Kris Bryant and Addison Russell both added RBI singles to keep the Cubs offense going today. Bryant continues to expand on his Cubs' rookie record for RBI with 92 and Russell pushed his total up to 47 for the year.
Clayton Richard actually got saddled with the loss today, though he was pretty solid in relief of Haren. He went 4 innings and gave up just 1 run (it was earned) on 3 hits and no walks with 4 Ks. He did allow the go-ahead run to score in the 7th inning on a wild pitch, but if the Cubs offense could have done anything of note he would have walked out of this game the winner instead of the loser.
Outside of that though, there was not a great deal to like about this game.
The Bad
Dan Haren was bumped back a day after yesterday's delay and rainy weather, but it seemed like he wasn't fully prepared to pitch in today's game. He finished just 3 innings and gave up 4 runs (all earned) on 7 hits (1 HR) and 3 walks with 4 Ks. Not exactly the start Joe Maddon was looking for after using the pen exclusively yesterday.
Carl Edwards Jr. made quick work of the first 2 batters he faced, but then gave up a walk, single and a 2-run double to allow the Phillies two very important insurance runs. I still think he will play a big role these last 3 weeks though, especially with how leaky the pen has become lately. It just wasn't a great result today.
The Cubs were 3 for 11 today with runners in scoring position and just couldn't come through with a big hit here and there and ultimately they lost because of it. The pitching was not great, but the Cubs had chances to really put some runs on the board and just didn't do it.
On Deck
The Cubs are off tomorrow, but will head to Pittsburgh for 4 games in 3 days with a doubleheader on Tuesday. The matchups for the 2 games on Tuesday are:
Jason Hammel (8-6, 3.59) vs. Gerrit Cole (16-8, 2.54)
Jon Lester (9-10, 3.50) vs. J.A. Happ (9-7, 3.87)