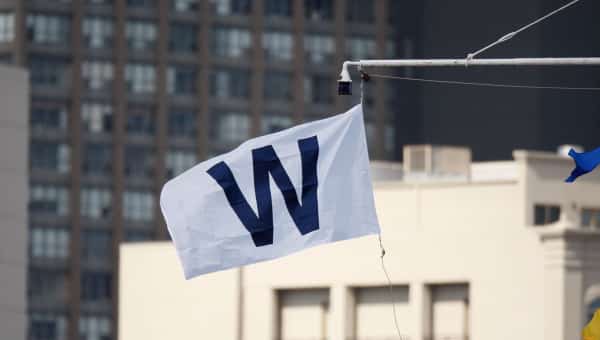 A Tip of the Recap – September 16th
It was truly a roller-coaster of emotions tonight, but all's well that ends well and the Cubs took game 3 tonight by a score of 3-2 in 12 innings over the Pirates.
The Good
The main good thing about tonight was the Cubs getting a win despite going 4 for 19 with runners in scoring position. There were so many opportunities to come up with more runs that this one felt like it was going to get away from the Cubs. Thankfully though, that was not the case.
Jake Arrieta didn't win his 20th game tonight, but did extend his streak of quality starts to 17. He went 8 innings and gave up 2 runs (1 earned) on 6 hits and a walk with 5 Ks. He was in control pretty much the entire night, even striking out Andrew McCutchen 3 times and lowering his ERA to 1.96 for the year.
The only blemish was an error by Arrieta that allowed the Pirates to score their first run of the night. It was on a comebacker with a man on 2nd and 2 outs; Arrieta was a little too relaxed with the throw, which glanced off Rizzo's glove and allowed the man to score from 2nd.
The Cubs pretty much manufactured all 3 of their runs tonight with steals, squeezes, sac flies, and more. They put 2 runs on the board in the 6th when Anthony Rizzo hit a one-out single to right then stole 2nd base (16th steal). He then scored on Kris Bryant's 26th double (93rd RBI). Bryant moved to 3rd on Miguel Montero's single then scored on a perfectly executed squeeze play by Starlin Castro (54th RBI).
The winning run came in to score after a leadoff single from Chris Denorfia in the 12th set many things in motion. First, Quintin Berry came in as a pinch runner and advanced to 2nd on a wild pitch. He then moved to 3rd on a single by Austin Jackson and scored on an Anthony Rizzo sac fly (his 90th RBI).
Pedro Strop, Fernando Rodney, and Hector Rondon were lights out over the final 4 innings with Rondon getting his 6th win after pitching the final 2 innings. Strop and Rodney each threw scoreless innings with Rodney striking out 1 in his inning of work. The pen had the night off last night and it appears there will be a "pen game" on Saturday, so it was good that they didn't have a prolonged game tonight (well, more than 12 innings at least).
The Cubs stole 5 bases as a team tonight and it seemed like every time a guy reached 1st they were threatening to steal. Javier Baez (1st), Anthony Rizzo (16th), Kris Bryant (13th), Austin Jackson (16th) and even the speedster Miguel Montero (3rd…career) got in on the action with his first steal of the year.
The Bad
Aside from the Cubs' inability to hit with runners in scoring position, a win is a win and it was an especially big one with the unpredictable Kyle Hendricks going tomorrow, followed by Haren and then the pen. It was important to get through tonight with a "W".
On Deck
It is a short turnaround with game 4 starting tomorrow at 11:35 AM (CST) on WGN and the MLB Network. Kyle Hendricks (7-6, 4.08) gets the start against Charlie Morton (9-7, 4.02) for the Pirates in a game that now has much more pressure for the Pirates to win than the Cubs.