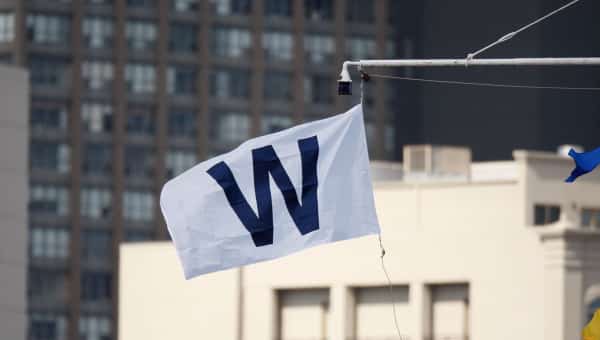 A Tip of the Recap – September 18th
The Cubs lowered their magic number to 8 (pending the Giants playing tonight) and stretched their winning streak to 4 games with a huge 8-3 win over the Cardinals today.
The Good
The Cubs offense as a whole was locked in today, pounding out 10 hits and drawing 11 walks with just 8 Ks. Dexter Fowler, Kyle Schwarber and Miguel Montero each walked twice in a game that saw Cardinal pitchers throw 223 pitches.
Starlin Castro was pretty much a one-man wrecking machine today, having an absolutely monster game. He went a perfect 3 for 3 with an RBI single, a 2-run HR, a 3-run HR, and an intentional walk to give him 6 RBI on the day. He is now up to .257 with 10 HR and 60 RBI and has responded to his removal from the everyday lineup like a real champ.
Anthony Rizzo went 2 for 3 with an RBI single and his 35th double to bring his AVG to .280 with 93 RBI. He also endured his 29th HBP on what appeared to be payback for an earlier HBP on Matt Holliday. Rizzo was less than pleased and ended up stealing 2nd in the 7th inning of an 8-3 ballgame. It was his 17th steal and I love the fire he plays with.
Tommy La Stella got the start at 3rd and contributed with an RBI double in the first inning. It was his 5th double and 7th RBI and he has proved to be a solid addition once he got healthy.
The pen was relied upon very heavily again today and every pitcher that came in pitched a scoreless inning of relief. Zac Rosscup, Tommy Hunter, Justin Grimm, Pedro Strop, Fernando Rodney and Neil Ramirez combined for 4.2 innings of scoreless relief, giving up just 2 hits with 3 walks and 7 Ks. Tomorrow was supposed to be a bullpen game, so we will see how that goes. It was good that Travis Wood, Trevor Cahill and Clayton Richard didn't have to pitch, so Maddon can piece things together from there.
The Bad
Dan Haren wasn't great today. Is it just me or does every game started by someone other than Jon Lester or Jake Arrieta turn into a bullpen game? Haren made it through 4.1 innings, giving up 3 runs (1 earned, thanks to an error from Anthony Rizzo) on 3 hits and no walks with and 2 Ks. He was getting hit pretty hard consistently and didn't have great command, hitting Matt Holliday in the back of the helmet that led to Rizzo's HBP later in the game.
The pitch from Haren was obviously not intentional from, but it was obvious the Cardinals decided it was time to go for payback and Matt Belisle and Mike Matheny were tossed for it.  I just hope it doesn't turn into more shenanigans the rest of the weekend; neither team needs anyone to be injured with the playoffs right around the corner.
On Deck
Game 2 will be tomorrow at 12:05 PM (CST) and can be seen nationally on Fox. The Cubs starter will be Travis Wood, but Joe Maddon will go with Johnny Fullstaff for the rest of the game against Michael Wacha (16-5, 2.96) for the Cardinals.