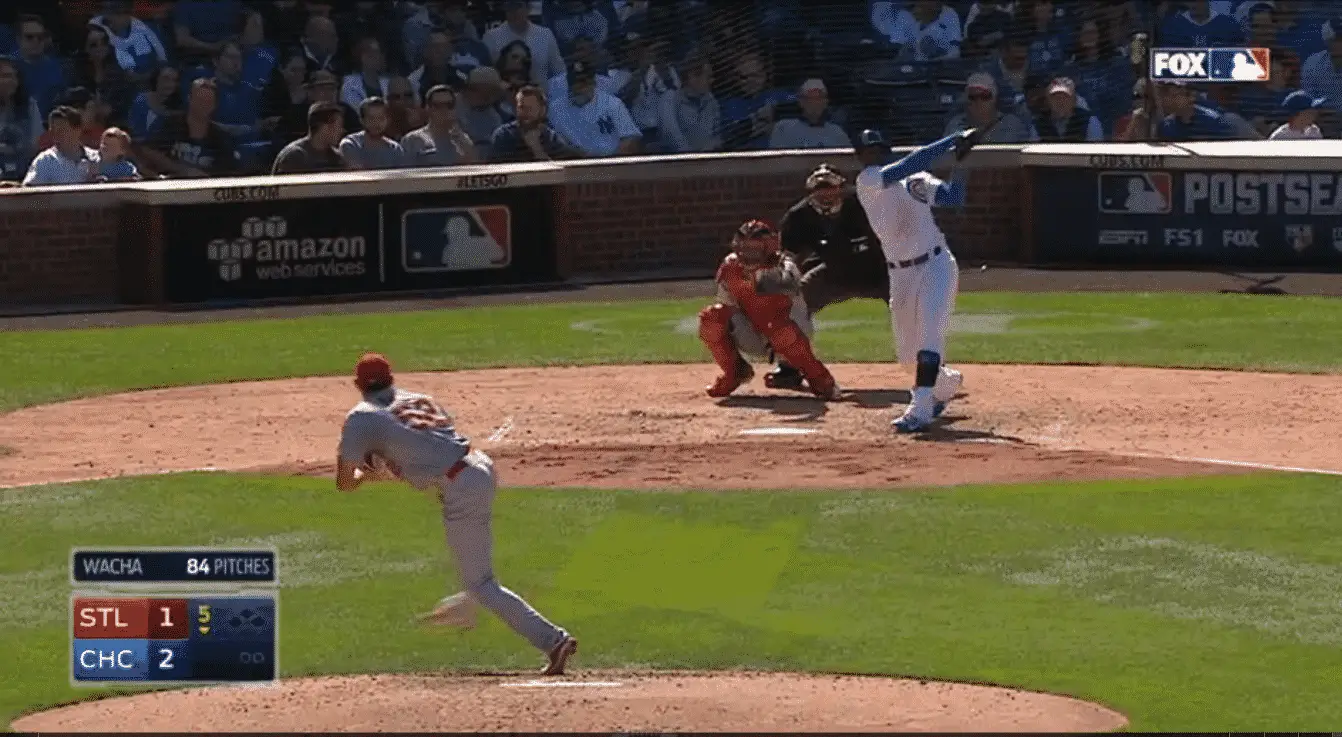 Bryant, Soler, Russell Star as Cubs Beat Cards in Bullpen Start
If I had to make a list of Cubs starting pitchers in order of the confidence I have in them, Johnny Fullstaff would not be very high on the list. And given he was taking the bump against an All-Star hurler for the team with MLB's best record, well, my faith in him wasn't getting any stronger.
But Travis Wood and Trevor Cahill don't really care about whether or not I think they can get the job done, as they proved by shutting the Cardinals down for 6 innings. The relief duo combined to allow only a single run on 4 hits and 3 walks, striking out 6 along the way. Clayton Richard wasn't great, but he managed to record two outs in the 7th before giving way to Justin Grimm. With men on 2nd and 3rd, Grimm got Jhonny Peralta to line out to Kris Bryant to end the inning.
Fernando Rodney came on in the 8th and got two quick outs before plunking Kolten Wong and eliciting all sorts of righteous indignation, not to mention warnings from the umps. Listen, I understand that guys would be a little on edge after the events of yesterday's game. But if the Cubs were going to send a message, I'm pretty sure they could come up with someone better than Wong. I mean, he's good and all, but he's Kolten Wong.
I'm not advocating beaning guys, but I'd go after Yadi Molina if I had to choose a guy to target. Then again, there's no reason to give a free pass to a guy who wasn't able to get on base otherwise. On the afternoon, Molina had three harmless groundouts and twice took Viagra and threw on sweatpants (popped out), though the latter did score a run. He did it the right way all four times though, probably better than any catcher before or since.
There was a bit of needless drama in the 9th when Hector Rondon came on to close out the game and hit leadoff batter Greg Garcia with a fastball in a 1-2 count. Because the benches had already been warned, both Rondon and Joe Maddon were automatically ejected. I get the idea of trying to discourage retaliatory beanball battles, but I really think there needs to be a measure of common sense applied. When Matt Belisle hit Anthony Rizzo yesterday, it was obvious he was trying to do so. No closer comes in and puts a guy on base when he's trying to win the game.
Rondon's removal meant that Zac Rosscup had to come in to attempt to finish off the game, which he had a bit of hard time doing. Matt Carpenter fired a 1-2 fastball into the bleachers in right to get the Cardinals to within 2 runs and then Tommy Pham and Jason Heyward both singled to chase the lefty and bring Pedro Strop in from the 'pen.
Strop was absolutely filthy in striking out Jhonny Peralta on 3 consecutive sliders. After swinging and missing on the first two, Peralta could only stand and watch as the third pitch crossed right through the heart of the plate. It was clear he had either guessed wrong as to what pitch he'd see or was lost in thought: why did my parents put the h before the o? A Yadi Molina sac fly scored Tommy Pham and closed the gap to 5-4 for Stephen Piscotty, who laced a low liner that was ticketed for center.
Then this happened:
Addison Russell could be hitting below the Mendoza line and he'd still be a valuable member of this team. He routinely makes incredible plays like this and he's going to keep doing so for years to come. It's almost poetic to see the young shortstop make an incredible play to end the game against a team known to have housed the best defensive shortstop of all time.
But the reason the bullpen had some leeway in the first place was the Cubs offense, namely the back-to-back home runs from Jorge Soler and Kris Bryant to lead off the 5th. Both shots traveled an estimated 411 feet, Soler's at 109 mph and Bryant's at a more mortal 108.6 mph. The first homer was significant in that it was Soler's first since August 22nd and was a sign that the oblique is just fine. The second homer was significant in that it was Bryant's 25th, tying him with Billy Williams for the Cubs' all-time rookie record.
The Cubs now have the third-best record in the majors and are 26 games over .500. Their 87 wins are 2 more than I had boldly predicted for them…and there are still 14 to play. This is not a drill, folks. We all knew this team had talent, but the question marks kept anyone from getting too confident. They now have a realistic shot at 95 wins and if the Dodgers take care of business tonight, the Cubs will be tied with the Pirates for the 2nd-best record in baseball.
It has been an absolute joy to watch this team come together, all the way from the top down. I can definitively say that this is the most fun I've ever had as a Cubs fan. There have been some memorable teams in my lifetime, but I can't remember one that seemed to genuinely enjoy one another as much as this unit does. As fans, we want so badly to believe that our desires are impacting the team on the field, that we are having some sort of metaphysical influence on the game.
But these Cubs seem almost like fans themselves, setting the tone for the rest of us with their head-rubs and post-victory disco parties. They are fueling us, rather than the other way around. What's more, they seem to lack the self-awareness — not to mention the self-importance — of their predecessors. Where other Cubs teams always seemed to take themselves too seriously, this group is loose and willing to own both their successes and failures. You hear that, Dusty?
They seem like the perfect foil for their rivals from St. Louis, an organization that's never been shy about taking itself seriously. The Cubs and Cards have gone about it different ways, but neither of these teams is going away anytime soon. That's a prospect that should excite the former and scare the latter, but it should make for some very interesting matchups moving forward. I, for one, could do with a few years of the Cubs being favored. For now, I'm perfectly content to see what this young group can do this season.
It's important to stay in the moment, but it's hard to see rookies leading the way and not look wistfully into the future. Just make sure you're wearing sunglasses when you do.