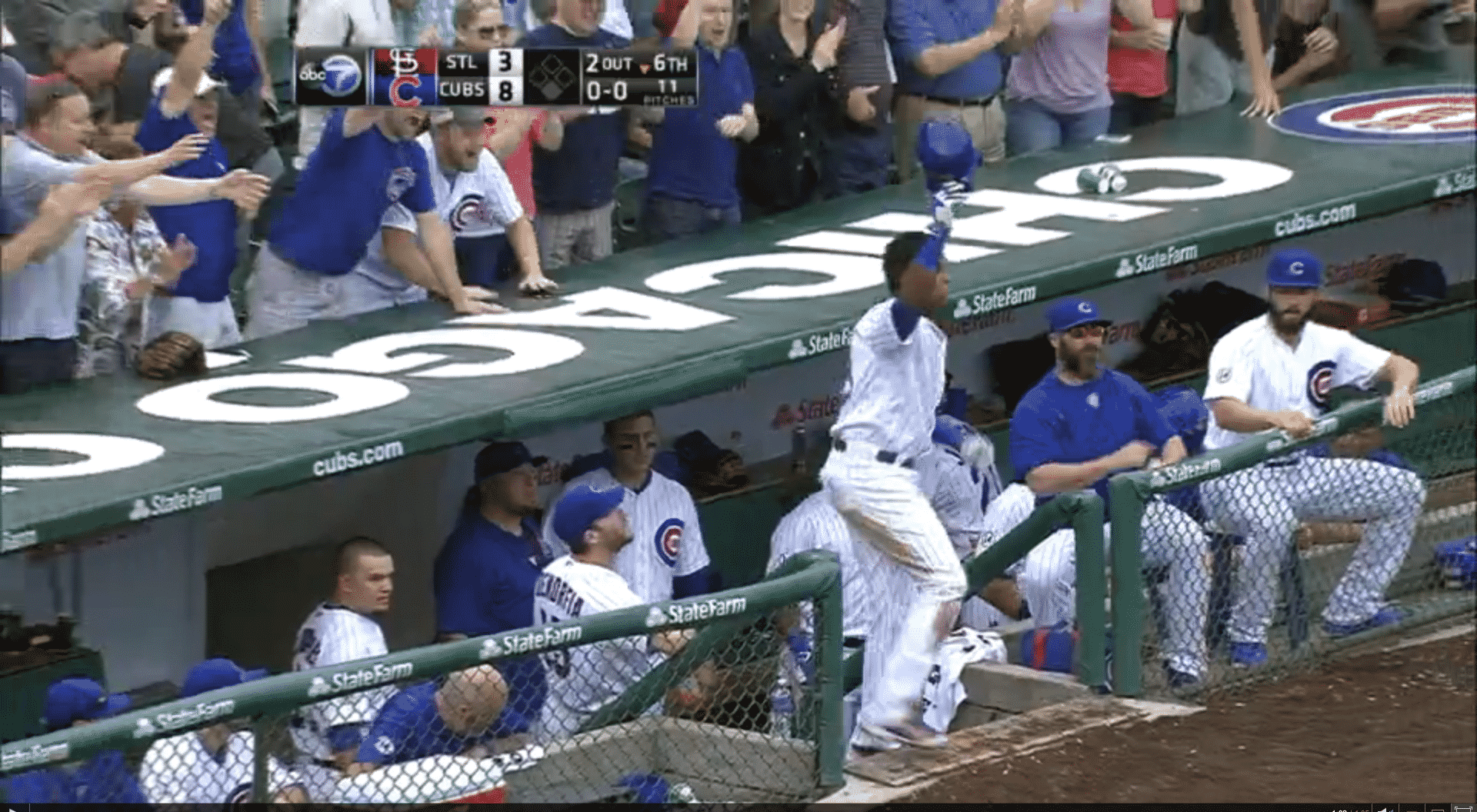 I'm No Longer a Starlin Castro Apologist, But What's Cool is I Don't Have to Be
I don't always have Terror Squad lyrics running through my head, but when I do I prefer to have them as the soundtrack to Starlin Castro pimping a home run.
Lean back, lean back, lean back, lean back
Castro absolutely unloaded on that pitch and it was a beautiful thing to see, but it was what happened after his second homer that really put me at ease. The triumphant second baseman was basking in the adulation of his teammates, was locked actually lifting Miguel Montero off the ground with a huge bear-hug, when the Wrigley faithful exhorted him to come back out.
And so Castro put Montero down in order to climb the dugout steps and doff his cap to the madding crowd for the first time in his six-year career. The same man who many were hoping and praying would be traded was now being showered with applause. He had moved from cornerstone to role player and was increasing his production in spite of the reduction in playing time.
Over the course of the season Castro has been up, then down, then further down, then up again. My chronicling of his campaign has been equally erratic, the narrative driven by the changes he's undergone or those we had asked him to. In the midst of a period of prolonged futility, I had vowed to stop being an apologist. I'm glad I did.
To excuse away a player's flaws is to treat him like a child, to artificially suppress expectations. If Castro was to succeed, I wanted it to be on his merits and not because I was writing about how his errors didn't really reflect his talent or how he'd be fine if he'd just lay off sliders down and away. My motives were somewhat selfish too, as I sought to distance myself emotionally from a player I was relatively certain would not be long for this Cubs team.
While Joe Maddon's motives were less personal, his desire for Castro to stand on his own mirrored mine. The wealth of talent the Cubs manager has at his disposal has created a system of meritocracy under which several players have thrived. Since being removed from his role as the starting shortstop, Starlin Castro has become a sterling example of the success of this new method.
As a result of his turn-around, there's no need for a chorus of apologists explaining away his mistakes. Everyone seems to have come to the realization that Castro is what he's going to be, which is a role player on this Cubs team. Now that he's playing because of his production rather than in spite of it, perspectives and perceptions have shifted such that the young man is now a sympathetic figure. But with the way he's playing now, sympathy is the last thing he needs.
I was finally able to let go and let Starlin stand on his own, so when Montero let Starlin go and let him stand on his own to acknowledge the fans, I couldn't help but smile. Just over a month ago, Castro had been removed from the everyday lineup and it looked as though it was curtains on his time in Chicago. But now here was was taking his first-ever curtain call after driving in 6 runs to take out the Cardinals and push him team to its 86th win of the season.
Man, if I'd have known this is what was going to happen, I'd have given up on Castro a long time ago.