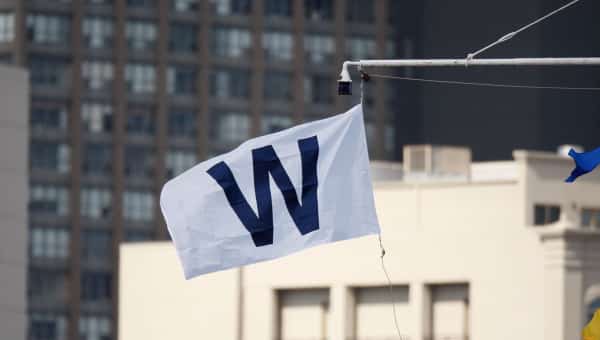 A Tip of the Recap – September 21st
The Cubs fell behind early in this one, but the bats came to life as they beat the Brewers by a score of 9-5 in the first game of their 3-game series with Milwaukee.
The Good
The Cubs pounded out 13 hits (6 for extra bases) and took 6 walks in tonight's win. It really was a total team effort with almost everyone getting in on the act to get the win.
Dexter Fowler had a 2-out, 2-run double that hit off of the 2nd base bag in the 2nd inning to take the lead back from the Brewers. He was initially called out at 2nd, but after further review (and it was kind of obvious that he was safe) he was awarded the base and 2 RBI (45 on the year).
Kris Bryant continues to churn out multi-hit games (4 out of his last 6), going 3 for 5 tonight with 2 runs scored. He is hitting .277 on the year and made a heck of a play tonight on a wild pitch that bounced toward the Cubs' dugout. The runner tried to go from 1st to 3rd on the pitch, but Bryant retrieved the ball and raced towards the bag, just barely tagging him out for the first out of the inning.
Anthony Rizzo and Starlin Castro were both perfect at the plate tonight with Rizzo reaching base all 5 times, going 3 for 3 with 2 walks and 3 runs scored. Castro went 2 for 2 with 2 RBI, including 2 doubles (1 drove in a run) and a sac fly. He now has a .264 AVG with 19 doubles and 63 RBI on the year.
Jorge Soler got into the game as a pinch hitter in the 7th inning with 2 men on and came through with 3 very big insurance runs on a bomb to just left of CF. It was his 9th HR (2nd since coming off of DL) and he now has 46 RBI. The power surge is a welcome sight and hopefully this part of his game will improve going forward.
The pen was again called into action early in this one with starter Jason Hammel only going 5 innings. Trevor Cahill and Clayton Richard combined to go 2 scoreless innings and Tommy Hunter gave up a solo HR, but that was it. Travis Wood came in and got the final 3 outs of the game including 2 via Ks.
The Bad
Jason Hammel was again bad to start the game and wasn't especially sharp overall, though he did earn the win (but more of a product of the Cubs' bats than anything he did). He finished with 5 innings pitched, giving up 4 runs (3 earned) on 5 hits (1 HR) and 1 walk with 6 Ks. He just really struggles in the first inning and after that can usually settle in for the most part, though he did give up a 2-run HR in the 5th inning.
The Cubs defense early was awful, committing 3 errors in the first 3 innings (1 per inning). Jason Hammel made an error in the 2-run first inning on an errant pickoff throw to first. Dexter Fowler nonchalantly tried to catch a fly ball right to him and had it hit off his mitt for an error and then Starlin Castro booted a ball that he was much too cautious with at 2nd. Thankfully that was it for the errors by the Cubs, but it was an ugly start and one they can't afford to do against better competition.
On Deck
Game 2 of the series will be tomorrow night at 7:05 PM (CST) on CSN+ as the Cubs look to inch closer to clinching (magic number is down to 4 now). Jake Arrieta (19-6, 1.96) will get the start for the Cubs in search of his 20th win of the year as he faces off against TBD for the Brewers in what is supposed to be a bullpen game for them.