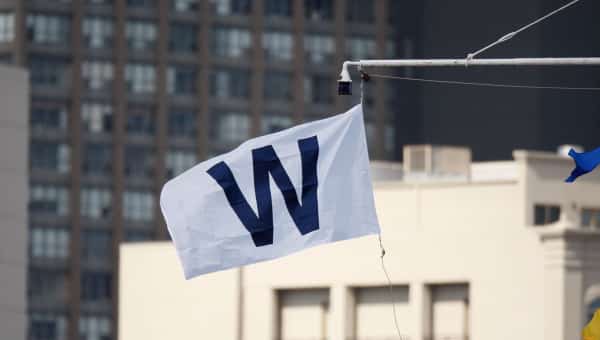 A Tip of the Recap – September 22nd
Jake Arrieta was dominant and Kris Bryant provided plenty of offense as the Cubs beat the Brewers by a score of 4-0 to lower their magic number to 3 (pending the Giants' result from later tonight).
The Good
To say Jake Arrieta was good today is a monumental understatement. He was dominant for the entire game and at one point retired 14 straight after giving up a double (the only time the Brewers made it past 1st base all night) to lead off the game. He went the distance with a complete game shutout for his 20th win of the year, giving up the leadoff double and 2 infield singles along with 1 walk. He struck out 11 and lowered his ERA to 1.88 while turning in his 18th straight quality start.
Kris Bryant had himself a day at the plate to pace the Cubs' offense. He went 2 for 4 with a 2-run HR (his 26th) and an RBI double (his 30th double) tonight. He is now hitting .278 with a Cubs' rookie record for HRs and RBI (98) on the year.
Kyle Schwarber made many loud and sharp outs last night and today he got a bit of luck in his favor, going 2 for 3 with 2 runs scored, a walk and an RBI. The RBI (his 43rd) came on a high fly ball to RF that 4 Brewers converged on, but no one made the play. Dexter Fowler (1 for 3 with a walk) was hustling from the sound of the bat and scored from 1st on the play.
The Bad
There was absolutely nothing bad about this game. Arrieta gave the pen the night off (which was desperately needed) and earned his 20th win, which no Cub has done since 2001 (Jon Lieber). The Cubs are a season-high 27 games above .500 and look like they are well on their way to clinching a playoff spot.
On Deck
The Cubs will go for the sweep and their 90th win tomorrow evening at 7:05 PM (CST) on CSN. Kyle Hendricks (7-6, 4.22) will again try to get his game back on track against Zach Davies (1-2, 6.00) for the Brewers.