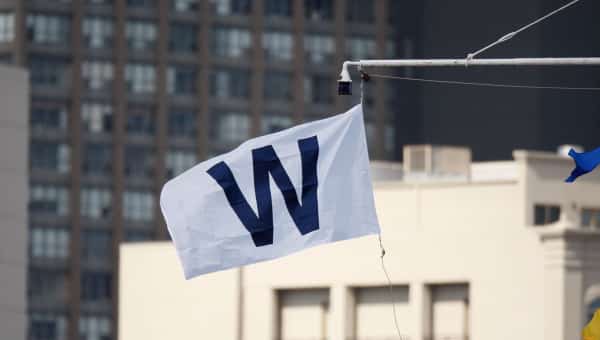 A Tip of the Recap – October 10th
The Cubs hung a 5-spot on the Cardinals in the 2nd inning and all of Joe Maddon's moves paid off as the Cubs evened up the series with a 6-3 victory.
The Good
Everything Joe Maddon changed in today's game paid off in a big way. He inserted Austin Jackson and Jorge Soler into the starting lineup while keeping Kyle Schwarber on the bench against a left-handed starter. Jackson responded by getting the rally going in the 2nd by stealing 3rd base, which set up the 1st of 2 safety squeezes (both of which succeeded).
Jorge Soler responded with a perfect day at the plate, going 2 for 2 with a double, 2-Run HR and 2 walks. Including the walk in last night's pinch-hit performance, he has not been retired in the playoffs yet. His HR capped off the 5 run 2nd and was a shot to CF off of a hanging breaking ball from Garcia.
Kyle Hendricks really was in control for most of his start today. He gave up a HR in the 1st inning to leadoff man Matt Carpenter, but then settled in very nicely before giving up back to back solo HRs in the 5th and being replaced. He ended up going just 4.2 innings, giving up 3 runs (all earned) on 4 hits (3 solo HRs), with 0 walks and 7 Ks. He really pitched so much better than that line would indicate. Hendricks also executed a perfect safety squeeze in the 2nd that was misplayed by Garcia.
The Cubs defense played very well today, especially the left side of the infield. Kris Bryant showed some very quick reflexes on a few plays at 3rd and Addison Russell made a show-stopping play on a ball in the hole to his right. He dove to his right on the one-hop smash and got up and made a strong throw to get Peralta at 1st.
There aren't enough words to describe how well the pen did today. Travis Wood was called into the game in the 5th inning and proceeded to throw 2.1 scoreless innings, giving up just 1 hit with 2 Ks. Trevor Cahill was a surprise entrant as the setup guy in the 8th inning and he didn't disappoint. He threw a perfect inning, needing only 8 pitches to get a groundout and 2 Ks. Hector Rondon came in and got the save with a rather controlled 9th inning.
The Bad
I can't think of anything to point out as bad about this one; this was truly a must-win game and I, for one, was not overly optimistic with Hendricks heading out there. He did very well though and the Cubs got the much-needed win with Jake Arrieta getting the start Monday night at Wrigley.
On Deck
The all important 3rd game of the series will be Monday evening with the time still to be determined. TBS will have the game and it is a great matchup of aces with Jake Arrieta (22-6, 1.77) facing off against Michael Wacha (17-7, 3.38) for the Cardinals.