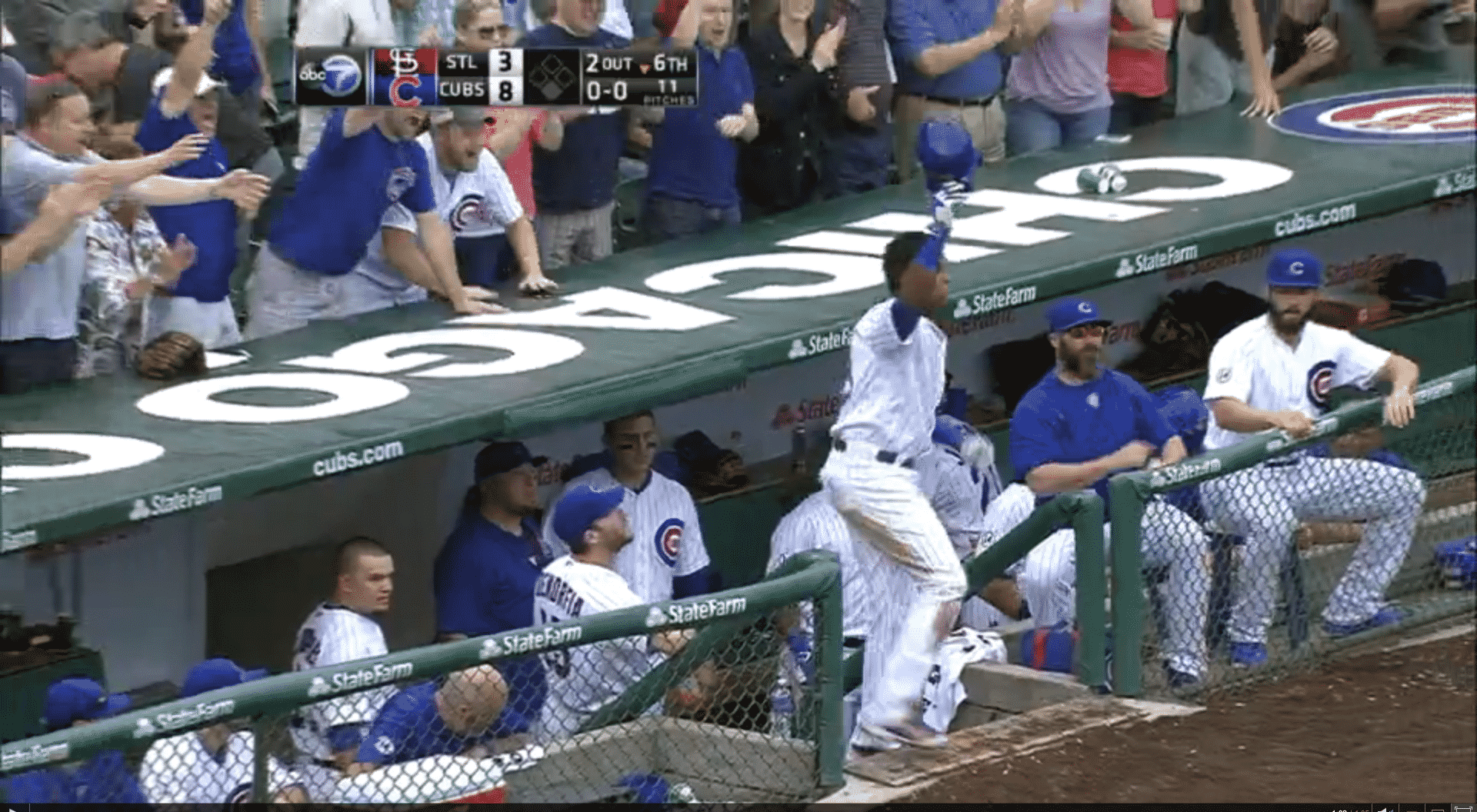 I Understand Why the Cubs Traded Him, But I'm Really Going to Miss Starlin Castro
We're all excited about the Jason Heyward signing. It's another indication – one of the biggest yet – that the Cubs are transitioning into a serious contender. But we saw another sign earlier this week, and this one was more bittersweet.
I remember Starlin Castro's first game with the Cubs, early in the 2010 season. I was driving home from a day trip, listening on the radio as Castro drove in six runs against the Reds. It was supposed to be a sign of things to come.
Castro was a highly-touted prospect who many of us thought would hold down shortstop at Wrigley Field for years to come. But, as has happened with so many prospects, things didn't go according to plan. At times, he showed a lot of promise. But he was inconsistent, was plagued by mental mistakes, and never lived up to expectations. After his latest slump this past summer, Joe Maddon benched him as the Cubs were in pursuit of a Wild Card spot.
Neither Cubs fans nor the Chicago media could ever seem to fully embrace Starlin Castro. No, he never became a superstar with the Cubs. But he was still a solid player in spite of the consistency issues. From 2010-2014, the team finished well under .500 each year. During those lean years, when Theo Epstein tore down the major league roster and orchestrated a complete rebuild, Castro was one of the few players to get excited about.
The Cubs had an incredible 2015, coming one step short of the World Series. While they were on this amazing run, I thought a lot about the past five years. To truly appreciate winning, one must first know what losing feels like. It wasn't fun to go through, but thinking about those days helped me to appreciate what happened in 2015 even more.
The team went through a lot of players during those losing years, many of them forgettable. They even went through four managers. But Castro was there the whole time. As I watched the Cubs in 2011, 2012, and 2013, they were losing one game after another and it seemed like there was no end in sight. There's not much worth remembering from back then. But I'll always remember Castro banging out hits and driving in runs. When I reminisce on those years, it humbles me as a fan now that we are (fingers crossed) about to experience a great deal more winning on the North Side.
Castro had been the subject of trade rumors for years. Initially, it was because he was a major-league asset they could move for young talent to help the rebuilding process. This past season, he was thought to be on the way out because he was struggling and many figured he needed a fresh start. Despite this dark cloud hanging over him virtually his entire time with the franchise, Castro still gave a solid effort. That is to be commended.
Castro actually became one of the biggest stories from the 2015 season, as he handled his demotion with a good attitude and played well in part-time duty down the stretch. In a late-season game against the Cardinals, he matched his debut game with six RBI and got a curtain call from the fans at Wrigley Field. It was a story one couldn't help but feel good about.
I was always a big Starlin Castro fan and I feel like he was a victim of expectations that were perhaps a bit too high. It became clear over time that Castro didn't quite fit into the long-term plans of the Epstein regime, though I was in denial and hoping the club would keep him around. But deep down I knew it was inevitable the Cubs would eventually trade him. He played on some really bad teams, and just when the Cubs were turning the corner, they shipped him to New York. It's as if he sat through most of a four-hour movie in a theater, only for the usher to ask him to leave right before the climax.
If indeed the Cubs are about to experience a long stretch of winning, Castro won't be a part of it. And that makes me sad. For all the bad teams he played on, and all the criticism he got, I feel he deserved to be part of a winner at Wrigley as much as anyone. But he played a key role as the Cubs transitioned from NL Central doormats to what should now be a perennial contender. Hopefully, Cubs fans everywhere will appreciate that.
Castro will only be 26 on Opening Day. It's possible he hasn't reached his prime yet and could still become a star with the Yankees. Or maybe he has already peaked and won't be more than a decent major leaguer. Whatever happens during the rest of his career, I will always have great memories of him and appreciate his six years with the team, particularly his role on the 2015 squad. I'll never forget meeting him when I was at Spring Training in Arizona this past March. He signed my baseball and was really nice to me and the other fans around him. Though he's not a Cub anymore, that will always be one of the highlights of my entire trip.
I really wish it could have ended differently. I wish Castro could have stayed around long enough to be part of a World Series winner. But as we've seen so many times, baseball is, above all else, a business. Often times, it's not fair. But I think Castro understands that too. As well as he handled his adversity of losing and of his demotion earlier this year, I'm sure he'll be just fine moving forward.