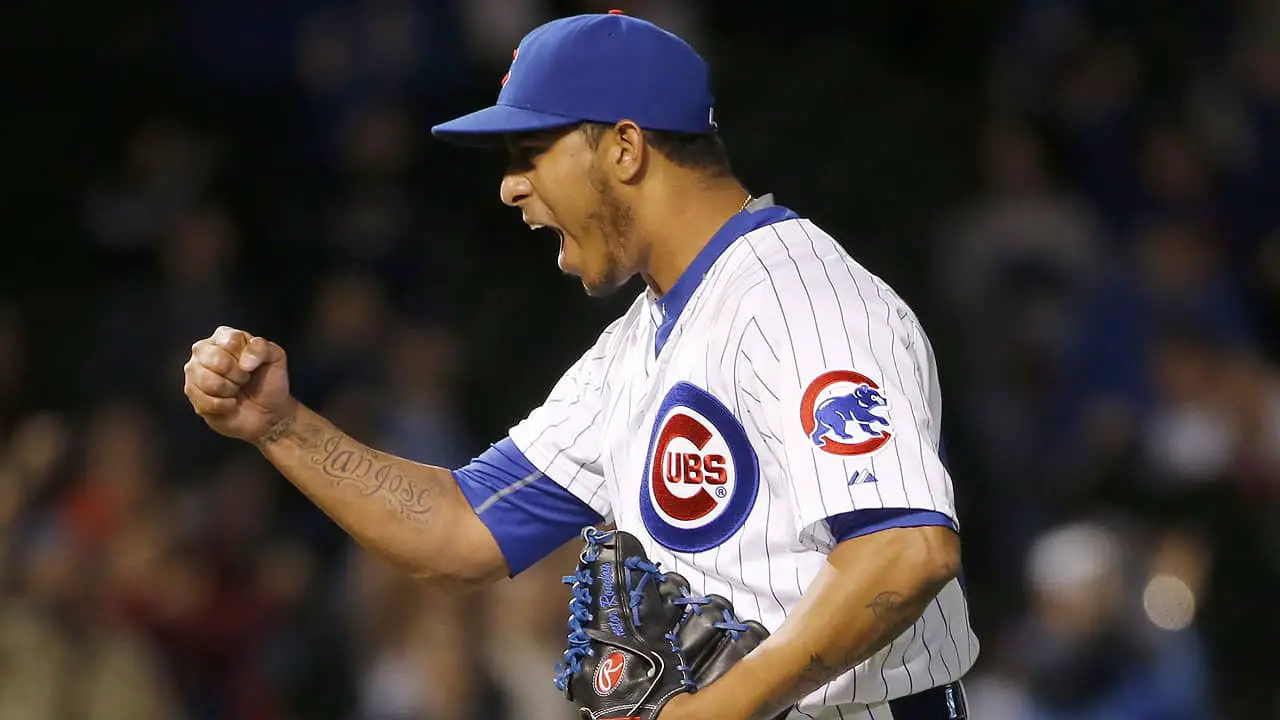 So That Bullpen Thing? It Looks to Be Coming Together Nicely
Going to be sappy for one sentence and just thank Evan for giving me the opportunity to write here. Anyways, let's get to it.
The Cubs have a really good bullpen. Statistically, the relief corps' 5 wins above replacement tied the Royals for 3rd in fWAR. If you watched them at all, you know that they were effective holding onto on getting wins when they needed to. Rather than a solid unit, the Cubs' pen was largely assembled by a rag-tag group of interchangeable parts bar a few guys. If a piece didn't fit or wore out, it was replaced entirely or simply set aside for a while. Take Tommy Hunter, for example. He was brought in at the deadline as part of the Junior Lake, struggled mightily, and then spent most of September getting to know Lester Strode a lot better. But while many of the ancillary pieces are relatively indistinguishable, the 'pen revolves around several core players.
The beauty of this Cubs bullpen is the numerous underrated arms they have. Start with the closer, Hector Rondon. The guy throws gas and the movement he has on his pitches can best be described as disgusting, but in the best possible way. According to Brooks Baseball, his fastball sits around 97 MPH. Watch this pitch from 2015. That would be 99 with at least a foot of arm-side run; try not to get chills watching it. There's nothing to suggest Rondon won't continue to be the undisputed closer in 2016. The set-up guy from last year, Pedro Strop, will remain the same as well. When he's locating, Strop has a dirty, dirty slider with a very nice fastball to complement it. He has just a little enthusiasm also.
Where this pen gets interesting, and very flexible to boot, is when it comes to the intermediate innings. The Cubs have four long relief guys for 2016: Travis Wood, Clayton Richard, Trevor Cahill, and the newly aquired Adam Warren. Wood, Richard, and Cahill are essentially the same story. They struggled as starters, got converted into bullpen arms, and thrived with the help of the coaching staff of Strode and Bosio. That pair has found and channeled special facets of each pitcher, something that has allowed each to thrive. Cahill became one of the many success stories of the playoffs with his high-leverage work. Wood was the innings-eater the pen needed if a starter was struggling and he was damn effective with a tERA of 2.81. Richard was an unlikely success story for the Cubs after coming over in a cash deal with the Pirates for a fill-in start on the 4th of July.  The plan was to drop him after that single outing, but Richard managed to stick around. Not only was he keeping the ball down and getting grounders with regularity, but Richard upped his fastball velocity from barely in the 90's to a solid 94 with movement when coming on in relief.
Newcomer Adam Warren has a bit of a different story. He hasn't completely succeeded as a starter thus far but there are still many people that see him movign into that role long-term. I would look for him to start in the pen, but success there leads to very good odds he could move to the rotation due to an injury or ineffectiveness of another starter. As for Wood and Richard, I see them as pen guys the whole year. Cahill is right smack in the middle when it comes to whether he can start. That being said, I still think he stays in the pen for the most part.
The rest of the relief corps is consisted of unproven guys, innings eaters, and Justin Grimm. Grimm brings you the high-leverage strikeout guy that you need in a really tough situation. That curveball is Jed-Hoyer-tweet level. Oh, and don't forget the fastball with natural movement. The unproven guys kind of orbiting around Grimm and the swingmen consist of Andury Acevado, Rex Brothers, Carl Edwards Jr., Edgar Olmos, and Spencer Patton. Four of them were brought in this offseason but there's nothing about any of them that really moves the needle. When looking at what these lesser-known commodities bring for 2016, I have a feeling they all start in AAA.
Edwards Jr., however, could spawn a whole separate article. He has a hammer curve and throws a 93 mph fastball that has flashed upper 90's in the minors. Despite a rail-thin frame, he has all the makings of a high-leverage guy who could be similar to Grimm. After a brief stint in AAA, he will break out as a lockdown 7th inning guy for 2016.
That leaves us with just a pair of remaining arms, Neil Ramirez and Zac Rosscup. Ramirez had a big 2014 that was as memorable as it was random. If he can stay healthy, he can be a real bright spot for his team. Rosscup has struggled at times but also flashed nastiness. As much as it pains me to say this, I can't help but see Rosscup as more of a Brian Schlitter type than anything critical to this year's success.
The bullpen is nothing that should be of concern or be seen as an obstacle to the upcoming season. Quite the opposite. Many, many guys will be on this roster throughout the year, but what you should look for the most is what roles the play in the pen. Strop and Rondon will be cemented as the setup and closer, respectively, with everything else sort of falling loosely in line behind them. Or I guess it's actually in front of them. Whatever. Either way, this is going to be a damn fine bullpen.