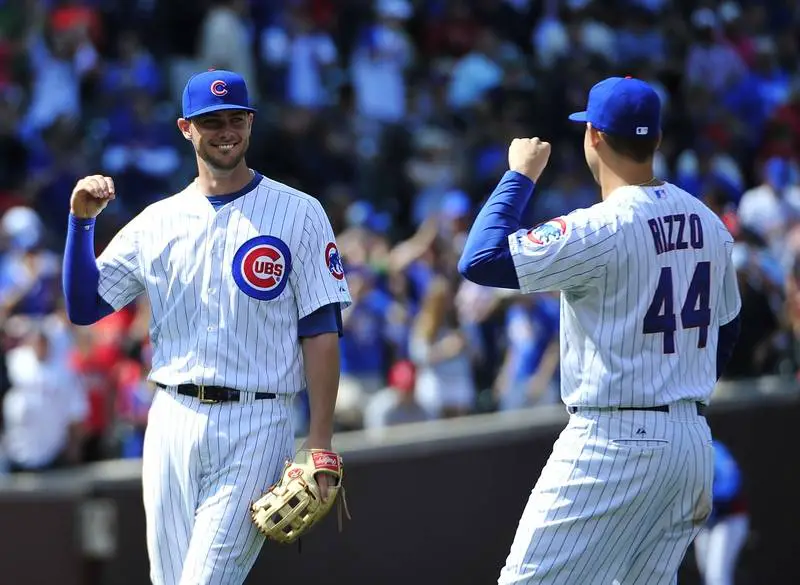 Bryant, Rizzo Lead the Way in Cubs Fantasy Rankings
I recently took a look at Jake Arrieta's fantasy rankings, particularly because I was interested in seeing how the experts felt about his ability to duplicate last year's Cy Young campaign. But I felt bad that I hadn't included looks at where some of the other Cubs players stack up. As such, I took a little time to compile rankings for both first and third basemen from across four different platforms. I then expanded to pull some of the rest of the Cubs players from three of those same sites, including as many as I was able to cull from the respective sources.
First things first, literally, we'll examine how Anthony Rizzo looks relative to his peers (overall MLB rank):
Not too shabby, huh? Rizzo was in the top 3 among first basemen, cracked the overall top 10 in MLB.com's list, and was no worse than 16th anywhere else. It's no secret that the big lefty has improved his numbers against southpaws, but he added another unexpected dimension to his offensive potency last year. Rizzo swiped 17 bases in 2015, one more than he'd pilfered in his previous 436 big league contests. Along with a .279 average, 94 runs, 34 homers, and 104 RBI, MLB.com predicts 13 more steals. If you're playing in a head-to-head league, that latter total is really important. Steals aren't as big a part of today's game as they used to be, so getting one from a position generally devoid of speed is a huge boon.




If there's anything that surprises me here, it's that Rizzo is actually ahead of Miguel Cabrera on any of these lists, but it's not hard to imagine the Tiger continuing a bit of a downward trend going forward. It's true that his decreased numbers last season were largely due to injuries, but it's not as easy to stay healthy as you age. I'm not sure I'd bank on Rizzo to be the second-best first baseman in the league, but I think he's going to put up some really good all-around numbers.
Rizzo's ranking is really notable when you consider that there's a really close grouping of incredibly talented offensive talents sharing his position. I mean, the lowest-ranked hitters on any of the lists is Adrian Gonzalez at 67th overall on MLB.com. Third base, however, is not quite as equitable. Outside of the top four, which are almost identical across the board, you've got a pretty precipitous drop.
Outside of ESPN, which has Todd Frazier only 13 spots below Kris Bryant, the gap from 4rd to 5th is anywhere from 30 to 41 spots. That's not a knock on the other guys at the hot corner, just a testament to how good the upper echelon is here. And unless something crazy happens, those top spots won't be changing anytime soon. None of the guys ranked 2nd-4th have turned 25 yet (Bryant and Arenado are 24, Machado 23), so there remains a very real possibility that their best years are still ahead of them.
There's a tendency to think Josh Donaldson — who just signed a two-year, $29 million deal with the Blue Jays — is a young buck as well, but he actually turned 30 back in December. A late bloomer, Donaldson was a fringy catching prospect for the Cubs and was somewhat of a throw-in to the deal that sent Matt Murton and Eric Patterson to Oakland in exchange for Rich Harden. Donaldson spent two and a half seasons in the A's farm system, had a cup of coffee in 2010, and then spent another year and a half in the minors before busting out and then being traded to Toronto prior to the 2015 season.
With a few good years ahead of him yet, the Bringer of Rain appears poised to do some serious damage to arbitration records when he heads into his final year of Jays control in 2018. He's got a bit more of a track record than the other top guys here, so I've got no problem with him at the tippy-top. I'm a little suspicious, however, of Arenado's lofty placement. The default settings in most leagues don't calculate defensive metrics, so his glove isn't helping much. And while he's a really good hitter, I think he's going to come down a bit from the 42 HR, 130 RBI totals of last year. Call me a homer, but I'm taking Bryant right there with Machado.
The guys at either corner are clearly at the head of the class on the North Side, but I'd be remiss if I didn't share a review of where the various sites rank the rest of the Cubs roster. I limited this to just three platforms, and the ESPN rankings I reviewed included only the top 250 players.
The first thing that jumps out at me is how much lower War Bear is on ESPN's rankings, more than 30 spots down from either of the other two. MLB.com obviously thinks more of Ben Zobrist than the other two services, which strikes me as a bit odd. Perhaps they feel he'll lose value if his positional eligibility is more limited than it has been, but there are big disparities there. The pitchers fluctuate a bit too, but that's to be expected.
I've said before that I'm not much of a fantasy guru, so you may not want to take any of my advice as gospel, but I really like the idea of scooping up Chris Coghlan late in your draft. Heck, you can probably even scoop him up off the waiver wire when the need arises. I know it sounds odd to talk about drafting bench bats, but Cogs might be the best 4th outfielder in baseball. You may not get much out of him early, but with the specter of injury constantly lurking in the right field shadows, it'd be nice to have add the overlooked hitter on the cheap.
Javy Baez is a guy who's getting no love whatsoever, despite the dormant potential and ability to play all over the field. If he really does get some run in center, you're talking about all kinds of positional versatility, which is huge in fantasy baseball. And if he's able to mature further as a hitter, you've got a guy would could really give value. Yahoo either cares nothing for his high ceiling or doesn't think he'll get the AB's to put up decent numbers, because Javy comes in at number 1189 in their preseason ranks. That's below Chris Denorfia, Jon Herrera, and Tommy La Stella.
Finally, I am liking Adam Warren more and more as a guy who could end up earning you some serious points down the stretch. There's not really a whole lot to be gained from filling your fantasy roster with relievers who won't earn saves, but Warren should be a solid pitcher who should be first in line to pick up some spot starts due to injury or ineffectiveness. He could even jump up and snag a spot in the rotation coming out of Spring Training. Might not be a bad idea to take a flyer on him late in the draft just to hedge your bets. Most will look at the Starlin Castro trade as a way to clear money and a position for Zobrist, but I think the Cubs may have gotten a steal in Warren.
I pride myself in my honesty, but I lied about the finally part there, though only because I need to say something about Addison Russell before I go. I am really bullish on this kid in terms of making a big leap at the plate in 2016. I'm not talking Bryant or Schwarber-level production, but he's at a position where offense is generally at a premium. I can easily see a .260/.333/.400 slash, if not better, to go with 15-20 homers and a boatload of doubles. This kid is going to absolutely abuse the gaps, man, and it's going to be a beautiful thing to see.
As I mentioned in the Arrieta breakdown, these rankings have more than a little noise. That doesn't mean they're not fun to listen to though. And I can't wait to hear all of it as we continue to turn the volume up on the coming season.