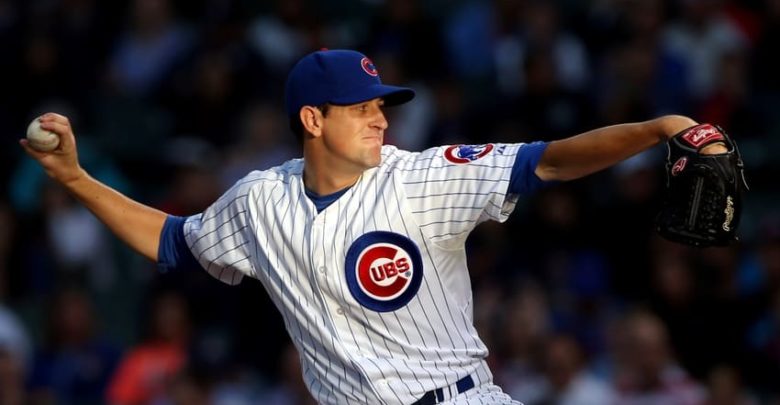 The Rundown: Cubs Breakout Candidate, Soliciting Fantasy League Members, and More
Top Of The First
Good to be back and operating at full health. I picked probably the worst month to recuperate because nothing much happened in baseball to keep me busy. It is always sad to me when my Baseball Twitter feed shows more NBA news than baseball news. It's like being in the Dark Ages of the Hot Stove.
Cubs Breakout Candidates For 2016
Is it possible, even after last year, that the Cubs could have another season that features breakout performances from a few of their regular players? Of course it is, which is why so many analysts say that the Cubs have an embarrassment of riches again this year.
Who can we expect to significantly up their games in 2016?
1. Kyle Hendricks
Starting last September, Kyle Hendricks found his changeup, relied less on his curve, and started striking out batters at a substantially higher rate. I happened to be at his last two starts of the regular season (vs. Kansas City and at Milwaukee) and Hendricks was nearly unhittable in both outings.
His combined line for the two games:
12IP, 0ER, 3H, 17K, 2BB
Hendricks dominated with his spot in the Cubs playoff rotation on the line. Not bad for a fifth starter. He will still have to prove he is durable and consistent enough to stay in the rotation this season though. He was a bit streaky last year — 20 1/3 scoreless innings at the All-Star Break followed by a shaky August and most of September — and he will need to follow up a 2015 season that saw a significant increase in his workload at the major league level.
Hedricks had always been a low WHIP pitcher who keeps the ball in the park, and last year his peripherals outweighed his on-field performance. Hendricks' PECOTA projections for 2016 include a 3.16 ERA and a 1.08 WHIP, while Fangraphs projects a 2.3 WAR for him in 2016, though that's based on 139 IP. The key is missing bats. If Hendricks can keep is K-rate in the 7.8-8.0 range in 2016, he would certainly give the Cubs a most formidable number 4 or 5 starter, if not a dominant one.
2. Jorge Soler
Soler is a boom-or-bust player who can be simply wretched at times — like when he is whiffing at balls way out of the strike zone — or magnificent — like when he reached base 9 straight times in the 2016 NLDS. As fans we tend to undervalue Soler, possibly because of his high propensity to strike out or his defensive liabilities, both valid reasons by the way.
Coming into the 2015 season, Soler was considered the 12th best prospect in all of baseball, sandwiched between Noah Syndergaard and Miguel Sano. It should also be mentioned that Soler had fewer than 700 plate appearances in the minor leagues over the course of his career entering the 2015 season.
He's going to need to stay healthy and have a more consistent plate approach and fans are going to have to live with the low-floor, high-ceiling approach to each at -bat. But despite that, we are looking at a potential .280 hitter who could conceivably hit 25-30 home runs and drive in 70-80 runs.
PECOTA projects a .271 TAv with 18 HR and 60 RBI. Steamer lines up with that projection almost identically. Soler should blow by those numbers by mid-August, if not sooner.
3. Javier Baez
Jason Parks once called Baez a golden unicorn, capable of 40+ home runs. When it comes to historical projections, it is rare to find a more mercurial prospect than Baez.
Javier Baez enters the season expecting to get at least 350 at bats but without a set position. The super utility player is a shortstop by trade who converted to second base when the Cubs acquired Addison Russell, he will probably see time everywhere on the field this year except first base, pitcher and catcher.
Another boom-or-bust player, Baez shows incredible versatility and standout defensive skills wherever he is asked to play. The light-tower power and extremely quick bat comes with a high propensity to strike out, and when Baez whiffs it is usually in the go-big-or-go-home fashion.
Oddly, Baez makes this team not because of his offensive potential but because of his defensive prowess, his makeup, and his work ethic. Any offense is just icing on the cake. It's almost unfathomable that that is the mindset for 2016 with Baez.
But he hit pretty well at Iowa last year. In 70 games he hit .324/.385/.527 — good enough for a 144 wRC+ — while lowering his strikeout rate from 42% in 2014 (in 200 major league at bats) to 24% before his call up. There is still a ton of offensive upside with Baez and a lot to dream on if he can just put the bat on the ball consistently.
PECOTA projections for Baez include a TAv of .285 with 25 home runs, which may be excessive considering his lack of a true position. Steamer projections are a lot more conservative, predicting Baez to hit .255 with 16 taters. If he ends up somewhere between those two projections I think Cubs fans will be incredibly happy.
Fact, Fiction, Truth, or Rumor
It seems as if the Baltimore Orioles are
ready to sign Dexter Fowler
, meaning the Cubs would finish this offseason losing their first round pick (due to the John Lackey signing) and the compensatory pick that they will get when Fowler signs (thanks to the Jason Heyward signing), and keeping their 2nd round pick (I think it is number 68 overall though I have seen other writers say it will be number 65). If Fowler doesn't sign with anybody before Opening Day, or if he re-signs with Chicago as some rumors sugest, the Cubs' first selection will be number 104 overall.
The Orioles are also set to
sign Yovani Gallardo
to a three-year deal reportedly worth $40-$45M per Buster Olney of ESPN.
Condolences to the family of baseball reporter Tom Singer, who covered the Pittsburgh Pirates for MLB.com.
Singer passed away yesterday
, unexpectedly, at the age of 67.
Keith Law
ranked the minor league systems of all MLB teams
and the Cubs system ranked 4th overall. The Atlanta Braves were ranked first overall and the Los Angeles Angels finished last, with perhaps the worst farm system of all-time. The subscription-only article also ranks his top 100 prospects for 2016.
Bottom Of The Ninth
Hey — if you are into rotisserie-style fantasy baseball we have an opening in our American League Only Dynasty League "New Spit Baseball." You get a $260 cap to build your roster and we have a three-round minor league draft each year. Teams are allowed to keep 11-13 rostered players plus all minor leaguers each year. This is the 20th year for New Spit and we recently has one of our original owners retire.
We do our minor league draft and player auction in Chicago the first weekend after Opening Day. There are 11 teams with 24-player rosters. The team that is available finished in fourth place last season and, incidentally, the top 4 teams win money. Shame fees are assessed for teams that purposely tank.
If you are interested, please e-mail me at mikeca0331@gmail.com.
PS – it's great to be back!