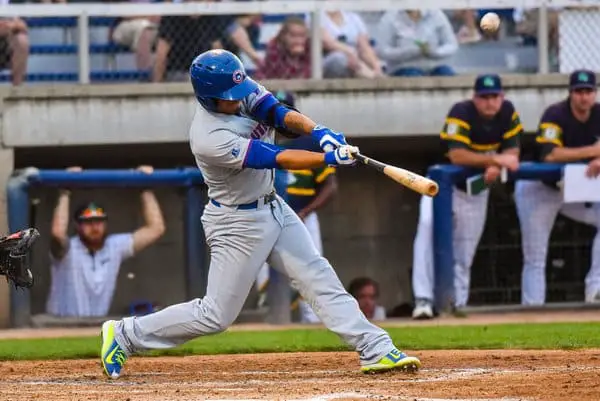 Keith Law's Top 100 Has 6 Cubs…For Now
Keith Law released his list of the top 100 prospects in minor league baseball today and, as we discussed yesterday, there weren't really many surprises. Unlike MLB Pipeline's Top 100, Law did not have Duane Underwood in his group. Instead, Dylan Cease came in at 91. The only thing you might call a surprise would be Gleyber Torres coming in at 15 followed by the comment, "By the end of the year, he could be top 5." I know Law has a soft spot for Torres, but the young shortstop needs to improve his power, decision making, and base running blunders. Still, the idea that he could make a big jump is not that far off.
Wilson Contreras followed at 27 and Ian Happ cracked the top half of the list at 47 — not really much to argue with there. I think Contreras' placement is accurate, as I found it odd that Pipeline had him as the number one ranked catcher in minor league baseball, yet ranked him 50. Happ's ranking positions him 20+ spots higher than his appearance on Pipeline's list and reflects how his power plays if he sticks at second base. Seeing Happ this high is probably the most exciting thing for me.



Law also has Billy McKinney at 69 (nice) and Albert Almora came in at 88. I don't really get why McKinney slipped so much though; I understand that he really hasn't produced as a power hitter, but the kid can still rake. Almora has underproduced, but a new leg kick vaulted his average to .301 in the second half (51 games) at Tennessee.
In teasing the release of his rankings, Law foreshadowed that the Cubs had a pitching prospect on the horizon. He followed through by placing Dylan Cease at 91. Many evaluators truly love what Cease can do (99 mph is pretty easy to fall in love with) and it wouldn't surprise me to see him shoot all the way in the top 20 by the end of the year…if he can command his curve and changeup. If we see him at South Bend this spring, which I think we will after extended Spring Training, then he's going to have a good shot getting 16 to 18 starts and about 80 innings this year, a nice number/increase for him.
I think by the time summer rolls around, Duane Underwood could be in Law's top 100 along with Eloy Jimenez and Jeimer Candelario. Justin Steele, another Law favorite, might even draw some attention. In fact, I think the Cubs could realistically have 8 prospects on the midsummer list. This isn't a stretch, it's just a matter of fact that the Cubs' system is just that deep.
By this time next year, Bryan Hudson and Darryl Wilson will be in the conversation after playing at Eugene later this summer.
Okay, I see why he has the Cubs at #4 now.