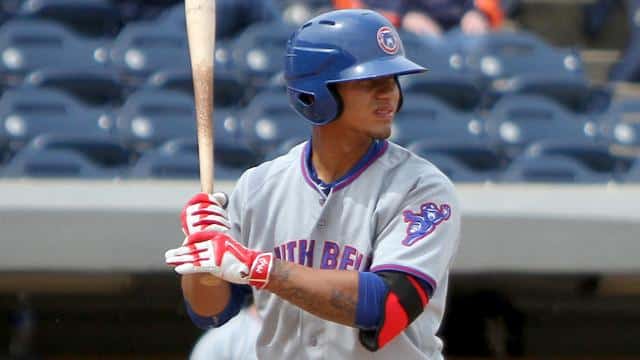 Baseball Prospectus Releases Cubs Top 10 Prospects List
I was only four months old when it came out, but I'd imagine the last few days have been for Cubs fans what it was like for moviegoers anxiously awaiting the opening of Bo Derek's most iconic film.
I'm also reminded of an anecdote my friend Tim Jorczak was fond of sharing. As the story goes, the lineman doing some mano a mano drills during football practice but they only had 19 guys. As such, Coach O pointed out, one line would need nine and the other 10. Well, Buck Manns was having none of that being in the smaller line business.
"We want the 10. 'Zak, wssssht, git over here!"
Yes, Buck, we want the 10 too. In this case, however, it's about the Cubs' best prospects and not something so banal as having a longer line. Speaking of long lines, the Cubs front office has devoted a great deal of effort to building up the kind of farm system that can provide a veritable conveyor belt of talent up to Chicago. We saw the fruits of that labor last season, as Kris Bryant, Addison Russell, Kyle Schwarber, Jorge Soler, and Javier Baez all played significant roles for the big club.
As you might imagine, that kind of mass exodus from the system is going to leave some gaping holes in any top prospects list. Even with the increased focus on the minors during the years the Cubs themselves were down, many of the players who moved up to fill those gaps were bound to be new names with significantly less cachet — at least as far as the general public is concerned — than those we drooled over for so long.
Bryant, Russell, and War Bear burned so brightly and blazed through the system so quickly that a good deal of talent was obscured by the spots in our vision after staring too long at the vaunted trio. And when they were plying their trade at Wrigley instead of one of the various outposts along the winding paths they took to get there, many found their rapt fascination with the minor league affiliates waning.
But make no mistake, the Cubs system is still alive and well. We had a look at that earlier in the year, when BP released its list of the top 101 prospects in baseball, six of whom are in the Cubs organization. Based on that publication, we knew that Gleyber Torres (41 overall), Willson Contreras (57), Ian Happ (67), Billy McKinney (74), Albert Almora (83), and Eddie Martinez (97) would be among the top 10.
Given the time between the releases and the different minds compiling them, however, there were some changes in terms of the overall order. You can check out the complete breakdown over at BP, but below are the rankings and excerpts from the Christopher Crawford's reports on each player.

1. Gleyber Torres, SS
DOB: 12/13/1996
Height/Weight: 6'1" 175 lbs.
Bats/Throws: R/R
Drafted/Acquired: Signed July 2013 by Chicago out of Venezuela for $1.7 million
Previous Ranking(s): #8 (Org.)
2015 Stats: .287/.346/.370, 3 HR, 22 SB in 538 PA at Low-A South Bend and High-A Myrtle Beach
Future Tools: 60 hit, 60 glove, 60 arm, 55 speed
Role: 60—First-division regular at shortstop
Torres' feel for hitting is exceptional and gets better every year, and his ability to make consistent, hard contact to every part of the field with an easily repeatable swing gives him a plus hit tool. He's shown he's not allergic to taking pitches, but he can get aggressive. That'll lead to more swing-and-miss than you'd like from a hitter with fringe-average power. But he has enough strength to put the ball into gaps, and his above-average speed allows him to take extra bases—whether by stretching hits or stealing bags.
There was once debate about whether Torres would stay at shortstop. That debate is over. Torres has excellent hands, top-notch instincts and an easy plus arm. Is he Francisco Lindor with the glove? Nope, but he's only a notch below. He's really good, and when you add in his ability to get on base and swipe bags, you get a really valuable player.
Major League ETA: 2018

2. Willson Contreras, C
DOB: 05/13/1992
Height/Weight: 6'1" 175 lbs
Bats/Throws: R/R
Drafted/Acquired: Signed December 2009 out of Venezuela for $850,000
Previous Ranking(s): Unranked
2015 Stats: .333/.413/.478, 8 HR, 4 SB in 454 PA at Double-A Tennessee
Future Tools: 60 hit, 70 arm,
Role: 60—First-division catcher
Contreras went from a fringy backup-catching prospect to arguably the best catching prospect in baseball in the span of a season. That's fun. He is the rare player who added bat speed at his age, and he also cleaned up the swing path, allowing him to make more consistent hard contact. His hand-eye coordination is in the upper echelon, so there's minimal swing-and-miss. He's never going to be among the league leaders in homers because the swing path doesn't have a ton of loft, but he's naturally strong, and 10-15 home run seasons aren't impossible.
Behind the plate, Contreras is still a work in progress, but he shown progress in that work. He has a cannon, which will keep runners at bay even without a quick release or tidy mechanics. Receiving is the big focus point right now, as he's still learning how to frame pitches and call games.
Major League ETA: 2017

3. Ian Happ, 2B/OF
DOB: 08/12/1994
Height/Weight: 6'0" 205 lbs.
Bats/Throws: S/R
Drafted/Acquired: Drafted ninth overall by Chicago in the 2015 MLB Draft, University of Cincinnati (OH); signed for $3 million
Previous Ranking(s): No. 6 on Top 125 MLB Draft prospects
2015 Stats: .259/.356/.466, 9 HR, 10 SB in 251 PA at short-season Eugene and Low-A South Bend
Future Tools: 60 hit, 55 speed, 55 arm, 50+ power
Role: 60—First-division corner outfielder
The swing is slightly better from the left side, but he's going to be able to hit for average from both sides of the plate, and he sprays line drives all over the field. He's comfortable hitting with two strikes and is more than willing to work counts, but that also means there are going to be more strikeouts than you typically see from a plus hit tool. He has excellent balance in his lower half and a swing that contains some loft, so above-average power is well within reach. He's also an above-average runner who gets excellent jumps on the bases, so you could be looking at a 20/20 guy.
There's no question he can handle an outfield corner, but the Cubs will give him a chance to play a premium position. Center field is the dream, but the most likely landing spot is second base (where the Cubs have worked him out exclusively since the offseason), and that's a place where his above-average arm and adequate hands will make him passable.
Major League ETA: 2018

4. Billy McKinney, OF
DOB: 08/23/1994
Height/Weight: 6'1" 195 lbs.
Bats/Throws: L/L
Drafted/Acquired: Drafted 24th overall by Oakland in the 2013 MLB Draft, Plano West HS (Plano, TX), signed for $1.8 million; traded by Oakland to Chicago in five-player deal
Previous Ranking(s): #6 (Org.) #81 (Top 101)
2015 Stats: .300/.371/.454, 7 HR, 0 SB in 433 PA at High-A Myrtle Beach and Double-A Tennessee
Future Tools: 65 hit
Role: 55—Above-average regular in left
Billy McKinney can flat-out hit. That could be the end of the report, but you probably want to know why, and that's understandable. You just don't see 22-year-olds repeat a swing this well. His fluid, quick movements give him as close to a plus-plus hit tool as any hitter outside of that Seager guy. He's not completely devoid of power, but because he doesn't generate much leverage or loft, asking for much more than 15 homers a year is asking too much. He's also not fleet of foot (more on that in a second), and he's not going to provide much value when he's on base.
Yes, Martinez and Almora have bigger ceilings than McKinney (as their tools reflect), thanks to their ability to play center, and play it well. But the unknowns (Martinez) and limited offensive potential (Almora) place their realistic outcomes somewhere in the fourth-outfielder orsecond-division starter range. McKinney has a borderline plus-plus hit to go with three other average tools that say he'll be an everyday guy.
Major League ETA: 2017

5. Eddy Julio Martinez, OF
DOB: 01/18/1995
Height/Weight: 6'1" 195 lbs.
Bats/Throws: R/R
Drafted/Acquired: Signed October 2015 by Chicago out of Cuba for $3 million
Previous Ranking(s): Unranked
2015 Stats: Did not play
Future Tools: 60 speed, 60 arm, 60 glove, 50+ hit
Role: 50+—Above-average regular in center field
This is an aggressive ranking for a player with this little experience and limited viewing (my report is based on video and international scouts), but the upside is higher than that of any hitter in the system—even Torres. He's an exceptional athlete, and you can see that athleticism come through in a swing that has plus-plus bat speed.  He's an easy plus runner, and he should be a significant nuisance if and when he gets on base.
There's a ton of volatility here, but if you squint really hard and dream even harder, you could see him becoming a poor man's Andruw Jones. It's just as likely he's a fourth outfielder, but the ceiling is just too high to not land in the top five in this system.
Major League ETA: 2018

6. Dylan Cease, RHP
DOB: 12/28/1995
Height/Weight: 6'1" 175 lbs.
Bats/Throws: R/R
Drafted/Acquired: Drafted in the sixth round of the 2014 MLB Draft, Milton HS (Milton, GA); signed for $1.5 million
Previous Ranking(s): Unranked
2015 Stats: 2.63 ERA, 24 IP, 12 H, 16 BB, 25 K at complex level AZL
Future Tools: 70 fastball, 55 curveball
Role: 50+—Mid-rotation starter/High-leverage reliever
Cease was not your typical sixth-round pick, as he was a potential day-one guy before it was revealed in March that he'd eventually need Tommy John surgery. Still, kudos to the Cubs for taking a chance on him and getting this type of talent into the system. This could be an 80 fastball when all's said and done, as he touched triple digits and sat in the mid-90s at times in his return to the mound this summer. The curveball doesn't have that potential, but it's at least an above-average offering with hard, power spin, and he showed the ability to throw it for strikes in the AZL, too. He relies heavily on those two pitches, but he's shown an average changeup with late tumble at times, though there's a noticeable difference in arm speed.
The stuff says Cease can pitch at the top of a rotation. The command says "you sure about that?" He's athletic and there isn't a ton of effort in the delivery, but he's often wild in the strike zone, and he can beat himself with walks. Because of that and the injury, there's at least a chance he ends up in the bullpen, but if everything clicks he's a potential no. 3 starter—maybe more.
Major League ETA: 2018

7. Albert Almora, OF
DOB: 04/16/1994
Height/Weight: 6'2" 180 lbs.
Bats/Throws: R/R
Drafted/Acquired: Drafted sixth overall in the 2012 MLB Draft, Mater Academy (Hialeah, FL); signed for $3.9 million
Previous Ranking(s): #4 (Org.), #38 (Top 101)
2015 Stats: .272/.327/.408, 8 HR, 8 SB in 454 PA at Double-A Tennessee
Future Tools: 70 glove, 60 arm, 50+ hit
Role: 50+—Solid-average regular in center field
Almora's stock took a significant hit in 2014, and while he's no longer a top-30 prospect, he did do his best to reestablish his value this summer. He's always made a lot of contact, but the big difference in 2015 was that there was far less weak contact, as he showed more strength in his swing and put balls into the gap. He still swings too often to ever hit at the top of a lineup, and double-digit power is probably just out of his reach.
What Almora lacks in offensive upside, he makes up for in defensive value. His instincts are stupid good, and even though he's not more than an average runner, he still gets to everything and anything. He also has a plus arm, so he's basically that rare plus-plus center fielder who doesn't have blazing speed.
Major League ETA: 2017

8. Duane Underwood, RHP
DOB: 07/20/1994
Height/Weight: 6'2" 215 lbs.
Bats/Throws: R/R
Drafted/Acquired: Drafted 67th overall by Chicago in the 2012 MLB Draft, Pope HS (Marietta, GA)
Previous Ranking(s): Unranked
2015 Stats: 2.41 ERA, 78.1 IP, 55 H, 24 BB, 54 K at High-A Myrtle Beach
Future Tools: 60 fastball, 55 curveball, 50+ change
Role: 50—No. 4 starter/High-leverage reliever
If you see Underwood on the right day, you'll wonder why he's not in the top five of the system. He consistently touches the mid-90s with his fastball, sitting 91-94 mph with just enough movement to call it a plus offering. He can really spin his curveball, and when he doesn't get underneath it, it's an above-average pitch with 11-5 break.
Unfortunately, his stuff doesn't just vary from start to start, but from inning to inning. There's zero consistency, and part of that comes from his inability to stay on top of the delivery or repeat his arm slot. That makes him a candidate for the bullpen, but he's still young, with enough upside to maybe, just maybe, pitch in the middle of a rotation someday.
Major League ETA: 2017

9. Eloy Jiminez, OF
DOB: 11/27/1996
Height/Weight: 6'4" 205 lbs.
Bats/Throws: R/R
Drafted/Acquired: Signed August 2013 out of the Dominican Republic by Chicago for $2.8 million
Previous Ranking(s): Unranked
2015 Stats: .284/.328/.418, 7 HR, 3 SB in 250 PA at short-season Eugene
Future Tools: 60 arm, 55 power
Role: 50—Average regular in right
The calling card is plus power, generated from above-average bat speed and exceptionally strong wrists that allow him to take the ball out to any part of the ballpark. Unfortunately,the length of his swing makes his in-game power more likely to be above average than plus. The swing path also makes his hit tool closer to 40 than 50 at this point, and pitch recognition does not appear to be a strength.
Jimenez played some center field last year, but it almost assuredly won't be his landing spot at the big-league level. He should be solid in right field, however, as his plus arm and average speed will allow him to be just fine in that cozy corner. The upside is a 30-homer hitter who will get on base enough to justify playing everyday, with a realistic and defensible floor of lefty-masher off the bench.

10. Carl Edwards, Jr., RHP
DOB: 09/03/1991
Height/Weight: 6'3" 170 lbs.
Bats/Throws: R/R
Drafted/Acquired: Drafted in the 48th round of the 2011 MLB Draft, Spartanburg Methodist JC (S.C.); signed for $50,000
Previous Ranking(s): Unranked
2015 Stats: 2.77 ERA, 55.1 IP, 26 H, 41 BB, 75 K at Double-A Tennessee and Triple-A Iowa; 3.86 ERA, 4.2 IP, 3 H, 3 BB, 4 K at the major league level
Future Tools: 70 fastball, 60 curveball
Role: 50—High-leverage reliever
His fastball has plenty of movement, and it'll get up to 97 mph in short spurts, making it an easy plus-plus pitch. He complements that heater with hammer curveball, one that is rarely a strike but doesn't need to be. He's also thrown a change, but it's not a pitch that he shows very often in relief. The only thing that keeps him from being a lock for the ninth inning is his control, as he beats himself far too often to trust in high-leverage situations at present. If he can show even fringe-average control, he's going to be a dominant reliever. If he can't, the two out pitches should allow him to stay on a roster, but we'll always be left wondering "what if he could throw strikes?"
Major League ETA: Debuted in 2015
Again, I would advise you to get over to Baseball Prospectus for the full version of this list, which includes more scouting info and Brett Sayre's fantasy takes. BP also takes a look at five more interesting players in the minors. It's not necessarily an 11-15 ranking, just quick snippets on some other names you may have heard. Finally, they rank the Cubs' top 10 talents under age 25 and touch on the team execs.
Kudos to Crawford and Co. on this project. It's obvious these guys put a lot of work into these lists and that they take pride in what they do. I'm sure Dudley Moore (God rest his soul) and Buck Manns would be quite pleased with the treatment — however anecdotally or tangentially it might be — of their respective legacies.
I'm not a prospect expert by any stretch, but I really can't find much to nitpick on this list. Well, except maybe Albert Almora's ranking. As you may already know, I'm an Almora honk and think he could/should be a couple  spots higher. What about you? See anyone you think missed the cut? Discuss below or tweet me @DEvanAltman.
Update: BP Wrigleyville's Isaac Bennett has published a definitive list of the "Next Five," the prospects sitting at 11-15, as determined by the entire BPW staff.