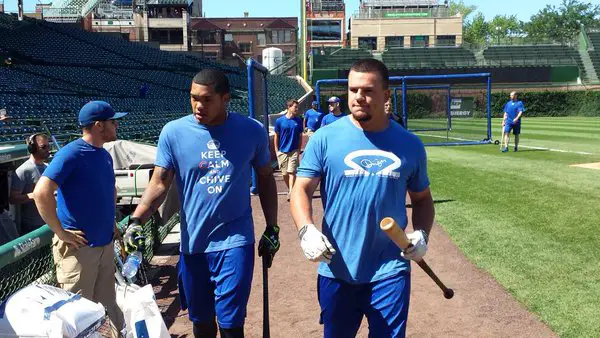 Who Will Have a Bigger Impact in 2016: Addison Russell or Kyle Schwarber?
Ed. note: a version of this story originally appeared at Baseball Essential.
The answer is always Kris Bryant, even when the question specifically excludes him. But the waters get a little muddy after that, specifically when we're talking about the two guys right behind him in the Cubs' sophomore class rankings. I was reminded of that when checking out BP's top 10 list and seeing their rankings of the team's under-25 talent, which had Russell above Schwarber. Choosing one over the other is a task better suited for a barber, but I'm gonna pull out my clippers and do my best to split some hairs just the same.
The fact that we're even talking about these two as second and third is a testament to just how good Bryant was last season. I mean, we're not exactly talking about schmucks on wheels here. Addison Russell finished eighth among all rookies with 2.9 fWAR while playing half the season out of position and Kyle Schwarber hit a baseball on top of the LED jumbotron atop Wrigley Field's right field bleachers. In the playoffs. After hitting one into the Allegheny in the Wild Card game. Oh, did I mention that he put up 1.9 fWAR of his own in only 69 (nice) games? And that he was also sort of playing out of position?
Both phenoms supplanted longer-tenured players, one of them a three-time All-Star, en route to establishing themselves as mainstays in the lineup. But by taking very different paths in doing so, they've raised some questions as to which will have the bigger impact for the World Series favorites in 2016.
After being billed as the second coming of Barry Larkin, Russell came to the Cubs organization in 2014 as the centerpiece of the trade that sent Jeff Samardzija to the Oakland A's. The comps and the fact that the Cubs had traded a fan favorite to acquire him meant that the precocious shortstop had some heavy expectations heaped on his shoulders from the start. Then Russell actually homered twice before Kris Bryant went deep for the first time, igniting all manner of fantastical fever dreams
On the whole, however, the 21-year-old struggled to adjust to major-league pitching, particularly as the summer dragged on. Many questioned how a kid who was only batting in the .220's could possibly be a keystone of the rebuild, let alone push Starlin Castro out of position.
But push he did, though not right away. Russell began his big league career as Castro's double play partner, ranking fourth among all second basemen with 9 defensive runs saved and second in UZR with 7.3. And that's a position at which he'd gotten just a brief primer in Iowa prior to being thrown into the fire with the Cubs. When struggles forced Castro to the bench, the rookie took a few steps to his right and finished the season ranked fourth among all shortstops with a DRS of 10 and he was 9th in that group with a UZR of 6.1.
Those stats were generated in only 471.1 innings, nearly 400 fewer than anyone above him on the list. Now imagine how many runs he'll steal from opponents with a full season at his natural position.
Schwarber, on the other hand, isn't going to be accused of theft with the glove. A catcher in college and through the first half of the season at Double-A Tennessee, Schwarber ended up spending most of his time in the outfield after making The Show. That wasn't necessarily the plan from the start, when the slugging fireplug was called up to DH for the Cubs during a six-game interleague swing in mid-June.
And swing he did. In his first full game, Schwarber went 4-for-5 with two RBI and three runs, including a triple in his first at-bat. He hit only a single home run while sipping that first cup of coffee, an opposite-field shot that appeared to have required all the effort of a Clydesdale reflexively flicking his tail to shoo the flies from his backside, but the raw power generated by that lightning-quick lefty stroke had Cubs fans salivating.
Schwarber was sent back to minors to marinate, but the potential was too great to suppress for long and the Cubs brought him back up for good when the second half opened. He went on to peel 16 taters to go along with 52 runs scored and 43 RBI, but it was the postseason that really put War Bear on the map. Those aforementioned monster shots punctuated a Cubs playoff record five dingers and had Schwarber looking like The Next Big Thing.
Despite that, it was his faceplants out in left during the NLCS that had some in the media condemning his defense and many in Cub-land pining for a rule change that would make the DH a permanent fixture in the Senior Circuit.
So now we've got two players, seemingly polar opposites of one another, looking to improve upon both their own performances and that of their team. The question of who ends up having the bigger impact will likely come down to which player is best able to fill gaps in his game.
Russell slashed only .242/.307/.389 overall and hit only .156/.233/.294 against southpaws, numbers that are going to have to come up moving forward. It should be noted that he did improve down the stretch, particularly after moving from second to short. Though the rookie posted a season-long wRC+ of 90 (10 percent worse than a league-average hitter), he closed on a high note with a second-half wRC+ of 101. And he displayed tremendous ability to lace hits into the gaps all year, a characteristic that will make him a feared hitter if he's able to tighten up the approach.
Speaking of tightening up, Schwarber put in a great deal of work on his explosiveness and flexibility this winter. Okay, so that would mean he's loosening up. Except that Cubs GM Jed Hoyer has said that wanted their left fielder to drop about 20 pounds. So, yeah, that's tightening up. These fitness terms are so confusing. In any case, the hope is that getting better jumps and taking better routes in the outfield will help him to look a bit less like a displaced backstop. Or Matt Holliday.
What a dick.
So Russell improves his offense, Schwarber's glove gets better, Bob's your uncle, Fanny's your aunt. Seems simple enough, right? Yeah, well this ain't The Merry Wives of Windsor and I'm sure as hell no Billy Shakes. I did, however, play the role of Simple in a brief reenactment of said play in a Shakespeare class back in college, which I think leaves me sufficiently qualified to write about baseballing. Anywho…where was I?
Ah yes, Schwarber and Russell. The D vs. the Ohhhh. Oh? What's that? You're right, there is something else we need to be discussing. Schwarber carried an anemic .143/.213/.268 line (wRC+ of 30) against lefties, a mere 131 points lower than his mark against right-handed hitters. In other words, even Dr. Giggles was a better slasher. The Cubs will be able to protect their young hitter with platoons, but that kind of insulation only goes so far. So this isn't simply a matter of Schwarber's hitting making up for his mitting. It's about his hitting against righties whitewashing both his glove and his performance against lefties.
Schwarber is going to provide the kind of visceral power that puts hair on your chest (sorry, ladies) endangers light towers across baseball. Russell is more like a ninja, moving swiftly and doing damage you won't even see until it's too late. He will also be responsible for more than a few bruised chins, suffered when jaws come unhinged at the sight of his wizardry in the field. In the end, and perhaps this is a cop-out, it's the combined impact of these two is what will really drive the Cubs to the next level. One will soften opponents with body blows delivered in stealth, while the other clubs haymakers that crush pitchers' wills.
But while I have the utmost confidence in the former Hoosier's ability to take marked steps forward, I believe his improvement will be relatively trudging and tentative. Russell, on the other hand, seems poised to pull a Bob Beamon in 2016. Both players are projected to put up very solid offensive numbers, but given Russell's premium position and the fact that he'll be playing there for an entire season, I have to give him the nod here. While I'm not much for the speculation game, I'd venture that we see Russell boasting something in the neighborhood of 4.0 or even 4.5 fWAR against Schwarber's 3.5 to 4.0 in 2016.
Far from an indictment of Schwarber, my assessment is based on the feeling that Russell is really just that good. And when combined with their fellow second-year star to complete the left side of the Cubs' defense, you're looking at a group that could cause more triple trouble than the Beastie Boys. Regardless of who ends up having the biggest impact in the end, these kids are going to be putting on a hell of a show in Wrigleyville this season.