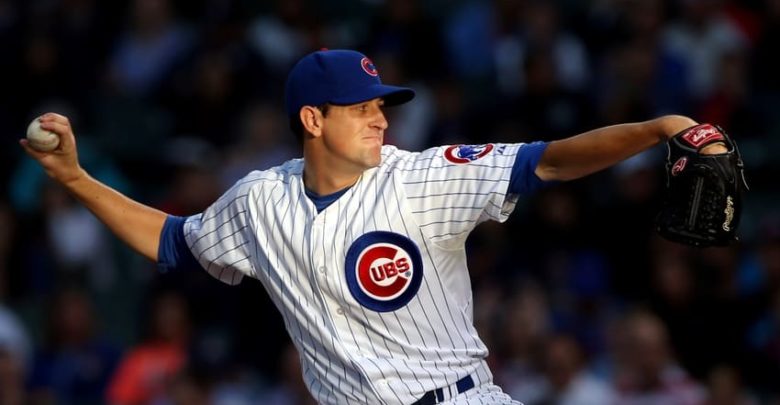 The Rundown: Scouting Grimm, Hammel, Hendricks, and Heyward
Top Of The First
This will be a pretty quick rundown today because I'm a bit under the weather. I'll catch up on a few scouting reports, 86 the Central Division blog recaps for today and look at some other baseball stuff. Wth this flu, my capacity for research has been severely diminished. Still, I promise this column won't lack for quality.
Scouting The Cubs – Grimm, Hammel, Hendricks and Heyward
Recently I have been scouting the Cubs 25-man roster — at least as I see it when the Cubs break camp in a few weeks — and because I have been a bit too busy to do daily columns, I'll provide four scouting reports for today's Rundown.
Justin Grimm: Grimm was a sleeper candidate heading into 2015, took a big step up last season, and still remains below the radar for 2016. The right-hander was acquired with Neil Ramirez, Carl Edwards, Jr and Mike Olt in the 2013 trade deadline deal that sent SP Matt Garza to Texas, and is a key component of the Cubs bullpen corps.
Grimm offers elite skills when he's on, including a swinging-strike rate (SwK) of nearly 15%, and in the first half of the 2015 season he had a first-pitch strike rate (FpK) of 68%. The fly in the ointment was a more-than-mildly concerning second-half regression, a factor of consistent control issues (nearly 5 BB/9IP). In the first half of 2015, despite some of the same control issues, Grimm was a 200 ERA+ pitcher (100 is average.)
Frequent walks and a reduction in FpK to 53% hurt him dearly in the second half, and the righty was basically league-average with a 100 ERA+ post All-Star break. If Grimm can harness the control he would be a legitimate closer candidate with an upside of 40 saves. What we will probably get from him this year is about 70 strikeouts across 55 innings, a few saves, with an expected ERA around 3.15 with a 1.25 WHIP.
Jason Hammel: Hammel has been a second-half rotation drag for most of his career and 2015 was no exception. The 33-year-old right-hander dedicated himself to a new training regimen this winter (similar to Jake Arrieta's) in hopes of staying strong throughout 2016. Still, despite the second half troubles, Hammel had a solid, if unspectacular, 2015 season.
Hammel's strength lies in his slider, a pitch he threw a career high 33% of the time in 2015. His 61% FpK for 2016 represented a career high as well. He was arguably the Cubs' 2nd best pitcher in the first half, posting a 2.89 ERA with an 0.95 WHIP. But the second half was pretty ugly, as Hammel posted a 5.03 ERA with a 1.47 WHIP and took several quick hooks from manager Joe Maddon. The simple fact is that when Hammel is not on it is immediately noticeable and he'll get pulled early to prevent any insurmountable damage.
If Hammel's hamstring is not an issue this season and if his endurance is less of a factor, he could be a 9-12 win pitcher with better than league-average peripherals. If we see a repeat of last year's second half, expect the Cubs to trade for a starter or bump Hammel from the rotation in favor of Adam Warren.
Kyle Hendricks: Hendricks won't win a Cy Young this year but he is going to break out. He's pitched beneath his peripherals historically but that's probably a factor of a lack of experience. And though he also lacks the sexy high-powered fastball, his off-speed offerings are very heavy and he shows a knack for command, consistency, and first-pitch strikes (63%). Kyle Hendricks profiles as a perfect mid-rotation starting pitcher.
The key for 2016 is going to be an uptick in swinging-strike rate and overall dominance (K-Rate or K/9IP). In 2014 and 2015 that SwK was about 8.5% but in September of last season it was above 11%. As a result, his K-rate spiked from 7.3% to 10.4% over his last five starts of 2015. If Hendricks can maintain those rates this season, we are looking at an ERA under 3.20 and arguably the most dominant SP4 in all of baseball. More than likely, Hendricks will pitch somewhere between his career averages and last September's spike, but that's still spectacular for a number 4 starter, especially considering his average fastball.
Jason Heyward: Heyward gives you defense, defense, and more defense. But don't sleep on the offensive potential either. Remember, he is only 26 years old. During his first full season (2012), Heyward profiled as a future power stud, hitting 27 round-trippers. But since then he has relied more on his legs, with annual increases in contact rate, groundball rate and stolen bases, showing respectable growth rate in all categories to support the shift.
Will the power return? Heading into his prime years some analysts believe he may spike upward. I don't think so. His batting average continues to trend upward and Heyward won't sacrifice contact for home runs. I don't think the Cubs want that from their major free agent signing anyway.
Heyward was signed to get on base, make contact and provide Hall-of-Fame defense, and he will continue on that path. The offensive numbers will never be as sexy as the defense the right fielder provides, but that's okay. Preventing runs is every bit as important as generating them, and Jason Heyward saves a lot of runs. Look for something along the lines of 15/70/.301/.386/.824 from him, packaged nicely with 20-25 SBs and a gold glove.
Fact, Fiction, Truth, or Rumor
The Cubs might finally have the perfect World Series recipe, according to Ken Rosenthal.
J.P. Morosi names the ten most underrated players in baseball. I would consider adding Anthony Rizzo to the list, though I admit his underrated qualities — leadership and promoting healthy clubhouse chemistry — are mostly non-quantifiable.
Apparently the baseball Pete Rose signed for Donald Trump is not an endorsement. I've had enough of the disgraced ballplayer's news since Rob Manfred was appointed MLB Commissioner. I hope it stops soon. I don't usually mind Rose too much, but I don't like this pathetic, attention-seeking version.
White Sox first baseman Adam LaRoche retired. That came out of nowhere. My guess is that his age in combination with his history of back problems is the culprit. Let's hope it's nothing more serious.
Bob Nightingale believes baseball really wants an openly gay active player. My take: Who cares (besides the media of course)? I am not a fan of societal labels and I loathe defined stereotypes. A baseball player is a baseball player. End of story. A better story would be a desire for more front office jobs going to minorities and women. I guess that doesn't compare with the sensationalism of "gay ballplayer" though. Integrity? We'll miss you.
Spring Training hijinx in Florida: Can you tell me where I can find the keys to the Batter's Box?
Bottom of the Ninth
Sneeze. Sneeze. Cough. Cough.  I will see you again just as soon as I am comfortable leaving the blanket cocoon I have recently prepared for myself. In the meantime, I wanted to point you to some cool baseball nostalgia.
"Talking Baseball With Ed Randall" is now available on Hulu for both subscribers and non-subscribers. Mr. Randall has hundreds of archived interviews featuring some of baseball's most iconic personalities, including Mickey Mantle, Ernie Banks, Tom Seaver, Harmon Killebrew and Juan Marichal, just to name a few.
If you are a baseball historian or just want to see the stark differences between current baseball and pre-1980s baseball, this show is tremendous fun. I hope you take some time to discover and enjoy this wonderful treasure.