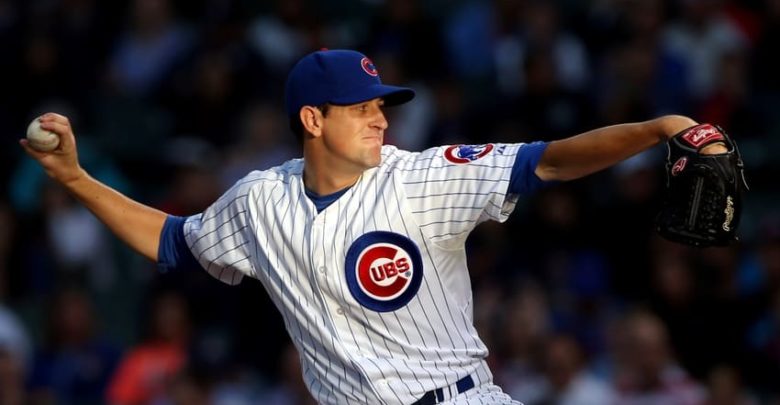 Kyle Hendricks Gives Us Change We Can Believe In
To call Kyle Hendricks' fastball blazing would be an insult to fires and saddles, but that's exactly what his high-80's offering looks like next to his changeup. While it'll take some time before we can start with the Johan Santana comps, the big boys of baseball blogging are starting to take notice. Peter Gammons wrote last July that the pitch was approaching filth status, while the curiously coiffed Eno Sarris noted in an October FanGraphs post that Hendricks' baby is actually twins.
Opposing hitters are certainly seeing double.
Imagine you're in the box facing a slight pitcher who looks like someone put a baseball uniform on a bundle of matchsticks. You take his first offering, a sinker at 87, for a strike at the knees and ready yourself to whale on the next one you see. You load as he begins his motion and then begin to uncoil your body's spring to meet the pitch at the plate. But as your bat travels along its plane, you realize that the ball isn't where it's supposed to be.
It's as if the atmosphere between you and the mound has been replaced by a massive 726-inch tank of water that the ball must travel through before reaching you. Slowed as it is by this obstruction, you attempt in vain to re-time your swing, shifting too much weight to your front foot and flailing awkwardly as you do. After a comically long time, the 77 mph changeup barely registers a pop in the catcher's mitt as you stare angrily at the bat — which is at least partially to blame — and ready yourself for the next one.
Gotta be a sinker this time. Same arm action as that first one, here…goes…wut?
Once again, you're caught off-guard as the man on the mound propels the ball as a child would a yo-yo, pulling the string as you wave helplessly. You think about taking another cut or two — you've seen it in Bugs Bunny cartoons and Lord knows you've got time — but why risk further embarrassment. Better to just sit down and let the jersey-clad bundle of twigs turn someone else into kindling.
Kyle Hendricks isn't sexy, unless, that is, you're into Peter Parker-esque types possessed of no discernible super powers. Although…yeah, that might make sense. I wonder if the nerdy Newport Beach product was able to fashion some kind of fancy web-shooters. That would explain the whole string-pulling phenomenon.
The nondescript appearance might also explain how Hendricks seems to have avoided radar detection for the most part, even among Cubs faithful. Sure, more than a few people out there know that the young man is pretty good. But if we were playing Family Feud and the category was "Name a word people use to describe Kyle Hendricks," I'm guessing "meh" and "okay" would make the list. And maybe "nana."
But you don't have to be Richard Dawson to know that the survey says a few more expressive things about Hendricks' performance, particularly after what he's done so far this spring to follow up on last season's second half. The numbers — 1.89 ERA, 0.84 WHIP, 19 K's in 19.0 IP — speak for themselves, but it's how he's getting them that really tells the story.
Take Wednesday's five-inning outing against the Rangers in Surprise. The changeup was mowing hitters down like the Fatal Flying Guillotine, accounting for four of Hendricks' five strikeouts, all on swings. In total, he threw the change 32 times in 83 pitches (38.6%), only five of which were judged to be outside the strike zone. Spring Training pitch counts and usage aren't necessarily the be-all, end-all, but I don't think leaning so heavily on the change was necessarily a fluke or a case of him simply wanting to dial the pitch in.
While it's true that Hendricks seemed almost unwilling to turn to the curve or cutter, pitches he only employs in an ancillary fashion even under normal circumstances, it's hard to argue with the efficacy of the change. I mean, you could argue with it, but you'd just end up sounding like the kind of person who chooses an unpopular hill upon which to die only because you like to climb hills and die on them. So, yeah, don't do that.
On Wednesday afternoon, the Rangers made contact with Hendricks' changeup on 13 times (7 fouls, 3 hits, 2 groundouts, and one flyout). They swung and missed 8 times and had 6 strikes called against them. My math may be fuzzy, but I think that's about a 25% swinging strike rate, about four times higher than Hendricks' career total for all pitches. Could it be that the change is his "out" pitch, that a guy who doesn't break 90 mph is still able to slow down enough to fool hitters?
Yes, yes it is. In that aforementioned article, Gammons wrote about how Hendricks turned his season around when he began trusting the change enough to throw it more in two-strikes counts. The splits clearly bear that out, as the change went from saving only 0.54 runs/100 pitches in the first half of 2015 to 2.77 runs in the second half. In the time since he debuted in July of 2014, Hendricks' change has saved 15.8 total runs (8th in MLB) and 2.07 runs/100 pitches (4th). And at only 26, there's reason to believe he can further hone his skills to become even more effective.
The key is going to be locating the pitch and maintaining a consistent delivery in order to fool hitters. Since Hendricks doesn't rely on velocity, deception has to be his calling card. He's also going to have to work a bit on getting deeper into games. To this point, the knock on the young pitcher has been his seeming inability to get through an opposing lineup the third time.
Like clockwork, leadoff man Hanser Alberto doubled in his third trip to the plate. That was followed by an RBI triple from Ian Desmond and a run-scoring duck snort from the world's most unlikely vegetarian, Prince Fielder. Though Hendricks proceeded to strike Adrian Beltre out to end the inning, the narrative remained intact. But you show me a 5th starter who can routinely give me 5 innings of two-run ball and I'll show you a damn good team.
And that's exactly what we're looking at on the North Side. So while this matchstick man may not be able to produce enough gas to start a fire, Kyle Hendricks has a change we can believe in.