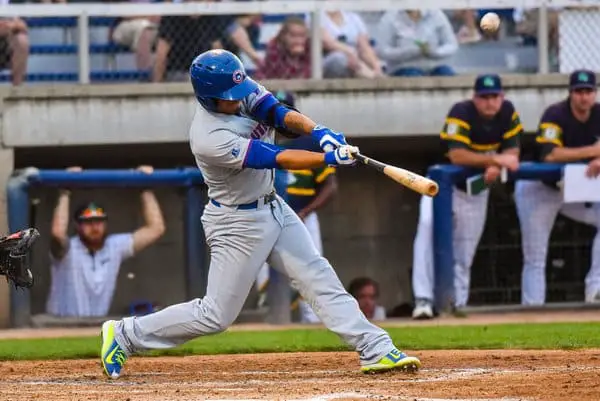 Can Anyone Knock Gleyber Torres Off the Top of Cubs Prospect Mountain?
For the better part of two years, Kris Bryant was the Cubs' top-rated prospect. When he was called up early in 2015, Addison Russell took over the top spot. That didn't last very long though, as Russell followed Bryant to the majors only a couple weeks later. Kyle Schwarber's run was similarly abbreviated. By the middle of summer, shortstop Gleyber Torres was the consensus number one prospect in the organization.  
Torres is not your typical number one prospect. He hits for a high average and led South Bend in RBI's from the two hole, but he only hit 3 home runs and he still has just a couple of issues to work out as a fielder and baserunner. Overall, he's a pretty complete player who does everything well. His greatest attribute at the plate is that he can drive the ball the other way naturally. In the field, he has elite footwork that allows him to get to the ball and put himself in position to make a great throw.
It has been noted that Torres put on some muscle in the offseason and appears to have grown another inch or so, which would put him closer to 6'2". And since he won't even turn 20 until December, there's good reason to believe he's still got more potential to fill out further. Reports are that he is driving the ball better than he did last year should come as no surprise.
I cannot wait to see what he does in the Carolina League, a noted pitcher's haven where hitting .290 could win you a batting title. He closed the 2015 season out in Myrtle Beach, but I am interested to see what adjustments he makes when facing the advanced pitching over a larger sample size.
During the offseason there was a a bit of argument about Baseball America ranking the Cubs as having the 20th best farm system in the minors. The reason for that ranking was that, even though the Cubs do have a lot of talent, they don't have the same elite prospects as they did with Bryant, Russell, and Schwarber. On the other hand, a lot of the youngsters they do have simply haven't developed, Torres being Exhibit A. He's not alone though.
There are a few prospects who I think might be able to wrest control of that number one spot in the next two years, if not this year.
First Up: Dylan Cease
He's the closest the Cubs have to a top-of-the-rotation starter profile heading into 2016. Thing is, Cease's career consists of only 24 innings. Shortly after being drafted in the sixth round of the 2014 draft, he underwent Tommy John surgery. Within a year, he was back playing ball for the Cubs in the Arizona Rookie League, but he was limited to three innings or 40 pitches per game.
Even just a year out of surgery Cease was throwing in the mid-to-upper 90's. In spring training this year, he has been topping out at 100 mph with a curveball that has an 11-to-5 break with a lot of depth. However, the Cubs have yet let him loose and he is still only throwing 2 to 3 innings per outing. For Cease to topple Torres, it's going to take him getting stretched out to 6 or 7 innings a start. Just based on his talent and projection, 5 innings a start by the end of this year would put him pretty close to the top, but not quite all the way. 
Batting Second: Eloy Jimenez
I don't think it's any secret that I am enamored of the massive potential Jimenez boasts. The 6 '4", 200 pound 19-year-old more closely resembles an outside linebacker than he does a baseball player. But once he steps into the box, it is pretty clear that he's playing the right sport.
2016 is an extremely important year for Jimenez, whose greatest weakness has always been his lack of game play. He did get in 57 games in 2015 at short-season Eugene, but he spent some time on the disabled list too. This year he is scheduled to be at class A South Bend, which has a 144-game schedule. I don't expect he will play all 144, but I don't think 120 is out of the question.
While it will be cool in April and May, Jimenez and his power stroke should really take off in June and July when the weather gets warmer in northern Indiana. If he is to overtake Torres as the number one prospect, that power really needs to manifest itself this year.
I think Jimenez can hit for a solid average (.280), but I don't know how many home runs he is going to hit. I know I would like to see him hit 30, but that's an absurd amount for the Midwest League. Last year 27 home runs led the way. Second place was 16. I think Jimenez can get 20, though I don't know about 25. If he does, this conversation gets really interesting, really fast.
Third Up: Ian Happ
Happ has an advantage, and a distinct one at that, over Cease and Jimenez. He's already an extremely polished hitter with an advanced approach at the plate. in 2015, Happ was drafted by the Cubs in the first round. He was coming off double hernia surgery and was also struggling with his father's illness, so it's a wonder to me that he was able to focus as well as he did at Eugene and South Bend.
I first got to see Happ in a three-game series at Beloit in August. After watching him in person, I was mesmerized when watching video of how his hands travel through the zone. The switch-hitter looked like he was born to drive the ball from either side of the plate. I was also taken by what a fluid athlete he was and the natural speed he displayed in the outfield.
The 20-year-old Happ has shown up to spring training this year in great physical and mental condition. I have read reports about his approach being at a "deluxe" level compared to the rest of his fellow prospects. In addition, he is driving the ball at all times into the alleys and over the fence.
While it would likely take Cease two years and Jimenez at least a very solid full season to oust Torres, I think Happ might be able to get the job done by August 1. Maybe even July. In order for Happ to be crowned King of Prospect Mountain, he needs to show sustained excellence by dominating high-A pitching. He will need to hit for both average and power at a consistent level.
I think Happ has a better chance than either of the other two aforementioned candidates, but I don't know if he will be able to hit for as high an average as Torres. It'll be easy to compare the two because they'll be playing right beside each other every night for at least the next three months. What will separate Happ from Torres will be power and the ability to do it from both sides of the plate – a rare commodity at any position. If Happ can crank out 10-15 HRs by the middle of June, the discussion of who's really top dog begins in earnest.
Currently, Torres sits at #28 and Happ at #76 on MLB.com's Top 100 list. That's a lot of ground to cover in a short period of time. And that's assuming Torres is the same player we saw last season, which isn't likely. He's going to improve. The question is: Will he be better than the other players when their respective games are fully developed? It's a fun question to ask and hopefully it will be a fun one to see answered as all four players improve throughout the course of the coming season.
If that happens it really doesn't matter who number one is, to be honest. With four prospects developing at an inclined rate — they could all be in the top 20 out of all MLB prospects in a year — the Cubs would be sitting pretty.
In the Hole – Bryan Hudson
It is still a little early for Hudson, but I think in a year you could add his name to the list. A 6'8" lefty with a power curve and developing fastball, he has seen a big increase in his fastball velocity — 90-91 mph this spring, topping out at 94. If he gets to 93-95 on average with a changeup to boot, then, yeah, you can put the big lefty in the discussion.