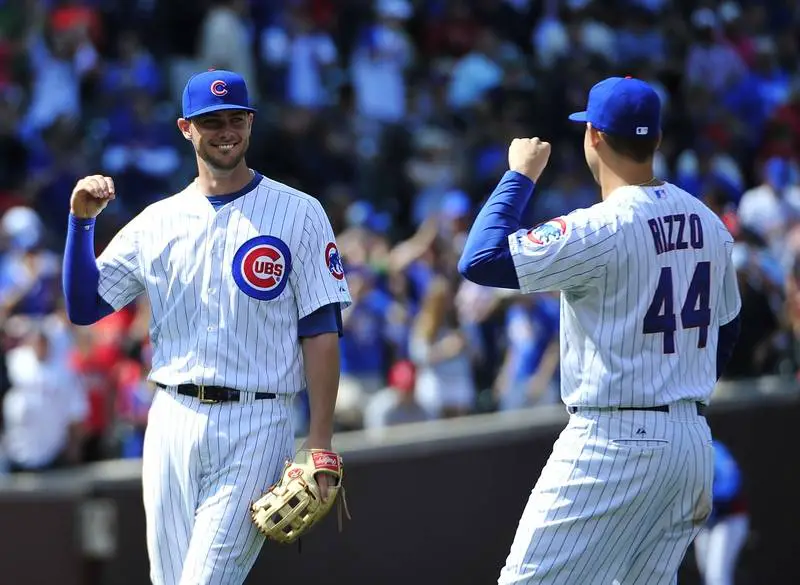 The Rundown: Trades, Predictions, and Evan Being Lazy
Top Of The First
Greetings from Tampa. I'd like to tell you I am here because I am getting some inside information on a possible trade between the Cubs and Rays involving starting pitchers and outfielders, but I am here for something entirely much more boring and relatively mundane. I'm celebrating my 52nd birthday with some of my best friends.
Let's Talk Trades
The Cubs have built a team for 2016 that resembles a strong army. There is redundancy and overlap at all key positions. There is reserve depth that is ready to break out at every level. Todd Johnson is our minor league guru here at Cubs Insider but I can give you the Cliff's Notes in a single sentence: The Cubs minor league system this year will mirror what the big club did last season. There is genuine acceleration to the depth of this team.
As far as public perception, the Cubs allegedly need pitching. But do they? Sabr Statistics indicate the Cubs have a Top 5 staff, starters and bullpen, not just in the National League but in all of baseball. We've touched on it before. Do the Cubs need to trade from strength (e.g. Soler, Baez,) or depth (e.g. Gleyber Torres, Ian Happ) to get a starting pitcher?
It's not a simple premise. Whether you want to believe it or not the Cubs staff is a team strength. There is some redundancy in case of an injury or consistently poor performance, but there is just not the depth that the offensive side of the team carries. Right now, extra starting pitching would be a luxury rather than a necessity but as far as depth is concerned the opposite is true.
Though the Cubs may have to overpay if the front office has to trade as part of a contingency failure, I think the team should stand pat. Their reserve army is only going to get stronger as plenty of premium pieces move up the ranks. The Cubs will be in a position very soon, if they aren't already, to dictate the terms of any potential trade. This is the often overlooked part regarding their front office. Theo Epstein and Jed Hoyer have positioned themselves in this phase of the operations philosophy to be exactly as they were when the Cubs exploited contender inefficiencies when flipping short term assets for long term ones. Historically speaking, there haven't been many teams that project this well with that kind of leverage in any potential trade.
The Cubs will make trades this year and they will give up prospects. I just don't think they will ever swing a deal that would be the opposite of the one that netted Addison Russell, for example. They simply don't have to. I think we will see this season that many prospects services have actually underrated the Cubs system heading into 2016. Keith Law had the Cubs at #4. I think by September 1st he will be proven to be quite prophetic.
This Is The Part Where Cardinals Fans Hang Me In Effigy
I have predictions. If you are a fan of St. Louis Cardinals baseball you may want to look away.
NL East
Washington Nationals 95- 67
New York Mets 90-72
Florida Marlins 85-77
Atlanta Braves 67-95
Philadelphia Phillies 58-104
NL Central
Chicago Cubs 97-65
Pittsburgh Pirates 93-69
St. Louis Cardinals 84-78
Milwaukee Brewers 66-96
Cincinnati Reds 66-96
NL West
Los Angeles Dodgers 90-72
Arizona Diamondbacks 89-73
San Francisco Giants 88-74
San Diego Padres 76-86
Colorado Rockies 72-90
Playoffs
Pirates d. Mets in Wild Card
Cubs d. Dodgers in NLDS
Nationals d. Pirates in NLDS
Cubs d. Nationals in NLCS
NL MVP – Bryce Harper
NL Cy Young – Max Scherzer
Rookie Of The Year – Dansby Swanson
Manager Of The Year – Dusty Baker
AL East
Toronto Blue Jays 89-73
New York Yankees 89-73
Boston Red Sox 87-75
Tampa Rays 78-84
Baltimore Orioles  74-88
AL Central
Kansas City Royals 86-76
Detroit Tigers 86-76
Cleveland Indians 81-81
Chicago White Sox 71-91
Minnesota Twins 71-91
AL West
Houston Astros  84-78
Seattle Mariners 83-79
Texas Rangers 81-81
Anaheim Angels 81-81
Oakland A's 73-89
Playoffs
Blue Jays d. Yankees for East Division Championship
Royals d. Tigers for Central Division Championship
Red Sox d. Yankees in Wild Card Game
Red Sox d. Blue Jays in ALDS
Astros d. Royals in ALDS
Red Sox d. Astros in ALCS
AL MVP – Carlos Correa
AL Cy Young – Wade Davis
Rookie Of The Year – A.J. Reed
AL Manager Of The Year – Joe Girardi
World Series
Chicago Cubs d. Boston Red Sox 4-2, clinching Game 6 at Wrigley Field.
World Series MVP Anthony Rizzo
Other Predictions
San Diego will be the first team to start selling assets when they trade Andrew Cashner to the Boston  Red Sox and then try to move every long term contract on the roster.
The Brewers move Ryan Braun to the New York Yankees and then trade Jonathan Lucroy to the Astros
Robin Ventura becomes the first manager to be fired.
The Cubs acquire Sonny Gray from Oakland. Oakland takes some of the Cubs best prospects from their lower levels in the trade. This could be the deal where "We'll throw in Dan Vogelbach" actually gets the trade completed. The Cubs also receive depth in the trade.
The St. Louis Cardinals acquire Carlos Gonzales when Matt Holiday goes down with an injury but he doesn't impact the team enough to get them to the Wild Card.
Fact, Fiction, Truth, Or Rumor
Unfortunately I am on a laptop that blocks most websites so I do not have any linkage at this time. Perhaps Evan would like to add to this article.
Ed. note: Evan is experiencing a kid-free weekend at home with his wife, which means he's busy, well, napping and watching shows that he couldn't otherwise watch during the day. He's also trying to get a couple things ready for the start of the week when he'll be in Anaheim for the season's opening two games. So, yeah, sorry not sorry about the dearth of links from around the league. Maybe next time.
Bottom Of The Ninth
Predictions are fun but rarely accurate. I do believe the Cubs will go deep into this year's playoffs but there are a lot of strong AL teams and a World Series Championship is a tough prediction to make. That being said, I had to pick someone and though it smacks of homerism it is important to note that before the 2013 season I predicted the Cubs would lose 100 games, so I am not a homer.
To me the Cubs have a balanced team that is strong at every position and they also have the assets necessary to get stronger if they need to. The Nationals are going to be tough but with Dusty Baker at the helm it will be tough luck when it comes to the NLCS. I legitimately fear for a guy like Stephen Strasburg who is going into a contract year with Baker managing his arm/innings limits.  I think Scherzer and Strasburg will be overtaxed by the time mid-October hits.
As far as the American League, win projections are suppressed because there really isn't a weak team in any of the three divisions. I could do this exercise 100 times and have 100 different variations.  Baseball is going to be fun to watch this year.