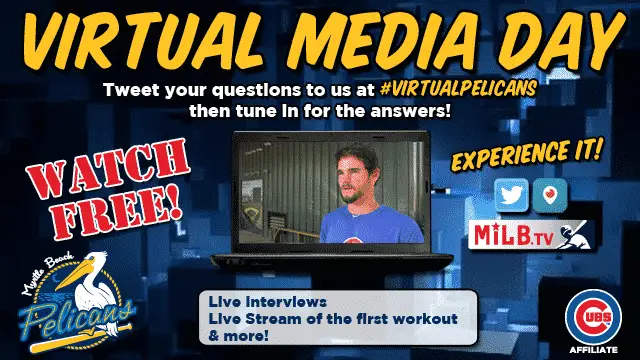 Myrtle Beach Pelicans to Host First-Ever Virtual Media Day
The increased social media presence of the Cubs and their various affiliates was a big part of what made the 2015 season so enjoyable. Interaction, both with fans and one another, really made the organization feel like a unit and not just a series of disparate parts. Leading the charge in terms of outreach and engagement were the Myrtle Beach Pelicans, who were in their first year as the Cubs' advanced-A club.
As they set to kick off their sophomore season, the Pelicans recently announced plans to broadcast a virtual Media Day from 1:00-3:30 p.m. on Tuesday, April 5. Fans will have access to the event via a free MiLB.TV feed and will even be able to get in on the action by tweeting their own questions.
The team's official press release has more details on the virtual Media Day, along with information on how you can get tickets to see the Pelicans in person.
The Pelicans will broadcast an inside look of their 2016 Opening Day squad with live player and coach interviews, a behind-the-scenes look at the Pelicans video production team, live viewing of the first team workout and much more. In addition to the live stream on MiLB.TV, all player and coach videos will be shown live on Periscope via the team's Twitter account, @Pelicanbaseball. Fans can interact with the broadcast by tweeting questions for the players and coaches using #VirtualPelicans and tagging @Pelicanbaseball.

Throughout the afternoon, the team will also take one final gaze back at the club's 2015 championship season before glimpsing ahead at some of this season's upcoming promotions. The feed will conclude with a live look at the Pelicans' workout on TicketReturn.Com Field at Pelicans Ballpark.

Myrtle Beach's 2016 campaign begins the following day, Wednesday, April 6, with the Battle of the Beaches exhibition game at the Charleston RiverDogs. The Pelicans begin the regular season at 7:05 p.m. on Thursday, April 7, by hosting the Frederick Keys.

The 2016 season will be the 18th season for the Pelicans franchise and second as the Class A-Advanced affiliate of the Chicago Cubs. For information on tickets to see the Pelicans in 2016, please call (843) 918-6000, e-mail info@myrtlebeachpelicans.com, or visit www.MyrtleBeachPelicans.com.
If you get the chance, you really need to get down to the Beach for a game or three. The ballpark is beautiful, the employees are incredibly friendly, any you'll get a chance to see some Cubs of the future. Who knows, you might even get to sing the stretch.