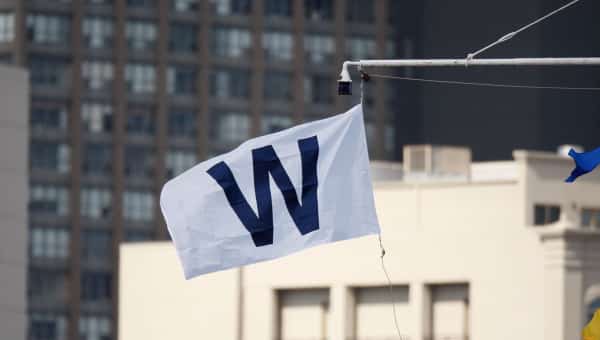 A Tip of the Recap–April 9th (Cubs 4, D-backs 2)
Cubs Record: 4-1, t-1st NL Central (w/ Pittsburgh and Cincinnati)
W: Kyle Hendrick (1-0, 2.70)
L: Zack Greinke (0-2, 9.90)
S: Hector Rondon (1st save, 0.00)
MVP: Kyle Hendricks
Coming into tonight's game, I was a little less than confident with the Cubs facing off against Zack Greinke (who was coming off one of his worst starts in recent memory), but the Cubs worked him like they have every other starting pitcher this season. They got to Greinke early with a 3-spot in the 1st. He did make it through 6 innings, but by that point the Cubs had a 4-1 lead and would hold on to win 4-2.
The Good
This team is one of the most grindy in MLB. The entire lineup makes opposing pitchers work by taking patient approaches and Saturday night was no exception. Greinke needed 100 pitches to get through 6 innings and he had a couple 20+ pitch innings.
Kyle Hendricks was terrific tonight, going 6.2 strong innings, giving up 2 runs on 4 hits and a walk with 5 K's. He was in control most of the night and made a mistake to the last hitter he faced (Brandon Drury) who hit a run-scoring double down the LF line to bring Joe Maddon out with the hook.
Every hitter except Jorge Soler and Addison Russell had at least one hit and the Cubs drew 5 walks as a team. Ben Zobrist (3 for 4) and Kris Bryant (2 for 4) had run-scoring doubles while Anthony Rizzo (1 for 3) hit a single back up the middle to score another run (his 10th RBI). Miguel Montero (1-4) added a deep sac fly for his 4th RBI of the year.
Adam Warren and Hector Rondon pitched perfectly to finish out the final 2.1 innings of the game. Rondon struck out 2 on his way to his first save of the season and looked very strong. Warren looked a little less than sharp while falling behind a few hitters, but was effective enough considering he hadn't pitched in over a week.
Addison Russell did nothing with the bat (unless you count him losing his grip and throwing one into the stands again), but he did make a hell of a play on a line drive ticketed for LF. Russell dove to his right to snag a possible RBI hit off the bat of Paul Goldschmidt.
The Bad
I'm not trying to harp on the offense here, but the double plays that Zobrist and Rizzo hit into really killed what could have been big innings. Zobrist's came in the top of the 9th after Dexter Fowler's single was followed by an HBP from Jason Heyward to give the Cubs two on with no outs. Rizzo's came in the 7th after a leadoff single by Zobrist and it was followed by a Bryant double by that could have pushed a run across.
It will be nice when Jorge Soler starts kicking things into gear soon. He went 0 for 4 with 2 K's, both swinging on pitches low in the zone. Based off of his crazy impressive postseason, he knows how to lock it in, but so far has looked less than impressive.
The Ugly
Not really game related, but my MLB.tv feed constantly freezes and makes watching the game a little painful. I have high-speed internet and my system bandwidth is like 3 times the required speed, but I can't make it through a single inning without the feed buffering/freezing. I wouldn't even mind the option of watching the game in standard def instead of HD (I know…sacrilege). If anyone has had MLB.tv and knows some tricks of the trade, hit me up in the comments below.
Coming Attraction
The Cubs will finish their 4-game series with the D-Backs Sunday afternoon at 3:10 PM (CST) on WGN. Jake Arrieta (1-0, 0.00) gets the call against Shelby Miller (0-0, 9.00) for the D-Backs. Arrieta's starts are alway must-see TV, so hopefully this lagging thing with my MLB.tv fixes itself, because I like my Arrieta served without a moment of hesitation.