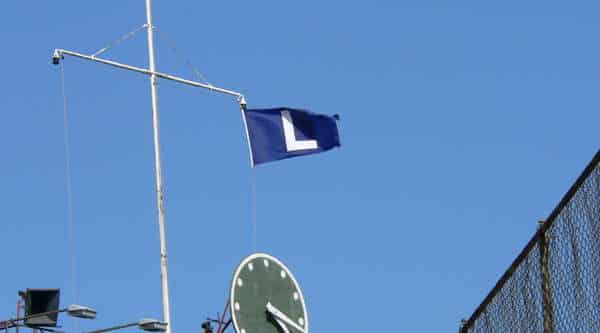 A Tip of the Recap: April 15 (Rockies 6, Cubs 1)
Cubs Record: 8-2 (1st place in NL Central)
W: Chad Bettis (2-0, 2.95)
L: Kyle Hendricks (1-1, 2.84)
MVP: Chad Bettis
Maybe they were suffering from a night game hangover, or maybe you just have to lose every once in awhile in baseball. Whatever the reason, probably the latter, the Cubs just did not give their best effort today. The bats worked good counts and saw a lot of pitches per usual, but they were unable to string together meaningful hits and walks at the same time. Defensive errors compounded Rockies singles and aggressive baserunning, allowing the visitors to score 6 runs without an extra base hit.
The good
The good news is that the season consists of 162 games and this was only the 10th game of said season. The Cubs compiled an 8-2 record in that stretch, which is really good, particularly in baseball. Kyle Hendricks worked pretty impressively on the mound today, going 6 innings and striking out five while walking none, but it just didn't turn out to be his day. The Cubs bats worked five full counts on the day, resulting in two hits and two walks, one of each by Jorge Soler, which is a really good sign for the young man moving forward.
The bad
The Cubs finished with only four hits in this one, surprisingly not a season low (the had only three against the Reds). They only managed to get runners into scoring position four times, which is likely to happen when you don't have any extra base hits (the Rox didn't have any either, for what it's worth) and aren't stealing bases, but the Cubs were 0-for-4 in those situations. The Cubs' winning formula of putting together walks and hits just wasn't there today, and it led to their one-run performance.
The ugly
A key sign that the Cubs just didn't have "it" today, and a reminder that they are human, is the four errors they committed, which doubled their season total. The way the game started, with a 1-2-3 inning from Kyle Hendricks and a beautiful diving stop by Addison Russell (one of his two outstanding plays) to end the first frame, you had no indication that the Cubs would play their worst defensive game of the season. Hendricks was charged with one error, Kris Bryant with two, and Addison Russell with one on a short-hop throw to first that bounced through a whack-a-mole sized hole in the Rockies dugout fence. It just wasn't the Cubs' day.
Coming attractions
A second consecutive day game is on the schedule for the Cubs tomorrow, who will send Jake Arrieta to the mound to take on the Rockies and right hander Christian Bergman. Arrieta is 5-0 in his last 5 home starts, allowing 0 runs in 37 ⅔ innings while striking out 40. Bergman has only 14 career starts, pitching to a 6.14 ERA in 70 ⅓ innings while allowing 100 hits.