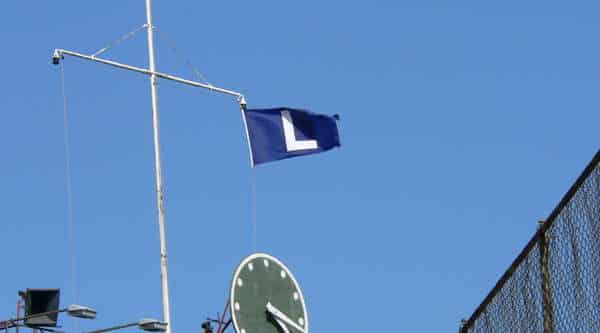 A Tip of the Recap: April 17 (Rockies 2 Cubs 0)
Cubs record: 9-3 (1st, NL Central)
W: Tyler Chatwood
L: Jon Lester
S: Jake McGee
Game MVP: Nolan Arenado
The good:
David Ross. Sure the guy is old and he can't hit, but man can he still catch well. In the first two innings he gunned down two runners and on top of that he provided solid framing for a pitcher in Jon Lester whose stuff benefits more from good framing more than others.
Lester was sharp. Is it just me or does it seem like his cutter has no movement? Whatever it may be, it's an effective pitch and he gets batters to swing and miss at it. He finished with a very solid line: 7.1 IP, 4 H, 10 K, 1 ER, and 2 BB, good enough for another quality start.
Nolan Arenado is really good at this baseball thing. He had multiple above average defensive plays today and also hit two homers to put up the only runs of the game.
The bad:
Tyler Chatwood was perfect through 5.2 innings today until Jorge Soler walked, then had the no-no broken up on a hard-hit line drive by Javy Baez. Junkballers versus the Cubes. It makes no sense yet it continues to happen. In Corey Crawford's (non) words, "That's baseball, baby!"
If I may touch on something not directly related to the game, Chatwood has had two Tommy John surgeries. Jeff Passan recently released his relatively self-explanatory book, The Arm, in which touches on the multiple surgeries thing. Passan just does a magnificent job with his research and interviewing. It is HIGHLY recommended that you get your hands on this book.
Anyway, back to the game. Sometimes it's just not your day to do anything. Sunday was that day for the Cubs. They couldn't get on Chatwood early and then just couldn't pull it off once the bullpen took over. That being said, they did have a great #FakeRally in the bottom of the ninth.
The ugly:
Lester gave up an ArenaDONG in the 4th and it just barely got out and into the basket. Which poses the question: why are the baskets still a thing? It wouldn't be very hard to remove them, especially since all the new construction out in the bleachers has pretty much eliminated the prospect of fan interference.
You hate to put more juice into a bad narrative, but Jon Lester had one of the most hilarious throws to first base in the history of baseball. I'm not even going to explain it. Just…admire.
https://vine.co/v/it3hOrEqhHr
Coming attractions:
The Cubs are leaving Wrigley for a seven-game division road trip that starts in St. Louis (muahahahaha). Pitching matchups: Lackey vs. Leake, Hammel vs. Garcia and Hendricks vs. Martinez. Make sure to follow all of the good #JohnLackeyFacts people — @Darth_Stout, @tinia_flab, @FrustratedFan, and, of course, the real cub's fan @bagman928 — on Twitter because tomorrow is going to be, as they say, lit. After the Cardinals, the Cubs travel to Cincinnati for a four-game set.