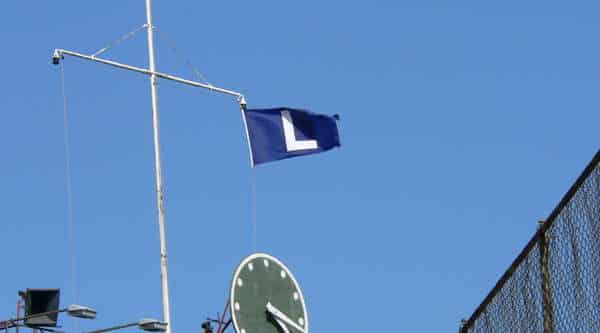 A Tip of the Recap – May 1 (Braves 4, Cubs 3)
Cubs Record: 17-6 (1st, NL Central)  
W: Arodys Vizcaino (1-0, 0.96)
L: Hector Rondon (0-1, 1.13)
S: Jason Grilli (2)
MVP: Julio Teheran: 7IP, 0R, 2H, 9K, 1BB.
The Cubs looked to continue their limo-riding, jet-flying, wheeling-dealing, kiss-stealing ways against the lowly Braves on Sunday. John Lackey was hoping to rebound from a rough outing last start against the Reds. Alas, it was not meant to be for Cubs today.
Lackey started out well, but Julio Teheran, who had been a rumored Cubs trade target this winter, was even better for Atlanta. The two threw up dueling zeros the first four innings, though Lackey was the first to crack when he gave up a sacrifice fly to Jace Peterson to open the scoring in the fifth. Lackey then loaded the bases in the sixth and the Cubs' usually sure-handed defense made two key mistakes.
Addison Russell mishandled a hard-hit grounder that could have been a double play, allowing a second run to score. Then a very unusual double play involving a throw to first and a tag at second allowed another run to score. Teheran was dominant in seven two-hit innings, striking out nine.
The Cubs rallied off the Braves bullpen in the eighth, when Matt Szczur bunted for a hit and Dexter Fowler doubled. A Jason Heyward groundout and a Kris Bryant (back in the lineup) single cut the lead to 3-2. The Cubs completed their comeback in the ninth when Ben Zobrist walked and advanced to third when former Cub Arodys Vizcaino made an error on a pick off attempt. Russell then totally redeemed himself with a single to tie the game at three.
Unfortunately, the Braves would go on to score the winning run in the top of the tenth on a sacrifice fly by Nick Markakis.
The Good
Julio Teheran looked much better than his early season numbers today. After the Cubs got two men on in the first inning, they only had two base runners the rest of Teheran's seven innings. Len and JD were asking if this was the best performance against the Cubs by an opposing starter this season, and I think it was. It might have looked even better had the bullpen hold the lead and gotten him a W.
Dexter Fowler seemed to bounce back from a three-game baby slump with a 2-for-5 day that included a double in the eighth-inning rally. It seems unlikely Fowler will hover around .350 the whole season but if he keeps getting on base good things will happen to this offense. Also of note: as he was sliding into second, a swipe tag flipped his helmet up and caused it to bonk him on the back of the head. Fowler was fazed for a second but he was fine after.
John Lackey pitched better than his line would indicate today, going eight innings and surrendering three runs (two earned). With his aggressive pitch-to-contact style, Lackey is probably going to give up some runs most days. But a line like today's will get him a lot of wins with the Cubs powerful offense. And once again they gave him just enough run support to get off the hook.
The Bad
The Braves bullpen tried hard to blow the game, squandering a three run lead in just two innings of work against the Cubs. Jason Grilli, however, was able to lock down the save in the tenth after the Braves took the lead.
The Ugly
The Cubs defense had a rough sixth inning today. The ball Adonis Garcia hit at Russell was smashed, but most times it turns into a 6-4-3 twin killing. Errors are going to happen, but that one hurt. Speaking of double plays, I tried to explain the inning-ending Braves double play earlier but a longer explanation is needed.
Kelly Johnson came up after Garcia with the bases still loaded and hit a ground ball to Ben Zobrist in between first and second. Zobrist tried to tag Garcia but he missed. Zobrist then threw to first to retire Johnson and Rizzo threw to Russell to apply the tag. As a result, Nick Markakis was eligible to score. Hard to say if it was more ugly or just weird but it had a huge impact on a one-run game.
Coming Attractions
Tomorrow night Jason Hammel (3-0, 0.75) tries to keep his very solid early season going in Pittsburgh against Gerrit Cole (2-2, 2.78). With all due respect/fear toward the Cardinals, the Pirates will be the Cubs' first real test against a contender this season. A win tomorrow should wash the bad taste of this loss out of the Cubs fans' mouths.