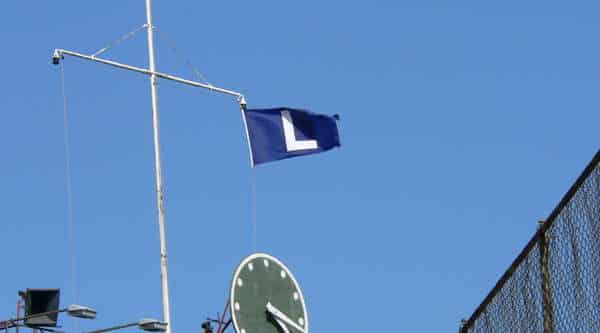 A Tip of the Rec(r)ap – 5/11 Doubleheader (Padres 2, Cubs 0)
Cubs Record: 0-2
W: Who cares
L: Cubs fans
S: Not sure we can be
MVP: Cowboy Joe and the merciful end of the 2nd game
The Cubs entered Wednesday's doubleheader with the Padres on pace to win almost 131 games and outscore opponents by 538 runs. By the time home plate ump Cowboy Joe West's spurs had stopped jangling from the little jig he dances after each successful ump show, however, those respective projections had plummeted to 123 and 486. And this team wants to be considered great? Sure, both marks would still be all-time records, but it's obvious the dominance isn't as total as we've been led to believe.
After dropping the first game to the frocked fathers, the Cubs sent bulldog John Lackey to the mound to face some guy whose last name sounds like Pomeranian. Guess who came out on top there? Lackey was good enough to get the win, his only mistake a meatball that Christian Bethancourt watched travel every bit of 445 feet out onto Waveland. Ever vigilant for breaches in baseball's unwritten code of conduct, the Cubs starter was none too happy with catcher's pimpage of his homer.
"How many home runs does he have," Lackey asked. "I have a long memory."
I can imagine ominous music playing in the background as the camera pulls in for a shot so tight you can actually see the bloodlust churning in Lackey's eyes. Seriously, though, what does he even mean with that whole "long memory" thing? Is he going to hit the Padres' backup catcher the next time they meet? Or is Lackey just dropping a hint that he's actually part elephant? Both seem equally likely.
The Good
I was able to flip back and forth with the Max Scherzer 20-strikeout performance, so that was good. Not only did it allow me a reprieve from the Cubs' epic tailspin, but the nasty Nat was unable to break a record shared by Kerry Wood. Seeing history happen right before your eyes is cool, though I'd be lying if I said part of me was kind of hoping for an implosion and the resultant explanation from Dusty Baker.
The Bad
Back-to-back losses, man. I had thought for sure the Cubs would avoid consecutive defeats until they started rolling out AAA lineups late in the season when their 30-game division lead necessitated such discretion. It appears, however, that we may need to get comfortable with the idea that this team may actually lose more than 30 games. Painful, I know, but best to just rip the band-aid off now.
Wednesday's losses also mean that the Cubs are a mere 5-5 vs. the worst three teams in the NL West. They dropped a game to the D-backs in the second series of the season, then lost 2 of 3 to the Rockies, now this recent debacle. Throw in a defeat at the hands of the lowly Barves and another to the Reds, and you've got 7 losses to sub-.500 clubs. Gross.
The Ugly
Jorge Soler might have been on the wrong end of Joe West's frontier justice, but the big Cuban was just a mess at the plate. He did pick up a double — only his second extra-base hit in his last 53 plate appearances — in the first game, but he went down on strikes four times in game two. Heavy is the head that wears the golden sombrero.
In his last 20 games (12 starts), Soler has slashed .125/.208/.167 with an ISO (raw power) of .042 and a wRC+ of 2. No typos.
After coming off the bench in 5 of 6 contests, Soler's last 4 appearances have all been starts. Whether that's to build confidence or trade value, I don't know. What I do know is that it's accomplishing neither and I'm not sure what it'll take at this point to get the guy out of this rut. I have not doubt Soler has mad potential, though I'm growing ever more skeptical of his ability to harness it.
Coming Attractions
The Pirates come to town for three afternoon games, after which the Cubs will hit the road for a while to face the Brewers, Giants, and Cardinals for three games apiece. Let's just hope the Cubs can get it together here soon because the prospect of having a pull for a team that just barely manages to win 100 games is not one I look forward to.