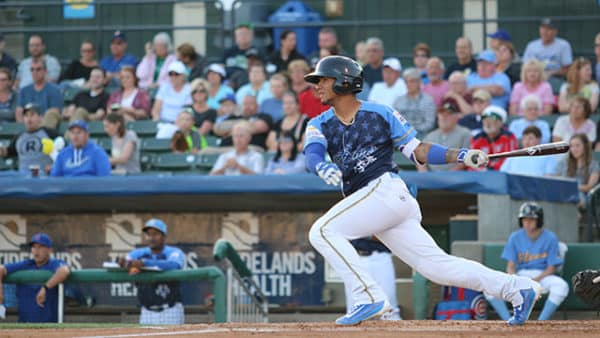 Prospect Profile: Gleyber Torres Bouncing Back after a Rough April
He's back! Or so it appears.
Cubs top prospect Gleyber Torres turned in a not so riveting batting average of .179 in the month of April. At the young age of 19, Torres is in high-A Myrtle Beach this year and the adjustment has been unlike anything he's really had to go through before. I think it has been a good thing. Some of the early struggles might have been the cold weather, some might have been his approach, and some might have been being pitched to in a different way.
For a Caribbean or South American player to have a slow start is not uncommon. However, Myrtle Beach is not the Midwest. Cold for Myrtle Beach is warm for South Bend. And last year, Torres hit .352 in South Bend during April, although the temperatures were in the lows 70's most days.
But after scuffling out of the gate, Torres finally looks like he's in a groove. He's taking walks and hitting home runs (he's never really done a lot of that before), and it looks like the Gleyber Torres from 2015 has reappeared. What I like most is the apparent increase in power, which is odd because the Carolina League is a notorious pitcher's league and he plays in a pitcher's park. He's had as many home runs (4) in six weeks as he did in all of 2015 (3). In the month of May alone, he's hitting .356 with 3 HR's and 8 RBI's. That's a far cry from April.
I noticed a couple weeks ago when looking at Torres's splits that he hits better with men on base. Since Rashad Crawford returned to the Pelicans' lineup, Torres has hit .375 (12/32). When you start comparing his batting splits for last year, there is a little difference.
2016
April – .179
2015
April – .352
May .306
June .310
July .288
August .204
Over the course of the summer, Torres's batting average dipped slightly before dropping precipitously in August. He seemed to wear down that last month as an 18-year-old. This year he started off slow and is really turning it on.
Batting average notwithstanding, the stat that sticks out the most this year is that Torres is striking out a lot. He has 33 K's in 29 games or 1.14 per game. Last year, his K-rate was less than 1 per game.
Another factor in the young shortstop's troubles is that pitchers in high-A are more around the plate. He's going to see more strikes, which I think is going to help him in the long run. The question is whether those pitches will be strikes that he can do something with. I would not be surprised to see his batting average continue to rise over the next few weeks before stabilizing at some point in June. Currently he is at .244 after being at .179 two weeks ago.
Coming into this season, Torres was a near unanimous selection as the Cubs top prospect, with only Baseball Prospectus naming Willson Contreras. Let's consider FanGraphs' projection for Torres for 2016 :
He has excellent balance and a strong lower half, with smooth hands and a selective approach in game. There is work to do on pitch recognition, but that is likely to come with more repetitions rather than being an innate problem. Torres looks to me like an elite major league hitter who will have situational power, making pitchers pay for mistakes left up in the zone.
The key phrase in that analysis is "transition." Nobody ever foresees a slump, but I think Cubs management likes to see a player go through at least one to see how he deals with adversity. In this case, Torres is starting to come out the other side and is headed in the right direction possibly stronger than before.
With Ian Happ behind Torres in the order, I think it's going to be an exciting summer watching those two prospects hit their way through the Carolina League. I'm also interested in seeing whether Gleyber's power continues to increase. It looks like he's grown a little bit from last year. He could have. After all, he's just 19 years old. He's still going to have his ups and downs, and the start of this season has been confirmation of that fact.
How he is able to limit and recover from the down times will determine where this kid goes and how fast.